Commercial Agility: How the Healthcare Industry is Responding to the COVID-19 Crisis
November 06, 2020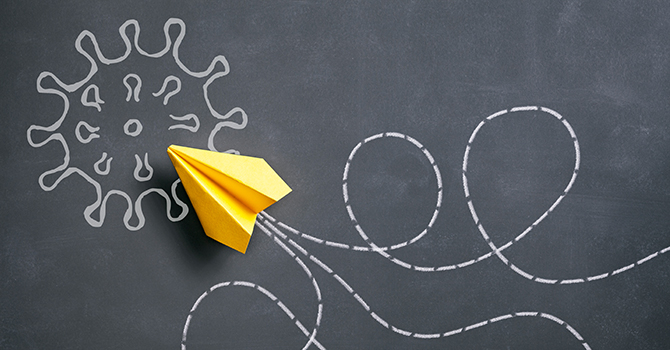 The impact of the COVID-19 pandemic is becoming increasingly clear for societies and economies across the world. However, how exactly the healthcare systems and healthcare companies that supply them are affected varies by subindustry, company, time period, and geography. In the final part of our resurgent crisis series, we investigate what can be learned about commercial agility from the world's leading healthcare companies, and how this crisis is driving change within these businesses.
From the outside, it may appear that the healthcare industry is entirely sheltered or even getting a boost from the COVID-19 crisis. However, while some companies are at the forefront in finding the solution, not all healthcare players are equipped with platforms directly relevant to the pandemic, nor do they have the segment diversity to repurpose existing therapeutics. Even within specific areas of healthcare, there are sub-segments. Some businesses have experienced a drop in new demand but can rely on recurring revenue, while others have seen a complete freeze in their business. Here is a more detailed look at the specific impact felt across the different areas of the world of healthcare:
COVID-19: Challenges in healthcare
Diagnosing and treating COVID-19: This is the segment that is most in the news. Companies involved in personal protective equipment, ventilators, diagnostics, vaccines, and treatments have been trying to ramp up production capacity and secure commitment from the market for their heavy, significant short-term investments in meeting the global demand.
Treatment of acute, chronic conditions: Many companies need to continue providing care no matter what, e.g. diabetes and dialysis treatments. This needs to be done in the safest way possible, e.g. by using telehealth or remote monitoring.
Elective procedures: Companies involved in knee implants, cataract surgeries, pacemakers, and extensive dental implants, etc. have been hit hard, facing salary cuts, reduced work schedules, layoffs, and halted sales. Their task has been to pivot focus to serving ongoing procedures in the best way possible, as well as strengthening relationships with customers, and being flexible with commercial terms.
New product development: A huge number of clinical trials have been delayed, many of which were pivotal late-stage trials for drugs approaching commercialization viability. Patients have not been going in for interventions, monitoring visits, and longer-term safety and efficacy follow-ups. Meanwhile, companies are rethinking their development priorities as well as the business casing around R&D decisions, reviewing efficiency scores and potential ROI. For some assets already under development, KPIs are turning negative, and programs may not make sense if they are delayed or the market shifts underneath them.
New product launches: Another immediate impact is delayed launches, which are becoming more frequent. In the pharma world, companies eagerly await ROI after years of heavy investment in development. However many are now being forced to postpone launches, for example Bristol Myers recently postponed the launch of their asset in multiple sclerosis in the US. According to BMS, delaying the roll-out during the coronavirus pandemic is "based on what is in the best health interest of patients, customers, and employees."
Commercial shift: The face-to-face customer engagement model in healthcare, which was already slowly being phased out, has now been thrown out of the window. There has been a strong decline in face-to-face office visits during the lockdown period. Despite pharma making a lot of noise about omnichannel marketing, they have lagged behind in digital, and have had to adapt fast. For example, our Digitalization in Healthcare study conducted shortly before the COVID-19 pandemic showed that an alarming 59 percent of life sciences companies did not have a digital strategy in place. A lack of preparation in digital could now also be leading to reimbursement access delays for some assets.
Commercial agility in the healthcare industry
The public perception surrounding the COVID-19 pandemic is that the healthcare industry will save the day. Many players in the industry have mobilized at incredible speed to get into the COVID-19 space and, last time we counted, there were 3,787 coronavirus studies registered worldwide. However, as companies deploy resources toward COVID-19, efforts have to be redirected from other areas. Meanwhile, with companies traditionally relying on physical sales contacts, the crisis puts a spotlight on commercial inefficiencies. Disrupted customer engagement models also need to be reshaped, and pharma is required to engage with payers and prescribers in new ways. 
How agile has the healthcare industry been in its response? We have identified four key areas where healthcare companies have managed this resurgent crisis through commercial agility:
1. Strengthened relationships in medtech
It is hard to discuss commercial agility without acknowledging the extreme financial pressure that many providers have been under over the last months. In the medtech sales world, there have been unprecedented requests from customers to provide relief, followed by a range of responses to strengthen relationships with providers and acknowledge the financial realities.
The "best" companies are offering support proactively to their customers, such as grace periods or even early bonus payouts. Upcoming contract renewals are being pushed out three to six months in recognition that providers have more pressing issues to deal with. With elective procedures drying up, purchases have declined significantly, and as a result, revenue or discount tiers based on volumes have led to price increases per unit. Some companies are freezing revenue or discount tiers to reflect these unusual times.
Other companies have products in the portfolio that still provide value, but are less expensive. To acknowledge purse strings are tighter, their sales teams are directing customers toward more affordable alternatives. A last resort is accepting direct price decreases. If that has to happen, companies should try to link lower prices to a commitment on the hospital side (e.g. extended contract durations or changes to the terms and conditions), knowing that these adjustments could have a negative detrimental impact for many years to come.
Overall, commercial agility can be seen in how the industry has been responding to some of those tough but important discussions.
Watch the on-demand webinar: Medtech Action Plan for COVID-19 Response and Beyond
2. Rethinking commercial models in pharma
Many companies are in the process of rethinking their commercial models — not an easy shift when the majority of models deployed today for imminent launches have extremely lengthy development cycles. The decisions around scaling up launch activities were taken years ago and teams have been on boarding for pre- launch, engagement, and market-shaping activities as part of a multi-year roadmap. It is not as simple as flipping a switch and adjusting launch plans and the commercial model. They have got to be agile to figure out what to immediately change based on what they think will be the normal after the COVID-19 crisis.
Other companies are rethinking the sizing of their commercial footprint, especially in terms of sales reps and medical science liaison managers (MSLs). This has the benefit of being more cost-efficient, with reps covering a lot more ground when working remotely. Linked to that, biotechs may be changing their minds and deciding to commercialize on their own thanks to the efficiency of the sales model as well as the influx of capital from traditionally non-healthcare investors who see healthcare as a safer haven.
Watch the on-demand webinar: Biopharma Launch and Brand Management Strategies in the 'New Normal'
3. Remote health interactions
One of the biggest moves in commercial agility can be seen in how the healthcare industry has found new ways to reach the customer. On the patient side, there is a renewed emphasis on how to enroll patients and run clinical trials remotely, and conduct virtual visits for the check-ins along the way. A lot of the underpinning technology already exists —think about telemedicine, wearables, connected devices, and online platforms — but it has taken the pandemic to get development teams to think seriously about how to apply this digital arsenal into patient management programs.
The reimbursement landscape has also changed in many markets, with an ability for providers to get paid for digital treatments. The pandemic has forced the industry to think about how to better provide therapy to patients in a remote capacity, be it completely remote or an optimization of the current model within pharma. Meanwhile, Google Trends shows that during the peak of COVID-19, the number of searches for telehealth skyrocketed. It has now come back down, but remains above pre-COVID times. Even though people will return to traditional care, we will see a residual effect as people become more comfortable with remote telehealth interaction. Many of our clients are now looking at how telemedicine options can be used post-COVID-19 as part of their strategy.
One thing that the COVID-19 pandemic has reinforced is that you cannot "not be digital". It sounds obvious to businesses that are already living and breathing digital and it should not have taken the pandemic for the pharma world to realize that. But despite a lot of the stated C-level, top-down ambitions around digital in pharma, things were not moving fast enough. Digital is not just the way you interact with customers, but also moving beyond the pill, whether this is within the therapeutic itself or more integrated like virtual clinics and more holistic patient or population disease management. Now it is time for big pharma to take business beyond its "find-a-drug, make-a-drug, sell-a-drug" model.
Read the article: 7 Steps to Reshape Disrupted Customer Engagement Models in Life Sciences
4. Accelerated commercial decisions
The fourth area where we continue to see agility is in commercial decisions, specifically around COVID-19 therapies. A lot of decisions that big pharma are making involve enormous investment levels and a long-term ROI. Where to spend the money is driven by a careful governance process and metrics. Now, they not only have to decide whether to get into COVID-19, but also how to get into the development. Do they funnel investments into building up manufacturing capacities, partner with governments, or create consortiums with other manufacturers?
There are huge questions in the media and public discourse today about how to price, provide access, and get the supply and distribution chains up and running. If you have a vaccine, you need to get that into patients. This is a political and public relations minefield where everybody is watching. Where do you commit your supply if it is constrained in the early days, and in which countries did taxpayers fund research that led to the discovery? What is an acceptable level of profit to generate and to reward the innovation without the risk of being seen as profiteering during a pandemic? How does value-based pricing work when the value here is potentially saving millions of lives and restarting entire economies? Even as important as the decision itself, is how to communicate that price once a drug or vaccine is ready for the market. Answering these will also require great agility from healthcare companies.
Watch the on-demand webinar: COVID-19 Impact on Pharma Market Access & Pricing in Europe