Digitalization in Healthcare: Trends and Challenges in 2020
January 31, 2020
Digitalization is an evergreen topic across industries, transforming business models and requiring a constant will to change. What's the state of digital transformation in healthcare? Do healthcare companies have their digital strategy in place and implemented yet? What are the main challenges? Our Digital Health Trend Study 2019 provides answers to the most burning issues.
Digitalization isn't a vision anymore – it's happening right now, and healthcare companies have to carefully plan their next moves to not miss the boat. Just like in any other industry, the digital transformation in healthcare isn't slowing down in 2020: Telemedicine, Artificial Intelligence (AI), blockchain and Internet of Things (IoT) are only a few examples of emerging technologies that drive the shift towards a more and more digitalized healthcare sector.
Offering digital technology-based products and services requires a long-term strategy and the right monetization approach. In our Digital Health Trend Study 2019, we asked more than 120 managers from the medtech, consumer healthcare (CHC), pharma and biotech industries about digital business trends and challenges in their industry. The respondents' roles cover various functions (e.g. Marketing, P&MA, Business Development) with global, regional or country responsibility. Their answers reveal that many life sciences companies still have a long way to go to reach digital maturity.
Most life sciences companies lack a digital strategy
A huge majority of 89 percent of respondents has understood the relevance and does choose a strategic approach to digitalization. However, 59 percent of life sciences companies don't have their digital strategy in place yet – a surprisingly high number. There is no uniform approach to defining the digital strategy: 56 percent count on a dedicated digital team to define their digital strategy, while in another 42 percent, a commercial team is responsible. The majority of companies defines their digital strategy at headquarter level (66 percent) and across business units (86 percent).

The digital strategy is optimally fully harmonized across all geographic and organizational levels. However, only 26 percent of the surveyed life sciences companies break their strategy down to region or country on a geographic level and to business unit or brand on an organizational level. We call them "digital strategists": They often drive digitalization across the entire value chain and mostly see themselves as digital leaders (54 percent) or disruptors (31 percent). Digital leaders are leading digital transformation, while digital disruptors are changing industry standards by choosing new pathways, what makes them even more risk-prone. The majority of respondents of all other digital archetypes that have a less harmonized, more general or visionary approach in defining their digital strategy would describe themselves as digital followers. As late adopters, they prefer to wait and adopt digital approaches only when error checked.
Digital strategy implementation leaves room for improvement
Only 55 percent are satisfied with their digital strategy in place, meaning that on the other hand, almost half of the surveyed companies see moderate to high room for improvement on their strategy definition. Of particular note is that the further the strategy is broken down, the lower its quality gets and the more gaps occur. In other words: Quality deficits especially become visible at country and brand level.
When looking at execution, satisfaction levels are even lower. Particularly companies with dedicated digital teams lag behind companies with a commercial team, indicating that those with a dedicated digital team for definition do not necessarily also dedicate enough resources to strategy execution. 
The most common challenge in digital strategy definition and execution is the strategic alignment with existing business models, including the harmonization across geographic and organizational levels. In addition, more than half of the surveyed companies lack digital capabilities, financial resources and process agility. Missing internal stakeholder support and a dynamic external environment with legal uncertainties complicate execution as well.
Digital products and services are the key investment area
Life sciences companies typically invest in multiple areas along the value chain, with digital products and services being the key investment area:
The number one objective for these investments is enhancing the existing portfolio with add-on digital solutions (70 percent) or standalone digital solutions (38 percent). In addition, half of respondents intend to collect relevant customer or patient data to further improve their portfolio, one third aims to leverage digital products to engage into payer or provider partnerships (e.g. for innovative contracting). 
The surveyed companies expect their investments to pay off, especially in the long run. Looking at the expectation on the revenue share coming directly or indirectly from digital, it's obvious that digital is becoming the new norm within the next five to ten years. Almost a third of business is predicted to come from digital products and solutions: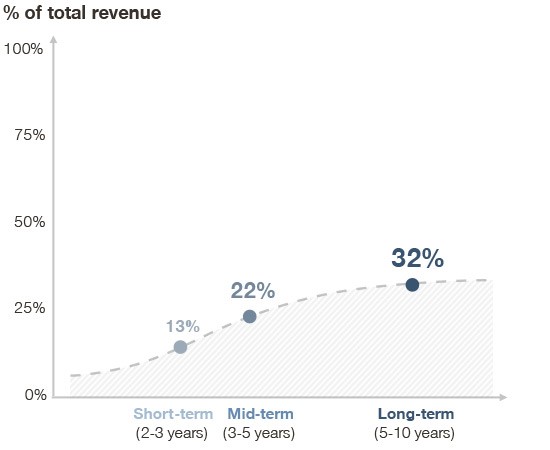 The low number of 13 percent expected short-term revenue share is mainly caused by monetization and market access challenges. 76 percent of life sciences companies are struggling to define the right price and/or revenue model. Additionally, 81 percent have market access-related difficulties to achieve funding.
Key success factors for commercializing digital health solutions
Asking life sciences companies about the most important success factors for commercializing digital health solutions brought the following key takeaways:
Better understand customer needs (28 percent)
Ensure market access/sales capabilities (24 percent)
Choose customer-rationalized offer design (23 percent)
Communicate the value proposition (22 percent)
Generate evidence to substantiate the value proposition (11 percent)
Achieve selective/broad funding (9 percent)
Find the right revenue model (8 percent)
...
Our study shows that life sciences companies are only at the beginning of their journey towards a fully digitalized business model and mindset with some significant differences between medtech, consumer healthcare (CHC) and pharma/biotech companies.
---
Enjoyed reading our article? You may also find this interesting:
Key Account Management: Tackling the Challenges of a Dynamic Pharma Market
Virtual Healthcare: Are Amazon and Other Tech Giants Taking Over the Industry"?
"Only a Few Consumers Have Used Direct-to-Consumer Genetic Testing So Far"