Online Shopping in the Consumer Healthcare Sector: What Consumers Want and What Deters Them
June 30, 2020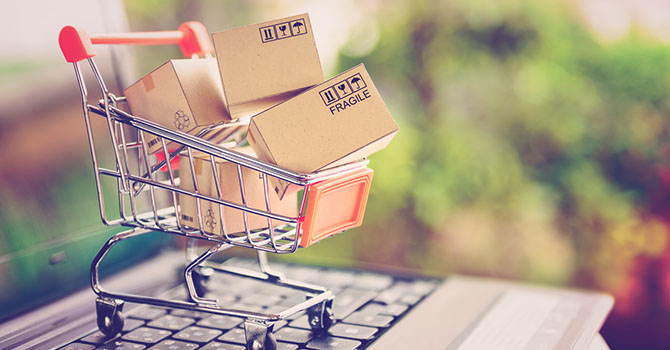 Mail-order business is booming. Even before the COVID-19 crisis, experts predicted steady growth in the online share of non-prescription drugs. The current situation is leading to a continuing massive increase in the share of mail-order sales. The recent study by Simon-Kucher & Partners conducted before COVID-19 sheds light on consumers' online purchasing behavior regarding consumer healthcare (CHC) products, and explains how CHC providers can improve their sales activities on internet platforms to successfully grow online.
Around 60 percent of European end consumers have already purchased non-prescription drugs online. This is the finding of the Online Purchasing Behavior in the Consumer Healthcare Sector* study conducted by Simon-Kucher & Partners. Germany is ahead of the curve in Europe (75 percent), with higher online sales than any other country covered in the study, which included France, the UK, Poland, and Russia. Compared to a previous study from the end of 2017, the proportion of consumers who have purchased over-the-counter medications online increased by five percentage points in Germany. In fact, the amount of mail-order business is increasing across all countries. The coronavirus crisis will reinforce this effect not only over the short term, but likely also the long term. Many customers who are buying CHC products via the online channel for the first time during the crisis will continue to do so once it ends. In addition, local developments like the introduction of Electronic Prescription Services and the launch of pharmacy platforms will further accelerate the online growth in Consumer Healthcare. For CHC providers, this means they need to understand consumers' buying behavior in order to take the right measures in the increasingly important online channel.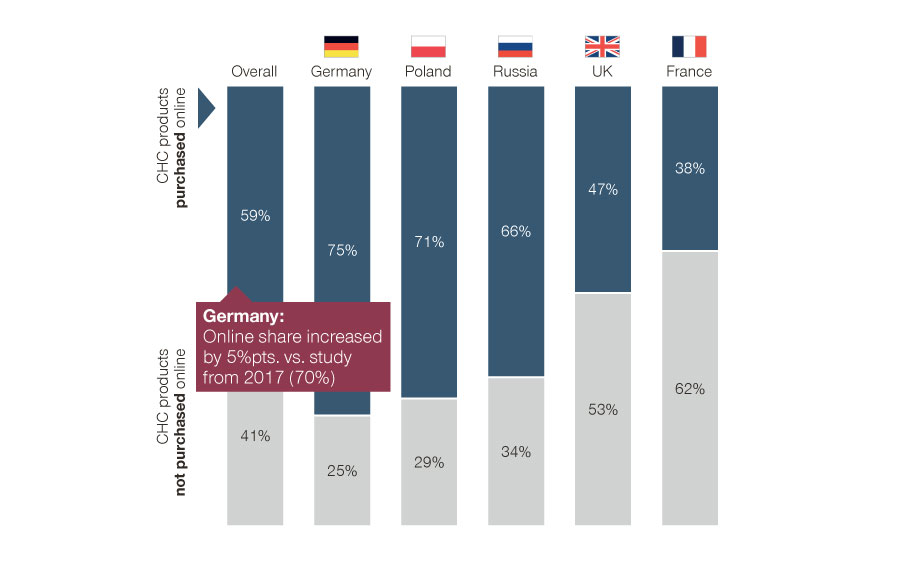 Price remains the main reason for shopping online
Almost two-thirds of European end consumers surveyed say price advantages are a key driver for their online purchase of non-prescription drugs. Therefore, price is still the number one criterion for consumers when electing for purchasing online rather than at brick-and-mortar stores. However, comfort and convenience are also playing an increasingly important role in consumers' shopping behavior. In fact, more than one-third of consumers who shop online appreciate the larger product offering and being able to make purchases outside of opening hours. For more than a quarter of online shoppers, time savings through purchasing online is what sets it apart from brick-and-mortar pharmacies. For online retailers, this means they need to think of alternative ways beyond pricing to differentiate themselves from the competition.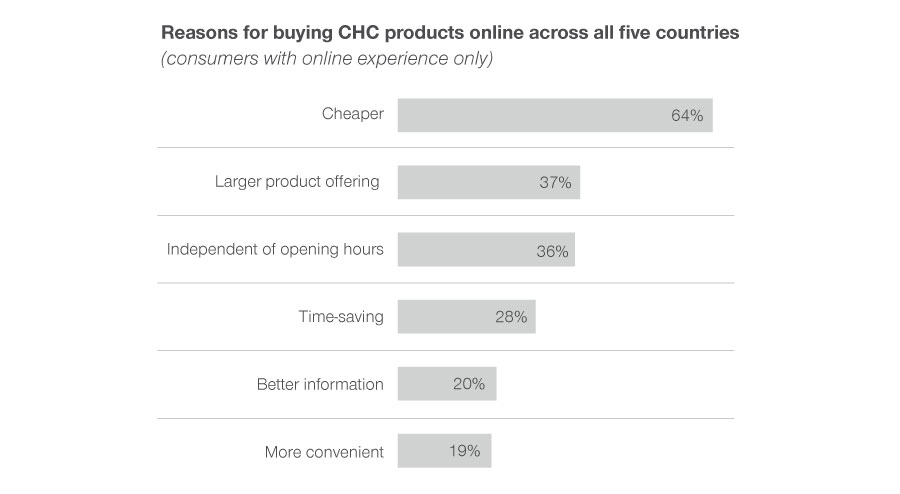 Younger consumers have the highest affinity for shopping online, and are the least price sensitive in the channel
It is important for CHC providers to know their target group well in order to respond to consumer wishes and needs accordingly. The study results show that affinity for online shopping and reasons for buying can vary significantly between consumer segments. Younger consumers are not only more likely to purchase CHC products online, they also tend to be less price-driven. In fact, a comparably low share (53 percent) of consumers younger than 30 see cheaper prices as a reason for buying CHC products online. In contrast, 74 percent of consumers older than 65 years name price as a key reason for purchasing CHC products in the online channel rather than at brick-and-mortar pharmacies.
Similarly, the importance of being able to purchase an item online differs considerably across product categories. For example, products with well-known and established brands, such as cold remedies and painkillers, seem trustworthy to consumers, making it easier for them to buy these products online. On the other hand, product categories that typically are more likely to require professional consultation, such as heart health and sedatives/sleeping aids, are less relevant for the online channel as of now.
As a consequence, there is no 'one-size-fits-all' solution for a successful strategy in the online channel. CHC providers need to align their marketing, sales, and pricing strategies with their product portfolio and target groups. This is only possible if consumers and products are clearly segmented.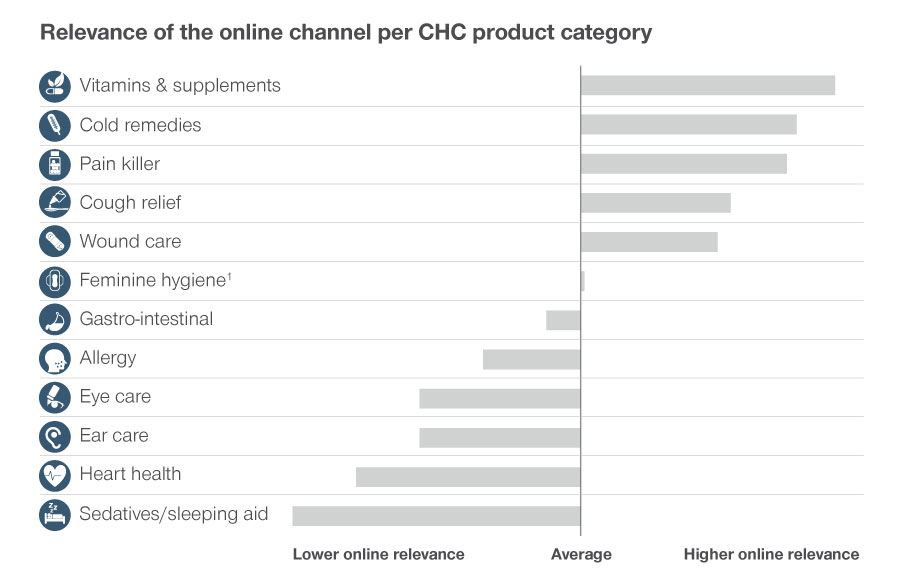 Delivery times and the lack of advice deter consumers
The study also reveals what discourages consumers from buying CHC products online. Around 37 percent of consumers are discouraged from purchasing CHC products online due to not receiving personal advice online. This creates a great opportunity for pharmacy chains with click-and-collect services and for pharmacy platforms that were recently established, for example in Germany. With the help of click-and-collect concepts and the new two-sided markets, brick-and-mortar pharmacies can capitalize on their local proximity and face-to-face interaction by offering the option of digital consultations. In contrast to online pharmacies, brick-and-mortar pharmacies can either deliver the required medication within a few hours, or make it available for pickup later on. In light of this, omnichannel players stand a strong chance of gaining on pure online retailers.
Another common reason for not buying CHC products online is the fear of obtaining counterfeits. Around 37 percent of consumers stated that the risk of counterfeiting deters them from ordering online. This fear is particularly distinct in countries and among consumer segments with lower experience in buying CHC products in the online channel. Despite the growing relevance of online CHC purchasing, online players in CHC still need to invest in generating a broader acceptance and higher trust among end consumers in many countries. For CHC manufacturers this also means investing in the creation of high-quality content, including compelling product descriptions, high-resolution photos, and videos that give shoppers the feel of the product.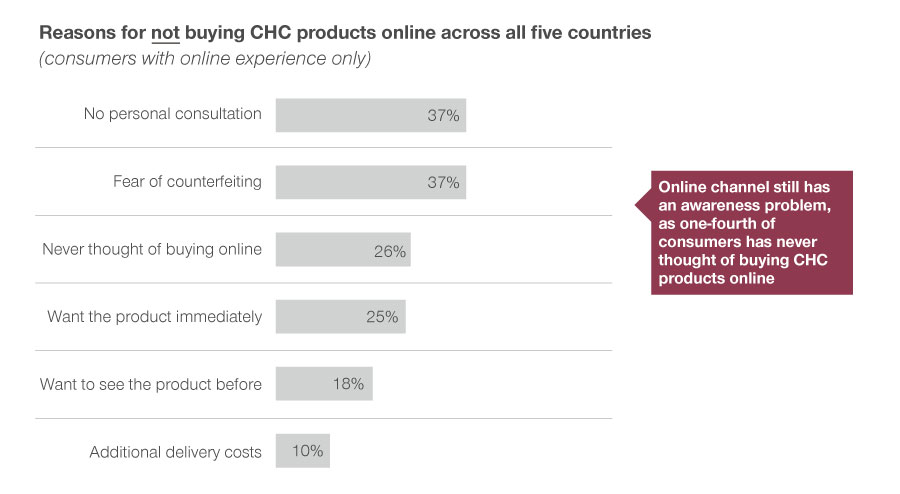 Key takeaways for CHC manufacturers
1. Omnichannel is the new normal
The online share continues to increase. CHC manufacturers need to be aware of this trend and expand and improve their ecommerce capabilities in-house. Beyond that, sufficient marketing and sales investment needs to be re-allocated to the online channel to reach consumers at every step of their journey.
2. One size fits none
Online affinity varies across countries and consumer profiles. In addition, consumer needs and journeys can differ substantially. As a consequence, a 'one-size-fits-all' solution will not be successful in the online channel. CHC manufacturers need to review their product assortment strategy in light of different consumer needs and shopping occasions. Analytics need to be built to sharpen and individualize trade marketing activities accordingly.
3. Pricing is key
Price remains the number one reason for consumers to buy CHC products online. To avoid price erosion in the online channel, manufacturers need to optimize their trade spend.
*About the study: The study Online Purchasing Behavior in the Consumer Healthcare Sector was conducted by Simon-Kucher & Partners in early 2020. It examined online purchasing behavior for non-prescription drugs (over-the-counter/OTC) and surveyed 500 end consumers in five European countries (Germany, France, the UK, Poland, and Russia) for a total of 2,500 participants. The full study is available on request.
---
HEALTHCARE NEWSLETTER
Boosting revenue and profits in Life Sciences. Our experts share comprehensive solutions for the complex marketing, sales, and pricing challenges faced by healthcare players. Read our latest newsletter issue here.