The "Tariff-y-ing" New Normal
September 20, 2018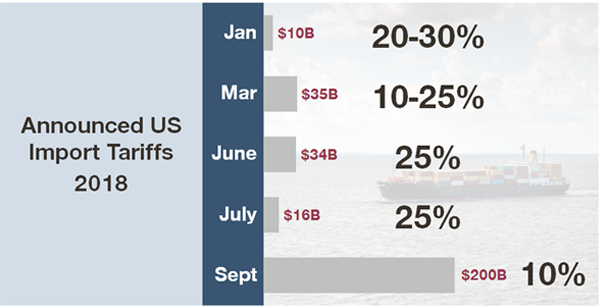 It appears that every day there are new US tariffs being imposed on trading partners worldwide, and it can scare both consumers and businesses. However, with a structured approach firms can offset the effects of tariffs while minimizing the impact to their consumer base through intelligent pricing and communication.
Tariffs. Among all the political news happening right now, they may have the most potential to directly impact businesses. With new penalties on $200 billion USD of Chinese imports announced Monday, the number of instituted tariffs continues to grow:
20% and 30% import tariff placed on all washers and solar cells.

[i]

10% and 25% import tariffs enacted on all aluminum and steel imports respectively.

[ii]

This hits manufacturers of CPGs, beverages, and appliances hard and has potential to trickle to consumers.
25% import tariff placed on $50 billion USD of Chinese imports, covering 1,102 products from chemicals to motorcycles.

[iii]

10% import tariff on $200 billion USD worth of Chinese imports, which will climb to 25% by January, covering 5,207 additional products from lighting to baby car seats.

[iv]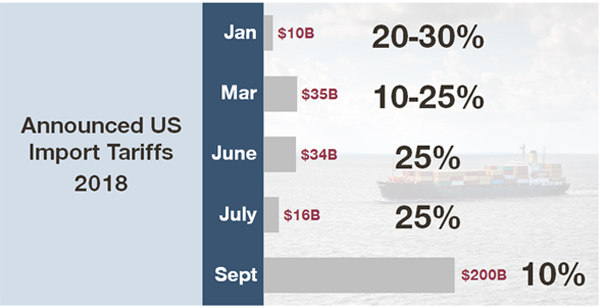 These tariffs are having an immediate impact on companies' bottom lines. Already, just months after implementation, tariffs are causing many businesses to miss their earnings targets and lower their revenue projections.
GM cut its expected earnings per share by 15% in July, citing metal tariffs. Overall GM stock is down over 10% since July.

[v]

Tyson adjusted EPS from $6.55-$6.70 to $5.70-$6.00, faulting tariffs and an unstable trade environment. The stock is down over 15% over the past 6 months.

[vi]

Whirlpool missed July earnings, hitting $3.20 EPS instead of the anticipated $3.69. Whirlpool cited tariffs as a cause.

[vii]

Despite washer tariffs designed to protect the US industry, Whirlpool could not overcome metal tariffs.
These tariffs have escalated into what many are labeling a new trade war. Not only is it more costly to import commodities and manufactured goods to the US, but retaliatory tariffs are making it more expensive to export. In recent months, China has slapped tariffs on $110 billion USD of US imports ranging from agricultural products to chemicals and fuel.[viii][ix] This may be the new "tariff-y-ing" business condition we will all now be working in for the foreseeable future.
Businesses, however, are starting to proactively take advantage of this situation. Coca-Cola CEO, James Quincy, said that the new steel and aluminum tariffs have resulted in higher costs, and that Coca-Cola is taking price mid-year with its bottlers and retailers.[x] Newell Brands also announced that tariffs are adversely affecting the company and consumers should expect prices to rise.[xi]
Given the speed and unpredictable nature of tariffs hitting the market it is important to have a plan for how to react, especially when it comes to developing and executing your pricing strategy. From our experience, there are 4 key steps you need to think through first:
Ask yourself if you should even take price:

Consumers do not really care that your costs have increased, even if it is all over the news. Before deciding whether to increase your prices because of the tariffs, take a few moments of self-reflection and assess whether you have the negotiation power, brand positioning, market share, etc. to do so. Also be keenly aware whether competitors are signaling their intentions. The risk is vastly different if the rest of the competitive market is increasing prices vs if you are the only one. If everyone is doing it, maybe you should too? On the other hand, if you're the only one then make sure you are confident you can.

Use a scalpel instead of a hammer

: Just because you can increase prices on everything does not mean you should. It is just as important to identify what and how to increase prices. Different categories have different dynamics, and consumers may see justification for a price increase in one category but not in another, even if tariffs are hitting both categories equally. This is not just a price elasticity conversation – this is also understanding consumer shopping behavior, value drivers, and your areas of differentiation. This may lead you to look at selectively choosing particular parts of your portfolio, downsizing, reducing SKUs, or creating bundles as alternatives to just a blanket price increase. 

How you communicate absolutely matters:

Pricing is a highly psychological and emotional lever to pull on consumers, and how you communicate it affects market perception. Brooklinen made a misstep recently when they emailed their customer base that prices will increase up to 20%. Driven by vast negative consumer backlash, they had to send a clarification letter two days later explaining that prices had to increase due to tariffs and rising commodity costs, and that the 20% increase will only apply to select items. It is important to reasonably justify any straight price adjustments to your consumers,

and to be very careful how you are messaging it to minimize risk to your brand or sales.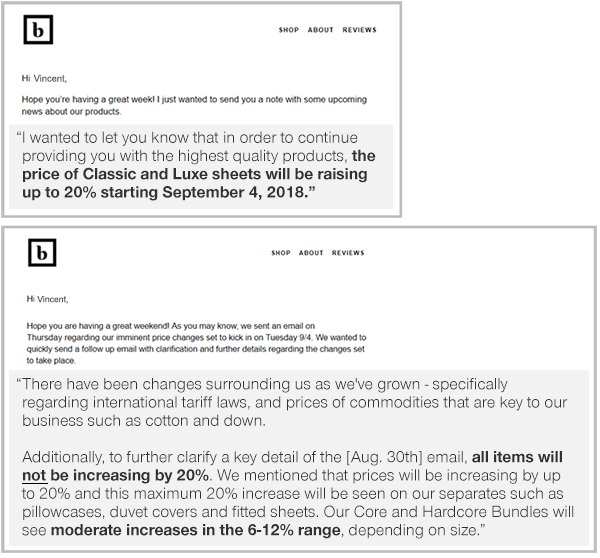 Be sure your organization is ready for it:

Pricing is not just a financial exercise but a structured strategic decision. You need to make sure you have the processes, organizational structure, and responsibility owners in place to make the decision-making and executional sign-offs a structured and systematic activity. Although tariffs may be something new, drastic market shifts and fluctuations are not, and making major pricing decisions cannot always be a reactionary fire drill.
Tariffs can hit hard, fast, and unpredictably. However it does not mean you need to make quick, irrational changes to your overall pricing strategy. It is important to have a playbook already in hand to thoughtfully use pricing to offset the tariffs while minimally impacting your consumer perception. That would put you in a more "tariff-ic" position. 
[i] "Trumps trade war has started. Who's been helped and who's been hurt?" The Washington Post, July 5th, 2018.
[ii] Pramuk, Jacob. "Treasury Secretary Steven Mnuchin says steel and aluminum tariffs on China will stay in place."  CNBC, May 22nd, 2018.
[iii] Bryan, Bob. "Trump just slapped tariffs on $34 billion worth of Chinese goods – here's the full list of products that will get hit." Business Insider, July 6th, 2018.
[iv] Kim, Tae. "China hits back: It will impose tariffs on $60 billion worth of US goods effective Sept. 24." CNBC, Sept. 18th, 2018.
[v] Associated Press. "GM cuts profit forecast due to steel, aluminum tariffs." New York Post. July 25th, 2018.
[vi] Rivas, Teresa. "Tyson Foods' Earnings Bitten by Tariffs, Trade Issues." Barron's, July 30th, 2018.
[vii] "Whirlpool earnings miss, tariffs impact on results." CNBC, July 24th, 2018.
[viii] Guida, Victoria. "China announces retaliation against $50B in US goods." Politico, Jun. 15th, 2018.
[ix] Wei, Lingling. Schlesinger, Jacob. "China Retaliates With Tariffs on $60 Billion of U.S. Goods." The Wall Street Journal, Sept. 19th, 2018.
[x] Price, Emily. "Coca-Cola CEO Says Steel and Aluminum Tariffs Are Impacting Its Business." Fortune, Jul. 25th, 2018.
[xi] Hanbury, Mary. "These popular brands say Trumps' tariffs are forcing them to raise prices." Business Insider, Sep. 7th, 2018.