Topline Growth in the Digital Age
August 21, 2018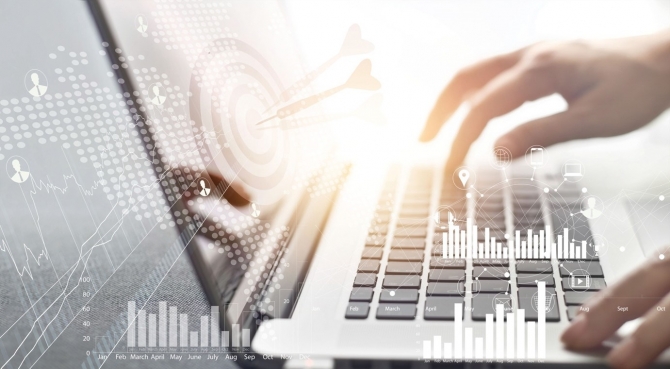 To fully understand what digital means for growth, we must first go back to the beginning. What defines the digital age and what has really changed? It was some forty years ago that the foundations for the digital revolution were laid when Intel started building the scalable chips that would make home computing possible. And by the turn of the millennium about half of US households had access to the Internet through their home computers, giving rise to new technologies that would transform every aspect of our lives.
The move from the computer age to the Internet age no doubt provided the impetus for a digital revolution in the new millennium. However, to fully understand the fundamental transformation taking place and what this means for growth, some crucial distinctions must be made between the current digital age and eras gone by.

What is different about the digital age?
While the 1980s and 1990s can be defined by huge shifts in technology, the current era is marked by major cultural changes – increased mobility, scalability and sociability thanks to mobile, cloud and social.
"Digital is not just about a change in technology. It's also about a change in culture and, fundamentally, how we make money."
On every level these changes are impacting how we do things, how we communicate, and how we make purchases, having massive implications for how businesses make money. Being a cultural rather than a technological concept, digital is about scalability and speed. It's about using versus owning. It's about relationships – we have far more but far thinner relationships. We have more data so we can make faster and better decisions. We have far more interconnected value chains so there's increased transparency. And we have more tools to help us along the way. Digital enables us to run our businesses more effectively and efficiently, greatly impacting our monetization and growth potential.

Why top line growth?
Digital businesses by nature operate on very low marginal costs and are modelled on scalability, where cost-cutting can only take us so far. Therefore, the top line of a business – price and sales volume – has become the powerhouse of growth.

So how does digital impact top line growth?
More personalized marketing
Personalization in sales has been happening for a very long time. Traders and good sales people will make an assessment of their customer and their willingness to pay through proxy cues – how we look, what car we drive, the house we live in. With digitalization, the use of demographic and social data to make pricing decisions is now occurring on a massive scale. Companies are doing exactly what traders and sale people have always done, but instead of making assessments based on look and feel, they're using data in real time on a massive scale
As such, companies now have the power to implement far more tailored marketing and promotional activities. They are better able to understand customers' willingness to pay through accurate customer segmentation, with differentiated packaging, price models and price levels to match.
More people involved
It may seem counter-intuitive but technology has led to more investment in people, not less. We know from our global surveys that companies who are far more advanced in their digital journey employ more pricing people than their competitors. While the roles are certainly changing, increased data and granularity and more permutations, speed and options have created greater complexity in business, and marketing and sales are becoming increasingly scientific. Marketers have become the new data scientists.
More flexible price models
As we move into the digital age, we have observed a major opening up of how companies can fundamentally make money; how they charge for products and services. It's not necessarily a question about lower prices or even different prices. Companies are revolutionizing how they charge thanks to digitalization.
One such example is the 'subscriptionization' of products. Indeed, people are more and more comfortable with using rather than owning. And a new usage based models are not just emerging in the B2C world. B2B companies are also embracing subscription packages, such as General Electric with their outcomes-based service models. We're witnessing a shift in how people are perceiving and using products and services. Companies are taking advantage of the enhanced flexibility and the need for less capital investment offered by such monetization models.
---
Related insights: The 5 pricing models companies need to consider when innovating
---
More data-driven sales
We see a bifurcation of the relationship between sales and the customer evolving in the digital age. With increased interconnectedness and new partnership models, such as that used by GE, big customers need more, not less, sales focus.  On the flip side, big data is now being applied to solve the volume-based challenges of selling to small customers. Big data and sales technology is now being used by small and large businesses alike thanks to scalable, cost-effective data storage and analysis.
More tool-based decision making
Sales have long used tools to support their work. However, today it is far more cost-effective than previously to build niche, bespoke systems, moving away from the large off-the-shelf, all-encompassing packages of years gone by. More tools mean a more scientific-approach and less gut-feeling decision-making. And these tools are not about replacing sales people. They're about making impact by harnessing the insight that lives deep in transactional data. Tools are being used to fine-tune simple parts of the sales process allowing for more efficient and effective transactions.
More price wars
On the downside, transparency is the inevitable result of the increased speed, the greater number of algorithms and the more interconnected value chains that are hallmarks of the digital age. Today, we are operating in a very different capital structure environment, with a different approach to valuing companies where margin isn't always paramount and scale is. The risk of price wars is much higher.
---
Related insights: Rethinking price wars: Disruptive forces are reshaping how they start, get fought, and get resolved
---

Rethinking how we do business
Top line growth in the digital age will affect us and force us to rethink how we do business. At the heart of this, we have a very different relationship with our customers, and this fundamentally represents a cultural change rather than a technological one. It's about marketing and sales channels and enhanced personalization and customer lifetime value. And yes, there is risk with digital, but there is far more opportunity.
---
Want to know more? Explore our digitalization content and resources here