Coronavirus: 11% of the world economy is thriving, an alarming 58% is threatened
Press Contact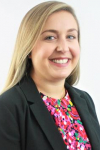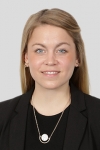 Anne Angenvoort
Senior Public Relations Manager
While there is widespread agreement among economists that the coronavirus pandemic will severely impact the global economy, forecasting the road ahead has become almost impossible. Understanding the various scenarios and threats to the economy is a valuable tool against this backdrop of limited visibility. By looking at how demand shifts and social distancing measures affect industries, the global strategy and marketing consultancy Simon-Kucher & Partners has assessed the current damage to the economy. The results are alarming:
 
Experts at Simon-Kucher & Partners recently conducted an expert assessment on how severely the coronavirus pandemic is threatening the global economy and identified four scenarios where companies may find themselves during the crisis: thriving, overwhelmed, overweight, and threatened. By studying how demand is changing as a result of shifts in customer preferences and behavior, and how sales and delivery are impacted by social distancing and health & safety requirements, the team evaluated the impact on demand and the impact on go-to-market model of each industry with a scoring model.* The experts then used the scores to assess where each industry lies on the "crisis map" and calculated their contribution to the world economy. Simon-Kucher estimates that currently 58 percent of the world economy is under threat — an alarming share worth 50 trillion US dollars.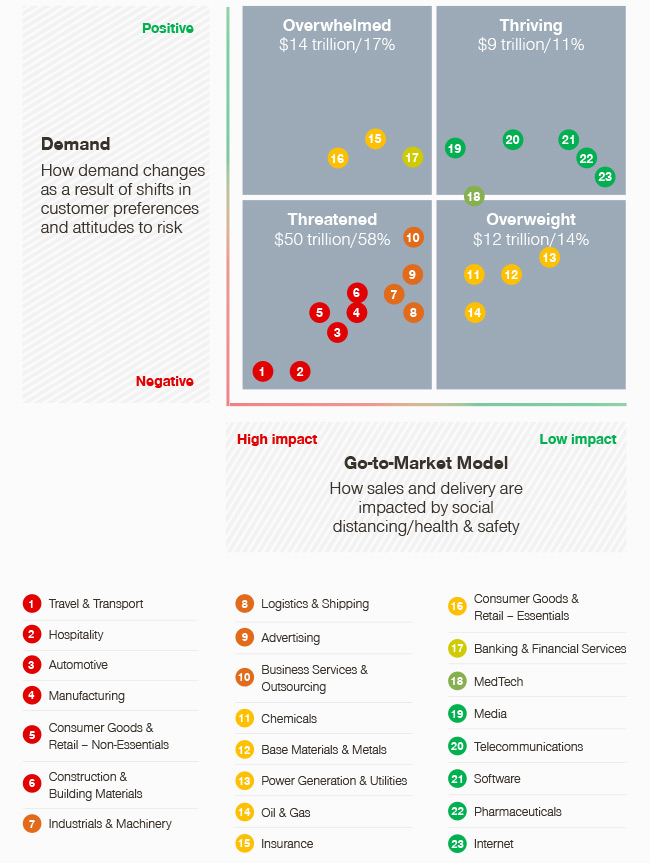 This figure not only underscores the magnitude of economic shock caused by the pandemic, it also highlights how travel and hospitality are not alone in their turmoil. Industries identified as threatened include automotive, manufacturing, non-essential consumer goods, industrials & machinery, logistics & shipping, construction, and advertising. "Some companies might be able to survive a few months in this suspended state, but it is doubtful whether they could last a year or two," warns Philip Daus, Partner at Simon-Kucher in Houston. "Threatened companies need to reinvent their whole business. They need to organize teams to redesign the customer journey, and find new revenue models and value propositions that will work in a "with corona" world. At the same time, they need to shut down business models that have no obvious future for the next two years, and determine what assets have potential value in another space," Daus adds.
The assessment also indicates that overweight industries — those experiencing limited stress on the go-to-market model but rather outright declines or changes in demand — amount to14 percent of the global economy, with an estimated worth of12 trillion US dollars. Meanwhile, 17 percent of industries, worth an estimated 14 trillion US dollars, currently find themselves in the overwhelmed space, where positive demand shifts are straining operations.
Yet there is a glimmer of hope for the global economy. Worth an estimated nine trillion US dollars, 11 percent of the world's economy is thriving. Demand shifts are working in favor of pharmaceuticals, telecommunications, software, internet, and media companies, with measures not inhibiting them from absorbing greater demand, addressing new segments, and responding with different price-product combinations. "This is the most desirable spot of the Crisis Map, but many companies find themselves in this quadrant by luck or chance," explains Dr. Wei Ke, Partner at Simon-Kucher's New York and Toronto offices.
In the next 18 to 24 months, businesses worldwide will be on a wild roller coaster, and an accurate figure on the total economic damage caused by the coronavirus pandemic will likely only be available post-crisis. Experts at Simon-Kucher describe this unpredictable period as the resurgent crisis. Instead of a classic economic crisis – one standard "linear" scenario where demand declines and puts temporary stress on the economic model – a resurgent crisis puts both economic models and go-to-market models under duress. "It creates a double-barreled nightmare that has no precedent for a playbook," explains Mark Billige, CEO of Simon-Kucher & Partners. Billige also emphasizes that whether a company or industry can move to a better position, or defend a desirable one, will come down to their commercial agility, "This is the ability to make resilient offer design, sales, cost management and pricing decisions with unprecedented speed and flexibility – over and over again – until some form of equilibrium returns to their market."
*The criteria points used to score 'impact on demand' included volume, customer behavior, price sensitivity, and competitive reaction, while the criteria points for 'impact on go-to-market model' were customer access, sales approach, capacity, and supply chain.
Simon-Kucher & Partners, Strategy & Marketing Consultants:
Simon-Kucher & Partners is a global consulting firm with more than 1,400 professionals in 39 offices worldwide focusing on TopLine Power®. Founded in 1985, the company has more than 30 years of experience providing strategy and marketing consulting and is regarded as the world's leading pricing advisor.