Company Profile
>€50bn annual revenue
Leading energy supplier in Europe
Company serves more than 20 million electricity customers and 10 million gas customers
Situation and Objectives
Segment residential customer base using ERP/CRM data
Develop customer value and churn prediction model
Increase overall efficiency of marketing spend
Approach
Conducted market research study with customers to segment them in an actionable way.
Segmentation criteria were finally customer value and churn risk. This led to three distinctive segments: Innovators, traditionalists, and bargain hunters.
Identified their needs in terms of product, price, promotion and channel and developed measures accordingly.
Customer Segmentation Concept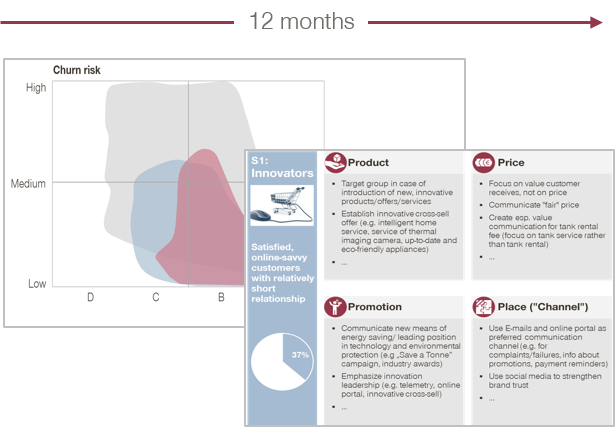 Results
Developed a customer segmentation concept based on a multi-dimensional scoring model.
Developed a customer retention strategy, including target segments, targeted marketing, and the sales channel mix.
Efficiently allocated marketing and sales budget resources based on customer value.
Designed a strategy for efficient management of marketing and channel partners, and defined a specification sheet for IT system integration.
Impact
Churn rate of core segment reduced by ~28%