5 Key Success Factors for Monetizing Digital Diagnostic Solutions
September 15, 2020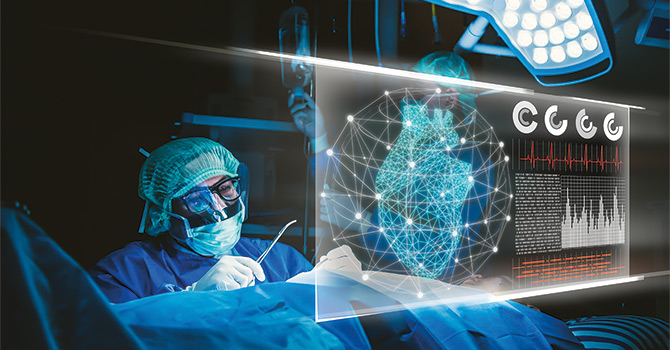 Digital diagnostics (Dx) solutions are on the rise: Key industry players are increasingly accepting them and many solutions are currently under development. But one challenge often remains: Monetizing these digital Dx solutions to their full potential. We identified five key challenges as well as their solutions to ensure the successful monetization of your digital diagnostics solution.
As probably most people know, digitalization is on an unstoppable advance – and the healthcare sector is no exception. For example, experts forecast the revenue from artificial intelligence (AI) systems in healthcare worldwide to rise from 4.3 billion US dollars in 2020 to 28 billion in 2025. A good indicator for what will be happening to digital diagnostics: In countless discussions with industry players like payers, radiologists, and pathologists we noticed a noteworthy change of mind from being resistant regarding digital diagnostics (Dx) to becoming more open towards innovative solutions. Several diagnostic solutions are already being deployed and range from tools to effectively identify patients with high risk of developing a medical condition to tools to increase diagnostic accuracy via offering decision support towards physicians and nurses. In addition, the development pipeline for manufacturers remains strong with many more digital diagnostic solutions on their way.
Successful monetization prerequisite for further development of digital Dx solutions
So, with industry players coming around more and more to the idea of using digital Dx as well as many exciting solutions currently under development, what's the problem? Despite the positive growth and investment outlook, the monetization of digital diagnostic solutions remains challenging due to several barriers. As a result, if companies aren't able to monetize digital solutions to their full potential, profitability might be threatened and further invention will be stalled or even prevented.
To stop that from happening, there are a few major challenges for digital diagnostic providers which they need to overcome when trying to monetize their solutions:
The value proposition has low credibility: Many practitioners are convinced of their own capabilities and do not believe that digital solutions can provide better performance and therefore see limited value in the promised time savings or increased diagnostic accuracy.
Offer and price models are varying: There is no standard price model in the market. Many different price models can be observed with no clear best practice examples.
The deserved price is difficult to understand: Due to varying scope, price model and service packages, there are few direct price benchmarks and/or poor price transparency of alternative solutions for the supplier and the customer.
The lab infrastructure is too diverse: Each customer has its own lab infrastructure set-up which results in the pre-requisites for digital diagnostics not being available by default.
Relevant stakeholders differ across labs: The deciding stakeholder may vary by lab depending on indication and/or investment, therefore, the target audience may be difficult to determine.
5 factors are key to your successful monetization strategy
Such a diverse set of challenges is difficult to overcome. Nevertheless, due to our experience in the industry, we were able to identify a set of key success factors for your monetization and go-to-market strategy.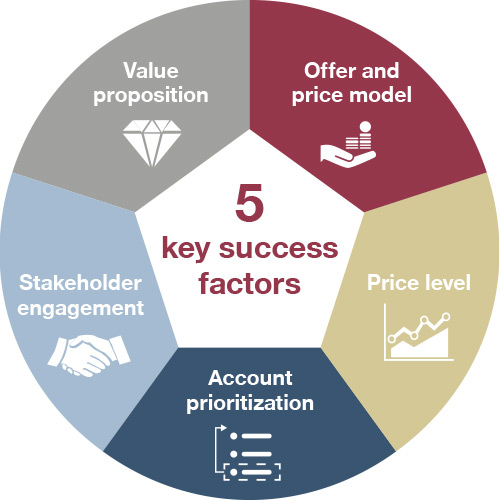 1. A proven and clear value proposition
In order to convince practitioners of your digital Dx solution's value, you need to define a comprehensive, proven, and clear value proposition. There are four steps you should take into consideration: First you have to identify clinical (accuracy, outcome …) as well as economic (efficiency gains, time savings …) value drivers. As a next step, you need to research supporting evidence. For instance, if accuracy is one of your solution's value drivers, compare the accuracy of your digital Dx with published literature to have a handy benefit illustration. Although be aware – don't compare the accuracy of physicians themselves, because that might put off your target group. The next step is the most important one: Quantify your solution's economic value. For example, staff time savings can be translated into lower employee costs, more efficient processes are converted into cost savings due to less time and material spend. As a last step, you can then generate supporting evidence by driving lighthouse examples with leading lab centers to provide proof of concept and offering a (limited) demo version for testing purposes.
2. An appropriate and easy-to-understand offer and price model
Right now, there are so many different models in the market for pricing your digital diagnostics solution, that it's hard to find a tried and tested best practice example. However, insights from other industries can at least partially be applied: A platform approach with one-time access fees to cover installation and set-up costs, core modules bundled in a subscription module fee covering the software and mandatory services, and additional services charged as add-ons is straight-forward, easy to understand, and in our experience works very well.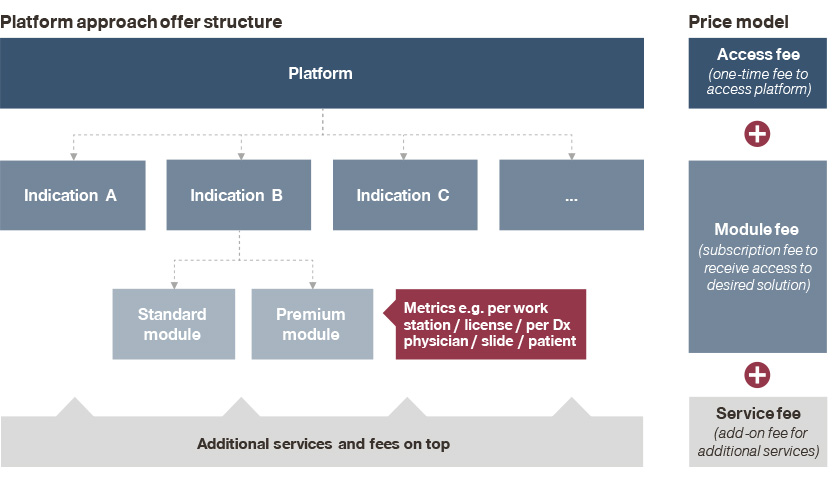 3. The right/deserved price level
The best price model is of no use if the price level offered based on it does not reflect the buyers' willingness to pay. Therefore, you should carefully consider which price level will be considered as justified bordering expensive by your target audience. To find that out, you can build on various data sources to determine the price potential:
Internal willingness to pay assumptions
Competitor benchmarks from similar solutions
Market research about customer's willingness to pay
Calculations of economic savings
Internal cross-check with already successful business cases
4. A fitting prioritization of markets and accounts
To truly understand the attractiveness of your solutions to different customers and consequently derive a prioritization of target groups you need to assess target markets and accounts based on pre-defined criteria. This is a process where you first have to understand your digital Dx solutions' pre-requisites to determine the maturity level necessary at your customers' labs. Afterwards, you can analyze which markets best meet these requirements – those are the ones most relevant to you. In a third step, you should look at and prioritize customer accounts based on criteria like size, type of hospital, complexity of existing decision making process, etc. in order to assess the eligibility of your solution.
5. Active engagement with relevant stakeholders
As the relevant stakeholders differ across labs, to sell your digital Dx solution most effectively, you need to identify who's making the decisions as well as who is owning the budget. Key stakeholders are typically Dx physicians, procurement managers, and CIOs – since each of those have a different agenda you'll need to diversify your engagement model with a bespoke value proposition for each stakeholder potentially also tailored to the individual market.
Maximize your monetization success in 5 ways
To sum up, if you want to maximize the monetization success of your digital Dx solution, you should think broad about its value, narrow it down to a clear value proposition and provide evidence for the key claims. To derive the optimal price level, you can check both internal and external sources to proxy the willingness to pay. Transparent price models work best, especially when key service components are bundled together in one subscription fee and additional services are available as add-ons. At last, you need to understand and prioritize the right markets, identify the right accounts, and address the relevant decision-makers with a selling story tailored to their needs.