Banking in a Developing Country – Challenges in Papua New Guinea
October 18, 2017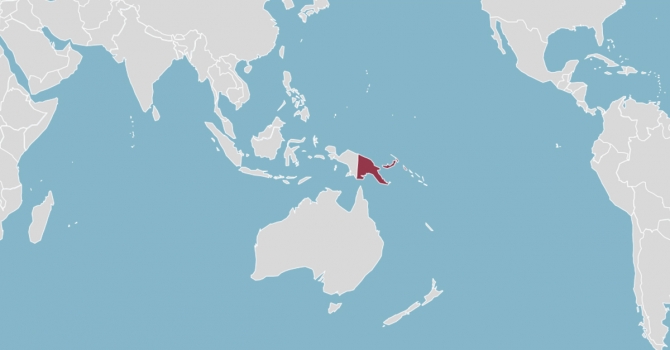 Today, it's hard to imagine banking without many innovative services, such as online and mobile banking, contactless payments, or digital wallets. However, this development has not yet reached every part of the world. How does banking work, say, in Papua New Guinea? What are the local challenges and what is the way forward?
"Client need for comfort is also present in developing countries. The way of serving this need, however, strongly depends on a country's degree of digitalization."
Client need for comfort in Papua New Guinea is not comparable to the extent of digitalization in the Swiss market. Nowadays, cashless banks and complicated access to cash are not unusual in Papua New Guinea. Banks are introducing local debit cards to satisfy increasing client expectations for simplified access to cash. The introduction of debit cards is however tied to a variety of country-specific challenges, which differ significantly from Swiss standards. 
"Overall security in Papua New Guinea confronts the banking industry with considerable challenges."
Papua New Guinea is located on the eastern half of the island of New Guinea, which is part of an archipelago northeast from Australia (see image).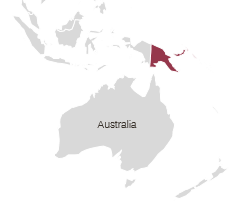 At 436 km², the country is about 11 times larger than Switzerland in geographical terms. It has around 8.3 million inhabitants, who are predominantly employed in agriculture (about 75%). The gross domestic product was about USD 28.02 billion in 2016, which equals an average purchasing power of about USD 3,500 per year. At approximately 6%, the inflation rate is relatively high compared to Western countries.
Overall security and corruption confront the banking industry with enormous challenges. In the past, large Australian banks have closed their branches in Papua New Guinea or stopped their business operations entirely due to security reasons. Residents sometimes still bury their savings. It is therefore not surprising that apart from bank notes, parallel payment methods such as jewelry still exist. Consequently, Papua New Guinea is not immediately associated with the banking industry. It is one of the few countries in the world where cannibalism might still exist in territories that are difficult to access.
"Increasing client need for more comfort requires banks to rethink their offerings."
In Papua New Guinea, some financial service providers do not yet operate with cash. Nevertheless, inhabitants need access to their financial means, which they sometimes keep safe at different financial institutions. Cash in a bank branch goes along with an increased security risk and a non-negligible investment in security personnel. Due to the demanding topography of the country and the rudimentary developed infrastructure, it can take clients up to three or four hours to reach a bank branch, one way. If the specific branch is also cashless, what follows is a thorough review of the request to withdraw money. Given they have received positive feedback, the client is then referred to another bank where they can withdraw cash. This time-consuming and expensive procedure led to the desire for a much simpler and cheaper cash withdrawal process. This need can be met by introducing a local debit card with access to cash via cash machines and EFTPOS terminals.
"Security and cultural differences significantly influenced the project."
Security is an omni-present issue in everyday life. It is no accident that the Federal Department of Foreign Affairs (FDFA) issued substantial travel warnings for Papua New Guinea. Hence, many hotels provide foreigners with a mandatory driving service to and from the airport. It is also not unusual that foreign business travelers are accompanied by security personnel. During elections in Papua New Guinea, it is still the case that a multitude of Australian soldiers are used to ensure security. The soldiers are accommodated in the same hotels that are visited by tourists and business travelers.
Cultural differences to developing countries are well known, to a substantial part due to Geert Hofstede's work on cultural dimensions. Especially striking were the cultural dimensions of masculinity and power distance, noticeable through pronounced hierarchies and top-down decisions. During discussions between the project team and the CEO, the CEO usually asked the team to give their opinion and then announced the decision to the bank. The former part of the discussion only took place if the CEO wanted to hear the project team's view. Otherwise employees remained silent and always agreed with the CEO. However, this authority of executive management has the advantage of shorter decision paths and a high acceptance of taken decisions, which is not always the case in a Swiss environment.
"When manual processes determine the daily routine."
In Papua New Guinea, not all banks have their own network of ATMs and EFTPOS terminals. Therefore, smaller banks frequently use the infrastructure of an existing bank in the market to introduce their debit cards. These partner banks produce the debit cards, however, the cards need to be registered manually. This complicated process can take a very long time. Since not all clients have a permanent address and postal delivery does not always work properly, the debit cards and PINs are only delivered to the bank branches. The clients need to collect their cards personally from a branch. Due to the sensitivity of the data, the branches need to be equipped with safes to meet the increased security risk with appropriate measures.
"A different approach to internal and external communication."
It is commonly known that training relationship managers and client communication are central success factors in every project implementation. However, this type of training in Papua New Guinea is challenging in ways unimaginable to Western countries. Due to the rudimentary infrastructure and the inaccessibility of some regions, the physical presence of the project team in all the branches to conduct the training would imply a trip lasting several weeks. Consequently, training sessions are usually held digitally via webcast. It is no rarity that employees from different branches will never come in contact personally during their employment at the same bank. Another challenge is the language barrier. There are more than 800 languages in Papua New Guinea, this is equal to about 15% of all spoken languages on the planet. No other country has a greater variety of languages. The official language is English, however, people frequently speak a mixture of English and the local Creole language. This complicates communication within the country and the bank itself.
Client communication to announce changes in the product offering or pricing is clearly regulated in the Swiss market and follows certain deadlines. In Papua New Guinea however, there is no clearly defined set of rules. The announcement to introduce a new product or service does not occur by mail, but through an advertisement in the local daily newspaper and on the bank's website.  
"Introducing debit cards is the first step toward digitalization."
After having already successfully supported several African banks in their transformation process,   Simon-Kucher & Partners supported a local bank in Papua New Guinea to extend their range of retail banking products to debit cards. This included designing the offering landscape, pricing, and implementation plan. Digitalization plays a special role in countries like Papua New Guinea. Due to the general conditions that prevail today, several serious issues can be overcome more easily than elsewhere. In this respect, the expectations of clients and the banks themselves are especially high when it comes to mobile banking.
"Digitalization for the sake of digitalization is not expedient, the focus should always be on client needs."
Finally, we can conclude that that Swiss clients find themselves in a very comfortable situation, which is not self-evident in many other countries around the world. Wherever in the world a bank is based, client need should always be in focus, also or especially so when it comes to digitalization initiatives. Digitalization for the sake of digitalization is not expedient. The above example shows how crucial the need for comfort and security is in banking.  The central question for banks should therefore always be what the client wants and how the bank can make the client's life "more comfortable".