Consumer Healthcare: How to Drive Profitable Growth Through Optimized Gross-to-Net Management
June 30, 2020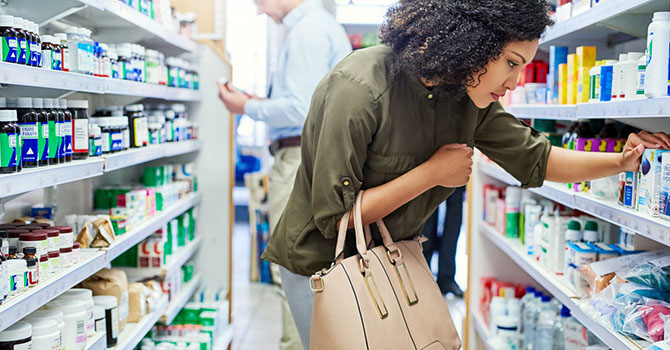 Gross-to-Net management (GtN) is about all the trade investments made into the channel partners. It is one of the biggest investments consumer healthcare companies typically carry out. Spending these high investments effectively is crucial for every company. Additionally, GtN systems have a huge influence on consumer healthcare companies' clients, such as pharmacies. The importance of systematic GtN management increases as the current market conditions change with ongoing consolidation and a growing online channel. In this article, we explain what consumer healthcare companies have to consider in their GtN management to steer their trade partners most effectively.
Gross-to-Net (GtN) management is one of the most important commercial areas. This statement applies to a variety of companies from the life sciences sector, including consumer healthcare companies (CHC). As part of customer pricing, GtN determines how to get from a list price to the final net price, which trade partners then pay. Typical GtN components include either a discount that is directly granted on the invoice, or a rebate, which is paid retrospectively. An additional GtN element is trade marketing investment. Trade marketing investments are payments to trade partners such as pharma wholesalers or online pharmacies for marketing activities they are conducting for the manufacturer. The importance as well as the set-up of GtN management in the life sciences industry varies greatly by sub-industry, product segment, channel, and market.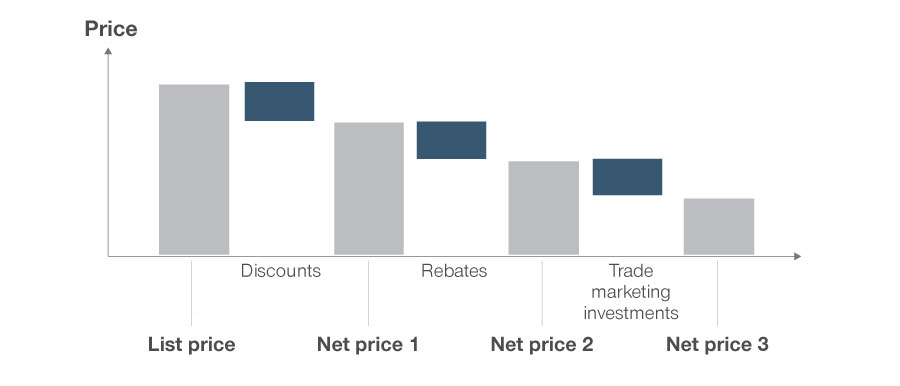 GtN management is especially important for CHC companies
GtN is very important for CHC companies: On the one hand, GtN investments are one of the biggest investments CHC companies face, ranging from double digit investments based on the pharmacy list price, to up to over 50 percent for highly generic products. On the other hand, Simon-Kucher studies show that a CHC company's GtN investment is the most important criterion along with brand value for pharmacies to determine which products to focus on and recommend to its customers.
The importance of GtN management will further increase due to ongoing market consolidation. This will shift the balance of power towards the channel partners which increases the pressure on the investments. Additionally, the consolidation makes consistent GtN management even more important. CHC companies also have to determine how to optimally use a GtN system to influence the online channel, which is growing in importance.
Typical GtN management challenges CHC companies often face
GtN management impacts many areas within a consumer healthcare company – and doing it effectively leads to many benefits. From our project experience, the main challenges we see CHC companies struggle with in GtN management are often the same:
Limited transparency: Most CHC companies do not have full transparency on their total GtN investments (covering the complete GtN investments from discounts and rebates to trade marketing investments)
Unclear ROI: Despite very high GtN investments, most CHC companies do not know the ROI of their investments, and therefore are not able to optimally allocate their budgets
Missing pay-for-performance components: A major part of GtN investment is often not tied to customer performance and additionally is not consistently linked to the overall company objectives
Inconsistencies: GtN investments are often inconsistent across customers and channels, bearing high price contamination risk
Undifferentiated investments: GtN investments are often not systematically differentiated across brands and products, therefore not considering the specific situation of each brand
Key components to reach GtN excellence
What can CHC companies do to overcome the aforementioned challenges? Based on our project experience within the sector, we have selected elements that are especially crucial to achieve excellence in GtN management.
Ensure full transparency on GtN investments
It is best practice for relevant stakeholders within a CHC company (e.g. head of sales, finance) to have full transparency down to the most granular level of detail on the GtN investments always at their disposal. This includes the potential to break down GtN investments by product and customer, as well as by different GtN elements on the transactional level. By doing so, CHC companies have the full transparency they need in order to analyze the situation and optimally steer trade partners. Additionally, this level of detail helps the management, sales, and finance teams to better detect inconsistencies within the GtN investments, and provide respective guidance to the sales organization.
Best in class CHC companies have a GtN dashboard in place which provides them direct access to all relevant GtN analysis. These dashboards are directly connected to all relevant databases, and provide pre-defined analysis as well as easy access to new data cuts, as well as the option to drill-down if needed.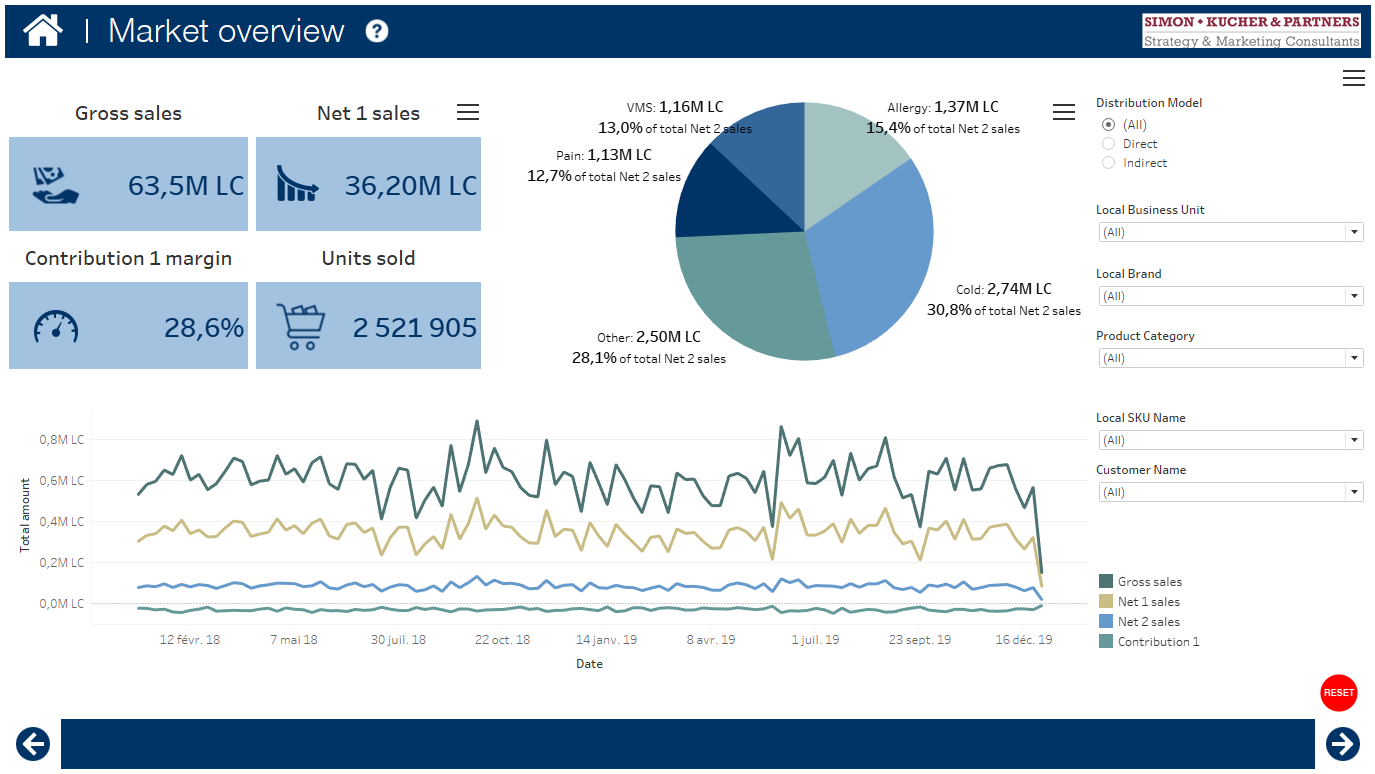 Figure: Illustrative example dashboard of GtN monitoring
Set up a performance-based GtN system linked to company targets
To reward lucrative customers and their desirable behavior, CHC companies' GtN systems should be clearly based on pay-for-performance principles. Here, the first step is to identify your company's objectives (e.g. growth of a specific part of the portfolio). Next, you have to link elements of your GtN system to these objectives to incentivize beneficial behavior from trade partners. But be aware: To remain transparent and efficient, your GtN system should focus only on the most important targets, and not every single goal.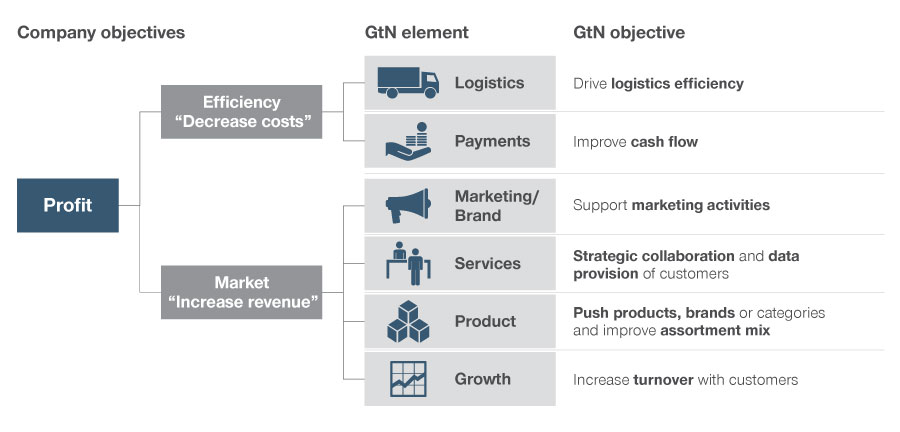 Figure: Example GtN objectives based on overall company objectives
As an important condition, it is crucial that a GtN system is easy for customers to understand and communicate in order to incentivize their behavior. Additionally, it is very important that a GtN system is perceived as fair, especially in markets with pharmacists as main channel customers, which are often especially sensitive in this regard.
Best practice example: Partnership model incentivizes customer behavior
One effective approach to incentivize channel customers is using a GtN partnership model. In recent years we have seen a stronger shift in many CHC companies from an order-based and sell-in focused approach to a more long-term sell-out driven GtN management. A partnership model has proven to be the right approach for many CHC companies to more effectively steer their trade partners' behavior.
The starting point of a partnership model is to define a set of partnership requirements that have to be fulfilled in order to become a special partner. If all necessary criteria are met, they will lead to a set of special benefits. For instance, a customer that contributes a certain amount of revenue, participates in all regular marketing activities, and guarantees a high visibility in the pharmacy in return becomes a preferred partner. As a result, the customer receives benefits like better discounts, access to special trainings, etc. In a partnership approach, CHC companies should define several partnership levels (e.g. platinum, gold, silver) and communicate clearly what clients have to do to reach the next level. Partnership models such as the one in the figure below help to avoid opportunistic channel partner behavior and enable true partnerships that benefit both parties involved.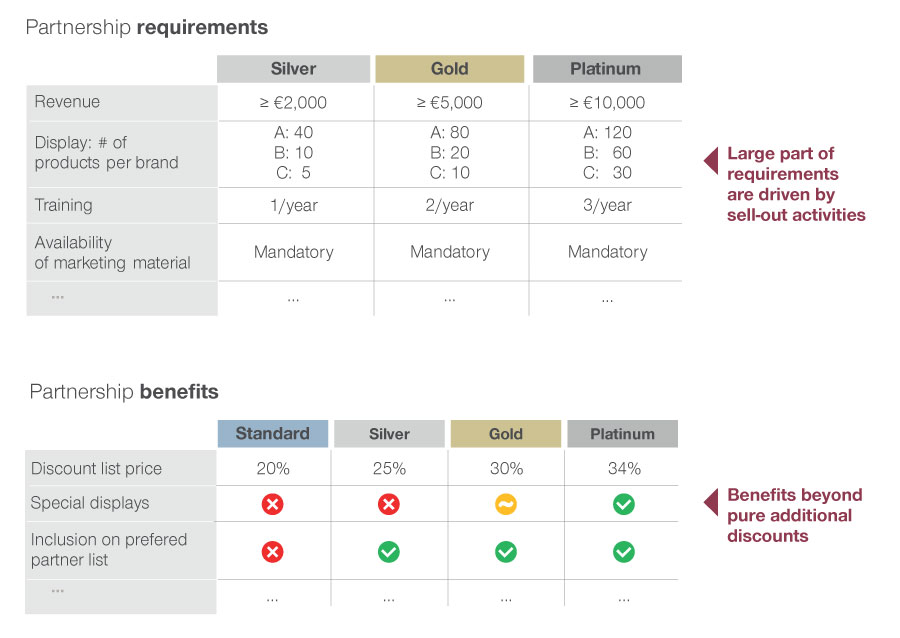 Figure: Conceptual example of GtN partnership model
Systematically differentiate GtN levels across brands
Another important component to GtN excellence is to systematically differentiate the GtN levels across the product portfolio, which is mainly done through discounts. The question still remains of how to determine the optimal level across the portfolio.
From our experience, many successful CHC companies systematically use a set of four criteria to determine the optimal discount levels across the portfolio:
Influence of channel partner
One important criteria which is often neglected is the influence of channel partners (e.g., pharmacies) on the actual purchase decision of end customers. In several of our projects, we have seen that high GtN investments into pharmacies have been made into products which are actually not influenced by pharmacies. In this case, the investment could be better spent on other activities such as consumer marketing rather than GtN investments into pharmacies.
Competitive intensity
The second criteria to consider is the level of competitive intensity of a product. In this regard, relative or absolute discount differences vs. competition as well as the related brand strength have to be considered.
Margin of product
The third criteria to consider is the margin of a product before granting any discounts. The higher the margin, the more discounts can be spent to achieve the profit optimal price (ceteris paribus).
Strategic objective with a brand
The last criteria that should be considered when determining the optimal discount level is the companies' strategic objective with a brand. This includes determining if investments should focus on consumer, pharmacy or physician activities. A strong growth objective for a product also justifies higher discounts compared to a well-established product already in decline.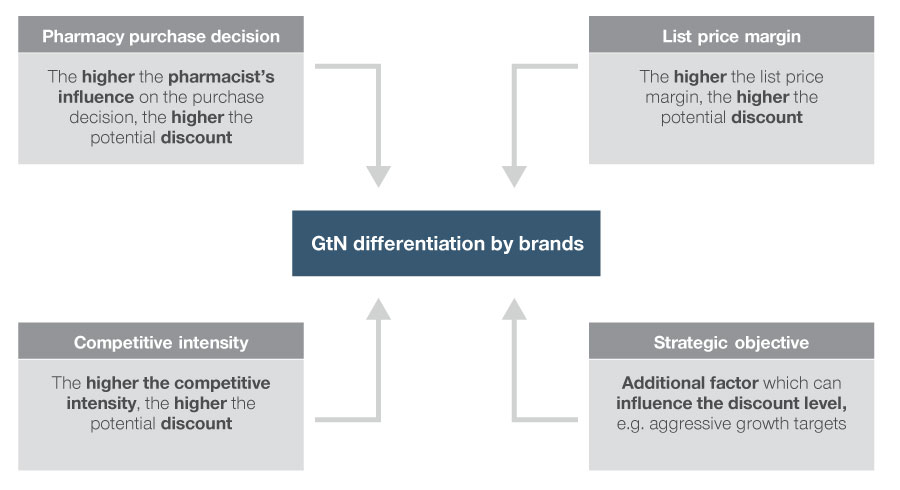 Figure: Criteria to differentiate GtN level by brands
However, the perfect balance between optimal product differentiation based on the criteria mentioned above and an understandable communication towards the trade partners is not easy. On the one hand, a differentiated discount by product might be optimal in theory. On the other hand, too many different discount levels are difficult to handle and communicate in reality.
A common mistake which is often made and should be avoided is that discounts are used to correct list prices which are not optimally set. In this case, the list prices should be corrected without changing the GtN levels.
Ensure holistic internal/external implementation and communication:
The best and most innovative trade term system cannot work effectively if it isn't implemented comprehensively and communicated correctly. For starters, the sales force incentive system needs to be in line with the GtN objectives, and should reward sales representatives' behavior that promotes these goals. Additionally, you have to communicate to your customers clearly and frequently where they stand and what they have to do in order to get the agreed GtN investments. To ensure optimal efficiency, you should establish targeted regular monitoring as well as consequences within your company. Exceptions should be avoided or minimized and clearly tracked.
Four steps to successfully develop and implement a new GtN system
Having clarified which key elements are required to achieve GtN management excellence, the question remains: How do you get there? The process to develop and implement an efficient GtN system can be split into four steps, which last typically in three to four months from start to implementation. The following illustration provides an overview of the four phases and the main components of each on an aggregated level.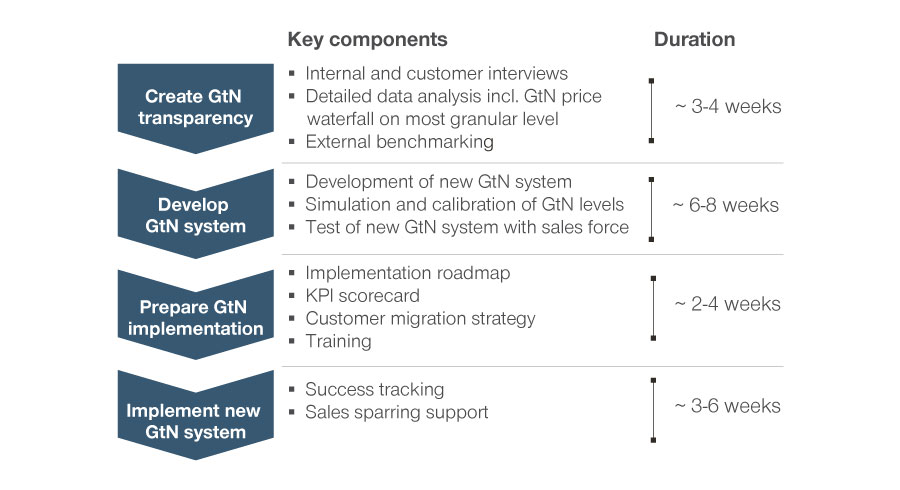 Figure: Steps to develop and implement a new GtN system (not exhaustive)
For a GtN project, the project team should involve selected sales force stakeholders from the beginning, especially key opinion leaders. But most importantly, the effort of a thorough implementation process should not be underestimated. A detailed migration strategy, implementation monitoring, and a thorough sales force training are key for success!
Summary: GtN excellence ensures consumer healthcare companies' success
Optimizing the GtN system plays a crucial role in a CHC company's success in the market. After all, given the very high GtN investments in combination with the high importance for pharmacies' decision making, GtN management is one of the key success factors for CHC companies.
---