Digitalization in the Machinery Sector
August 22, 2017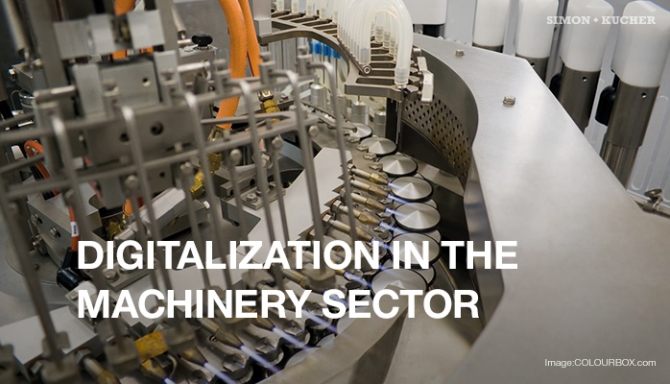 Equipment and Machinery: The Internet of Things and 3D represent a one-two punch combination knocking out established business models
As the IoT accelerates and 3D printing starts to gain traction, digitalization is no longer a distant buzzword on the horizon for equipment and machinery companies. The threat is real. Disruptive startups and mega-firms are lurking behind every corner and it's only a matter of time before these new technologies become widespread enough to start putting established companies out of business.
Simon-Kucher Insights
Generally acknowledging this digital shift has begun, the equipment and machinery industry is experiencing a calm before the storm. There's a distinct feeling of unease, but most established companies are still idly getting by with their traditional business models and not challenging themselves to adapt to the road ahead.
Here's what will happen first; manufacturers will put sensors on everything and figure out what's going on.  This is the battle for the core product.
Working under pre-digital conditions leaves no room for even "basic" optimizations.  Previously, companies could thrive with scheduled maintenance programs, prototype-driven R&D and price-per-unit sales models (i.e. $100,000 for this piece of equipment).  
Caterpillar's publicly stated goal is to ensure 100 percent of the items leaving their factories are sensor enabled and connected; they will have 1,000,000 connected machines in 2018.
Those who embraced the IoT early have already realized massive gains by shifting to predictive maintenance models, their R&D is becoming far more effective as in-field equipment literally tells them customer usage data allowing them to research and develop solutions to problems that matter to their customers, and we're beginning to see industrial leaders shift toward consumption based sales models (i.e. $1,000 per ton of moved dirt).
This will impact all equipment and machinery manufacturers. Those who get ahead of the curve will enjoy a competitive advantage over laggards. All previous "Hardware Only" companies will become information and communication firms to some degree. 
Here's what will happen second; your replacement parts will cease being physical goods and become digital concepts.  This is the battle for your highly-profitable spare parts business.
Additive manufacturing, a.k.a. 3D printing, will threaten your highly-profitable spare parts business.  Now is the time to define whether traditionally manufactured products will still have a unique selling proposition (USP) and to what extent established companies should embrace 3D printing in their portfolio.  Don't wait until halfway through the battle to create your plan, equipment and machinery companies need to be ready to counter-attack with a well thought-out digital positioning and business model.
When will each product in your catalog be capable of being additively manufactured?  How will you control the digital rights? What is the right monetization approach and price model for additive vs. traditionally manufactured products?  Plus: How does all of this affect field sales, how much will sales revert to the online channel, and what's going to happen to my distribution channel?
These are complex questions, and finding the right solution is not so easy. Each manufacturer has to make a guess on how their future product portfolio will be composed, that is, think about the importance of traditionally manufactured vs. 3D-printed products. Same goes for the importance of distribution channels. Having such a roadmap helps determining a monetization model and channel strategy that direct customers towards the "right" products and channels. But there is another complication: Thanks to digital technologies – be it on the production or the sales side – serving the end-customer directly becomes a reality for many B2B companies who are used to rely on distributors and dealers. But to do so successfully, they need to learn a completely new business approach; B2C is very different from B2B, after all. Plus, most manufacturers need to think twice before putting at risk their good relationships with traditional sales channels due to an end-customer facing online shop.
At the forefront of digitalization
Encouragingly, not everyone is lagging behind. John Deere is a good example of a firm that has already grasped the challenges and opportunities of digitalization. Their tractors are now equipped with a multitude of sensors and smart apps that suggest driving patterns for optimum vehicle efficiency. They also give crop and yield optimization recommendations for seeding, fertilization, and harvesting based on field-specific and third-party data (meteorological, geological, etc.). What's more, digital controls increase equipment precision, sensors promote operator and bystander safety, and another set of sensors and monitoring technology maximizes equipment uptime. But even in the Internet of Things era, tractors still need spare parts from time to time, which is why John Deere customers can order directly online via the JDParts web portal. As all customer-facing processes are fully digitalized, it goes without saying that the CRM system tracks customer preferences and improves OEM design, while their CPQ system rapidly provides quotes and helps win profitable orders from new customers.
Let's pull this all together by assuming you're a farmer operating a tractor.  You're sitting in your kitchen seeding your crops (the tractor is driving itself out in the field) when you are notified on your smart phone that the tractor has a part on the verge of breaking.  If it's a complicated machined component, say a roller bearing, you'll probably press a yellow button on your phone and the replacement part will arrive tomorrow in the mail.  If on the other hand the broken part is a less complicated plastic fender, you'll press the green button and head over to your local print center where their 3D printer just produced a new fender for you that you can take home tonight.
Sound farfetched?  Everything above is happening today. 
Advice from our experts
It's only a matter of time before the combination of IoT and 3D printing thoroughly attacks your established business models.
Align your leadership to create a digital strategy and roadmap. Know where you are headed, and how new technologies will affect your decade-old business models.
Enrich your products with digital value-adds.
Digitally optimize your sales channels to impress your customers with adequate and excellent sales experiences.
Start thinking about 3D printing in your applications and who will be the winners & losers.