Global Logistics Study 2020: Trends in Sales Digitalization
November 02, 2020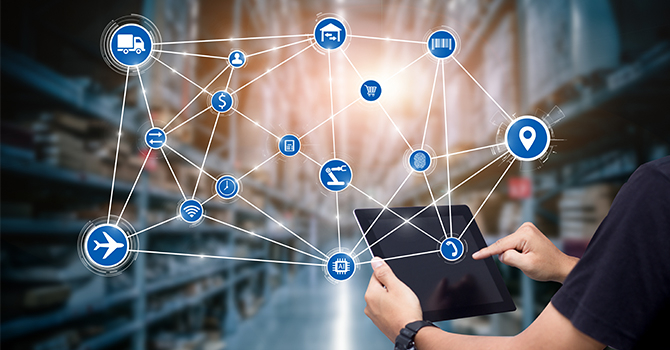 In July 2020, Simon-Kucher conducted a global logistics study, which involved 100 people from various logistics segments worldwide. The survey shows how the majority of logistics companies consider digitalization in sales to be of highest importance, yet understand their efforts have not been sufficient so far. This article discusses the results and highlights the areas where greater investments are needed.
In light of the current coronavirus pandemic, the resulting travel bans, and social distancing requirements, digitalization is becoming increasingly important in logistics. This is especially the case for sales, which suddenly has to rely on remote channels and processes. However, until now, logistics has lagged behind compared to other industries (e.g. tourism and banking). In addition, there is another source of the growing pressure to digitalize: more and more logistics start-ups are entering and changing the market. These companies are establishing new marketplaces where customers are fully empowered to carry out their business online, supported by a higher level of professionalism and a fully optimized, seamless customer journey.
Forced to work remotely and compete with young, dynamic companies, the entire logistics industry and particularly big industry players have had a strong wakeup call. And they finally are waking up: our Global Logistics Study 2020 shows that most companies see high importance in sales digitalization and are investing accordingly. But where exactly is all of the money going? Here are some of the key findings from the survey:
1. High importance of sales digitalization is met with correspondingly high investments – yet still only moderate success.
The logistics industry recognizes that digitalization is gaining in importance and yes, they are investing. However, if you take a closer look at where the money is being spent, many investments are not actually directed toward sales per se, but rather logistics processes. It is therefore no surprise that only around one third of survey respondents claim to be ahead when it comes to sales digitalization, and less than 30% believe that their digitization efforts are sufficient.
What many companies consider "sales digitalization" could actually range from simply beautifying the company website layout, to equipping the sales force with iPads and smartphones. And while there is no denying that these improvements are relevant and "digital", they enable neither the salesforce nor customers in terms of service configuration, price requests, or contract development, etc. This form of digitalization in the industry is rare and needs more focus, both from an internal perspective (the entire sales funnel) and from a customer perspective (the entire customer journey).
2. Companies have invested in online sales, but still neglect many elements
While more than 50 percent of companies have established online sales processes, the survey reveals a large variety in the process steps digitalized. For example, the survey found that key commercial components such as digital product and service configuration or instant quoting had only been digitalized by less than 50% of logistics companies. So why invest in putting some commercial steps online, but not others?
In logistics companies, products are rarely standardized and there is no clear value proposition for customers. Aspects such as average lead time, prioritization of shipments, what happens in case of now shows, etc., are unclear. Without standardized service details, online quoting and selling becomes an almost impossible task.
3. Online spot revenue is expected to grow over the next five years
According to the survey, online spot revenue currently accounts for under 10% of a logistics company's revenues, but respondents expect this to increase to up to 30% over the next five years. And the spot business is much more suitable for digital solutions. Instead of lengthy negotiation phases where prices are agreed for an annual period (which is what makes the contract business difficult to optimize for an online environment), it is much more convenient for customers to request a spot quote and decide for/against a carrier via a website. So while instant, automated and algorithm-based spot pricing may be of little revenue relevance today, the survey indicates that this is only set to become much more significant in the future.
4. Few logistics companies currently have an automated pricing engine
Even if spot quotes are being requested and provided online, it is likely the case that somebody is working in the background to process and submit these prices manually, rather than being provided by an engine that calculates and fully optimizes prices. The survey found that only 35% of logistics companies currently use an automated pricing engine. Here the biggest obstacles are again a lack of a standardized product or service offer, but also the absence of clear and fact-based guidelines that allow for the "right" pricing decision on a case by case basis.
5. Pricing engines are usually static and rule-based, dynamic pricing is still the exception
Many companies lack an accurate overview of their current capacity situation. There may be high-level knowledge about which lanes are over-/underutilized, but often there is no way to easily call up data on the exact, current capacity. Collecting this data, cleaning and consolidating it from various sources and back-ends, and making it accessible in appropriate front-end solutions, is another digitalization task. Ideally, the pricing engine should be fed with real-time capacity information in order to refine the capacity forecast model and derive capacity-based instant rates.
Therefore, a logistics company could use dynamic pricing in a similar way as airlines do – a method used by only 21 percent of all logistics companies surveyed. In contrast, the majority of companies either have fixed price lists or rule-based pricing that depends on the customer segment, volume, or season. In addition, experience shows that other customer characteristics that are crucial for determining willingness to pay are rarely taken into account, with large room for improvement in this area.
Conclusion: Investments need to target the entire sales journey
It is no secret that logistics businesses have previously lagged behind in terms of sales innovation, and even their customers have insisted on maintaining the traditional channels, preferring to give account managers a call rather than visiting the company's website. However, this survey shows that logistics companies do have the motivation and commitment to digitalizing sales, even if their investments could be directed toward more effective areas. The most powerful investments in digital sales should consider the entire customer journey and sales funnel, starting with lead generation and development (e.g. SEO, webinars, online service configurators, etc.) and continuing right up to the point of pricing, booking, and aftersales/customer loyalty management.
A professional sales digitalization approach is anything but a do-it-yourself task – it requires support from external experts. The actual technical implementation is just the last piece of this journey, and unfortunately, only one in five logistics companies decide to choose a third-party CPQ provider. But even more important than the IT-related challenge is the design of the overall digital strategy: What is the overarching goal of digitalization? (Cost reduction in sales? Enhanced customer journey? Address new customer/market segments?) And what are the best solutions to achieve this goal (Which tools, applications, dashboards etc. need to be introduced, and at which step of the sales funnel/customer journey?) Professional advisors for commercial and digital solutions like Simon-Kucher bring in multiple years of experience and make sure that digitalization in sales does not remain a patchwork of selective measures, but is integrated into a consistent and holistic concept.