Grocery Price Wars: So You Think You Can Match Price?
March 26, 2017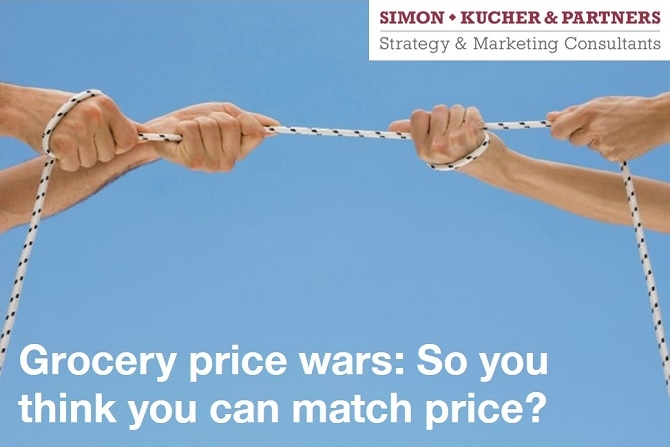 Walmart recently announced that it will run price comparison tests in 1,200 of its stores in efforts to close the price gaps to its fiercest competitors, namely, Kroger and Aldi. The latter's fellow German discounter Lidl has plans to open 100 stores in the US over the next 18 months and aggressively expand from there. Both moves have the potential to shake up the US retail landscape. The price war continues to unfold, similar to how Aldi and Lidl disrupted the business models of grocery stores across many European markets.
Traditional supermarkets promise consumers a wide assortment and high levels of service, while Walmart provides their favorite brands at everyday low prices. Aldi and Lidl turn this traditional proposition on its head. They bet that there is a segment of consumers just looking for cheap, "good enough" products who don't care about store format, service or brand name products. By reducing store size, personnel and branded assortment, they create an extremely advantageous cost structure allowing them to compete at significantly lower prices.
For retailers that use Walmart as a benchmark, the knee-jerk reaction might be to follow down on food prices to protect share. But before you run scenarios on blanket price decreases, consider that this is one of the rare cases where the US has the advantage to learn from other markets that have already experienced a similar "race to the bottom".
Aldi (and Lidl) have disrupted grocery business models across many European markets, but three markets – the UK, Germany and Spain - offer insights on how to win in a looming price war.
Lesson 1: You cannot win on price! This is the most important lesson of all. Low-cost competitors will almost certainly follow you down to maintain their competitive price advantage and have the cost leadership to do so.
The UK market is one where reactions from traditional grocery retailers offer lessons on what not to do. As German discounters began to steal significant market share, UK market leaders, like Tesco and Sainsbury's, reacted very similarly to Walmart is now and initiated a major price war. What they failed to realize early on is that the discounters would fundamentally always have the cost leadership to win in a price war. In fact, discounters openly stated that their margins were defined by the traditional retailers. And that their goals were to maintain price gaps in order to communicate huge savings to the consumer. For Aldi, the gap was up to 35%.
Lesson 2: Price surgically. You do not have to match competitors' pricing on every item. Smarter, more targeted pricing will help you maintain a competitive image while protecting profitability as the price war heats up While retailers often adopt a uniform competitive price matching strategy, our extensive experience in the industry suggests that not all products are created equal. In reality, retailers have varying degrees of pricing freedom depending on both the price elasticity of the individual product and the price visibility/awareness of its category. While the price of milk and eggs are crucial to shaping consumers' price perception, for example, the price of an item like Nutella may not be as top of mind. Furthermore, the pricing freedom you have for a given product likely differs by consumer segment.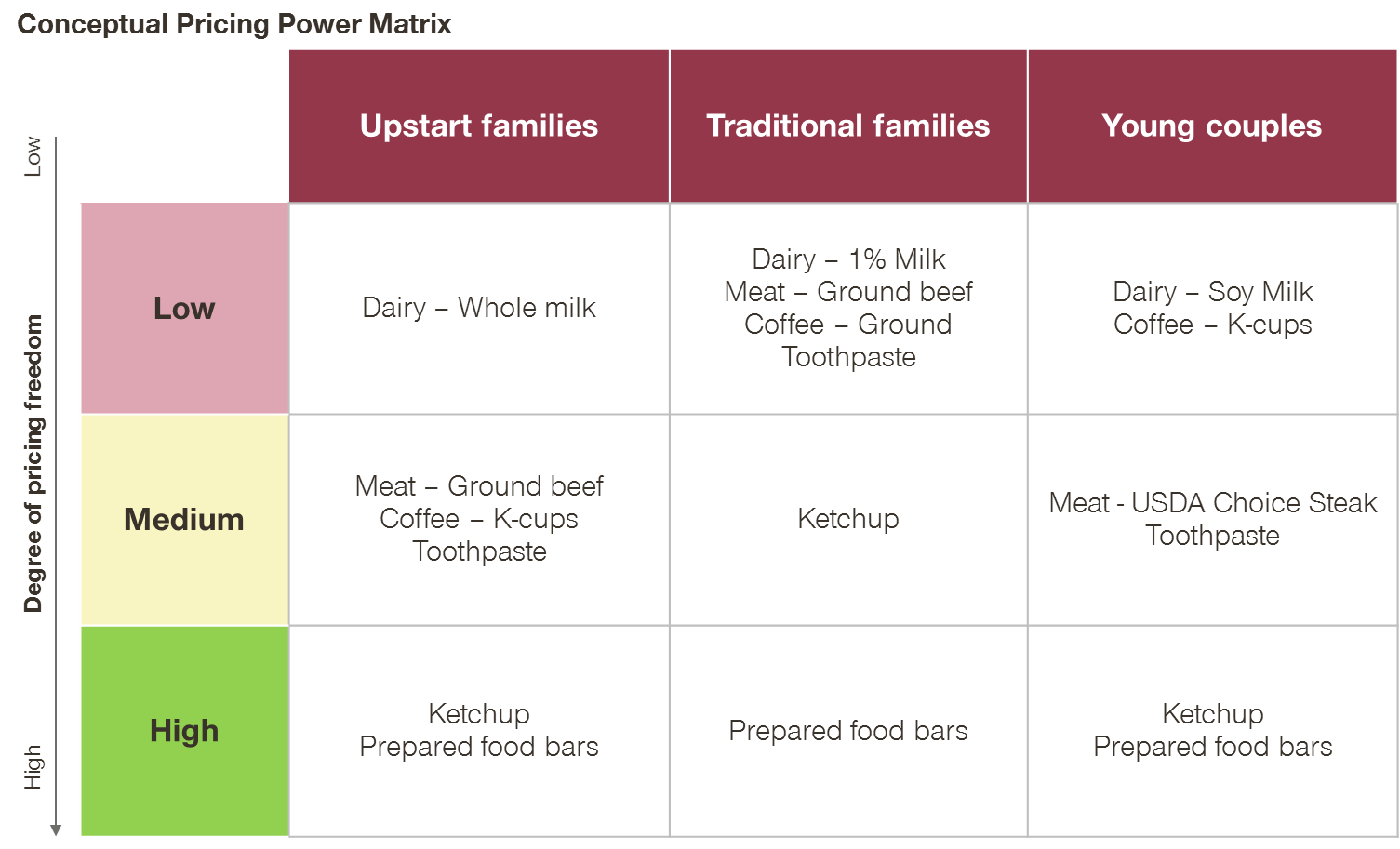 Retailers need to invest in building up their insights on price elasticity and price awareness across their target consumer segments. Based on this insight, they should then define a logical pricing architecture that differentiates price management rules and financial objectives depending on degree of pricing freedom. The focus for low price freedom items should be driving traffic and volume by matching lowest market prices. While the goal for high pricing freedom items should be to extract maximum margin. At higher levels of sophistication, this architecture may differ by store cluster depending on stores' segment composition.
Lesson 3: Differentiate. Differentiate. Differentiate. Add granularity and where possible and move away from a one-size-fits-all approach. This applies to three elements of your pricing strategy.

The German market's approach to discounters has evolved further than the UK, but not before they learned similar lessons. After losing market share for multiple years, traditional grocery retailers shifted focus away from price communication and toward messaging of product quality and service to combat the ever growing discounter threat. More importantly, market leaders like Edeka started to differentiate their go-to-market strategy. They added their own discounter format – Netto – to directly fight against Aldi and Lidl, while protecting the core value proposition of its supermarkets and hypermarkets. They also started establishing store clusters, which allowed them to further differentiate themselves by tailoring their assortment offerings to consumer preferences and needs on a more granular level.
Retailers can offer consumers a differentiated assortment by being more targeted in their buying process. Mercadona in Spain illustrates how you can also achieve differentiation by leveraging private label, which makes up 80% of their assortment. Mercadona has captured market share from its competitors and German discounters through a consumer-first strategy that emphasizes innovative products and continuous improvements to the in-store experience. Their pricing philosophy is to provide the best products and service at competitive prices, but not the lowest prices. This extends to their private label products which they've turned into a key differentiator through product quality not price.
Recommendations for food stores and supermarket chains
While price is one of the strongest levers you have, use it wisely to get the credit you deserve from the consumer. Investing in smart, surgical pricing will help you remain profitable amid intensifying price competition. It is also critical not to underestimate the power of non-price value drivers, such as store layout and overall shopping experience that allow you to extract additional willingness-to-pay.