Riders on the Storm: How Smart Pricing Helps Navigate Turbulences and Fire up EBIT
July 26, 2019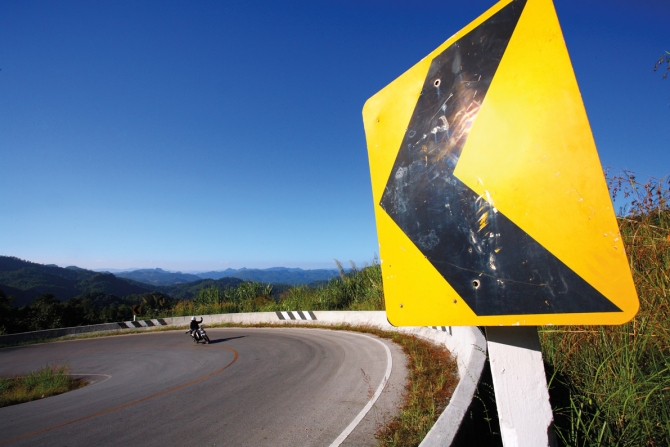 Increased electrification, new digital offerings and a changing customer base: Motorcycle and scooter OEMs are facing many turbulences in their current business landscape. Luckily, the associated challenges also provide opportunities: There are several measures for motorcycle and scooter OEMs to prosper under these conditions and boost profitability.
The two-wheel industry is going through challenging times. Electrification is hitting the industry and increasing the significance, but also the uncertainty of volume expectations and price positioning for new and innovative products. At the same time, the long-standing elderly customer base is changing – we are seeing a lot more young and female riders on the road. The consequence are different demands for equipment packages and engine size. In addition, digitalization is changing both the new vehicle and the aftersales landscape through new revenue streams and changing sales channel opportunities. On top of all of this, competition in the industry continues to be strong, and thousands of spare parts need to be managed as well as priced in dozens of countries across a large number of dealerships. Luckily, these challenges also provide significant opportunities for motorcycle and scooter OEMs to boost profitability and to capture an extended customer base. The secret sauce to tap into their potential: Aiming for pricing excellence in different key aspects of new vehicle and spare parts pricing. 
New vehicle pricing excellence
Given the challenges outlined above, we see four important areas of new vehicle pricing excellence that can help motorcycle and scooter OEMs to reap the benefits of the current industry landscape and trends:
Systematically determine the deserved price positioning for model launches and quantify price volume relationships. What is the price elasticity (the relationship between price and volume) for each offered model and how does it differ across markets? To which extent are traditional and new offerings, such as electric motorcycles, valued by customers and how does this translate into willingness-to-pay? Many OEMs have no reliable data on this and also don't know how to generate the needed insights. However, these insights are fundamental for successful model launch and even more so for innovative offerings such as electric motorcycles. The solution is to measure and quantify the customer value of different product attributes and, subsequently, forecast the deserved volume under current planning before then optimizing both price and product strategy to achieve the overall strategic goals (e.g. volume, profit, etc.). 
Identify the key customer segments and address them with targeted vehicle and accessory packages to maximize customer value and foster up-selling. Electronic equipment, assistance features, luggage mounting, bags, cases, dashboards, protection, and attachments: Motorcycles come with a countless number of accessories and equipment. But manufacturers typically fail to align accessory packs with the needs and preferences of their customers. This is becoming even more important as the traditional customer base is changing towards younger and more female riders. Instead of offering packages targeted at different customer segments' specific needs and wishes, OEMs usually offer far too many different bundles that are not aligned with stated preferences. This confuses buyers and leaves potential up- and cross-selling opportunities uncaptured. The key to tackling this challenge is to identify the relevant customer segments in the market and structure offerings accordingly. Only OEMs that know their customers' needs know how to fulfil them. To maximize customer value at limited costs, they should concentrate on key customer segments and maximize the value of their preferred products.
Optimize and differentiate incentive and promotion spending based on customer preferences and value. Between four and 14 percent of gross revenues are typically spent on end-customer incentives. But manufacturers have only few if any insights on the effects of these spending's for the bottom line. In addition, trends such as electrification require a deep understanding of governmental and external incentives in place. Professionalizing incentives holds huge improvement and profit potentials. The goal is either to sell more motorcycles with the same absolute amount spent on incentives or sell the same amount of motorcycles while spending less. Just a one percent reduction in overall incentive spending with the same number of motorcycles sold leads to a significant potential for profit increase. To tap into this potential means to quantify the value of your incentives and select incentives with a good value to cost ratio. What do customers like most that doesn't cost too much money? If you can answer this question, you have found a very successful incentive.
Define and capture new revenue streams outside of traditional vehicle sales. As digitalization continues to sweep across the industry and customer habits  change (e.g. an increasing use of ride sharing), new revenue streams for manufacturers will become available. These can range from data monetization (due to more sensors and assistance systems on the motorcycle) to new business models enabled through digital services. It is fundamental that motorcycle and scooter OEMs systemically define potential revenue models outside of traditional vehicle sales and then design a price and business model around the ones deemed attractive.
Spare parts pricing excellence
Most of the trends outlined so far will not only influence the new vehicle but also the aftersales and spare parts landscape. Spare parts sales are likely to decline given that electric vehicles require less spare parts and assistance systems reduce accidents. Additionally, e-commerce channels will grow in importance and increase independent aftermarket competition. Both of these developments put pressure on margins and increase the need for pricing excellence for spare parts. We see three key areas that need to be considered.
Systematically differentiate margin based on product value. Due to the strong focus on motorcycles and vehicle sales, motorcycle OEMs often use simple cost-plus pricing mechanisms to price their spare parts portfolio. Given the nature of the many different spare parts in their portfolio,  SKUs also differ in their customer value and pricing power characteristics. OEMs can capture large profit potentials if they systematically define and differentiate parts value characteristics and use this to drive parts prices and margins.
Differentiate prices across countries and channels. Next to systematic pricing of spare parts in the home market, parts prices also need to be steered across markets and channels. A typical picture we see in our projects is that prices for the same parts  can differ up to 300% between markets. While price differentiation across markets is important and should be the ultimate goal, manufacturers typically face serious difficulties if they want to achieve consistent pricing. Not only do grey market flows emerge from large price differences, particularly between neighboring markets, but increased price transparency from online channels also leads to a surge in customer complaints if prices are not managed accordingly and transparently. The solution is to steer country prices based on a systematic and indicator-driven market-pricing approach and to have a structured omni-channel price strategy in place.
Introduce systematic dealer discounts. Next to price levels, dealer discounts and conditions also need to be steered successfully. From our project experience, motorcycle OEMs often fail to consider country and product specifics when defining these conditions. To improve, manufacturers should start to differentiate dealer discounts by country and product category. Generally, best-in-class OEMs determine their dealer discounts based on relevant and systematic factors like competition and price level.
The strategic and systematic pricing approaches as outlined above will allow motorcycle and scooter OEMs to turn the current challenges into major opportunities. Our experience from countless projects in the industry shows that the optimization of these practices holds considerable profit potentials: Deploying the measures recommended typically enables companies to achieve a sustainable margin improvement of, at least, two to five percentage points.
---
AUTOMOTIVE INSIGHTS
Boosting revenue and profits in the automotive industry. Learn about our experts' comprehensive solutions for the complex marketing, sales, and pricing problems automotive players are confronted with and subscribe to our quarterly newsletter.