TopLine 2021 Life Sciences: Innovation and Transformation in Healthcare
May 28, 2021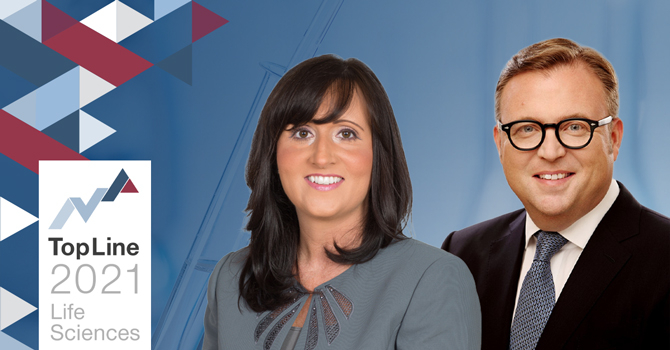 Speak to one of our experts in the life sciences team right now, and you are bound to pick up on a very exciting vibe. Having just participated in this year's biggest life sciences event, there are so many ground-breaking ideas that will shape the future of healthcare. Allison Dupuy and Joerg Kruetten, leaders in our global healthcare and life sciences sector, sum up their experience of the day.
Joerg, Allison, tell us all about this year's biggest life sciences event, TopLine 2021 Life Sciences. What did the event involve and what made it so special?
Joerg: The future of life sciences: successful top-line growth in healthcare – that was the flagship topic of our first ever fully virtual and global life sciences event. It was a fantastic opportunity for our team, together with executives from across the healthcare industry, to discuss current trends related to business model evolution, commercial excellence, market access and pricing as well as their impact on the healthcare market and how companies will run a successful business in the future.
Allison: Given that our business is global and our clients operate internationally, this was the perfect event to showcase how we collaborate with life sciences companies across a wide variety of topics. All of our attendees had the opportunity to leverage the flexibility of the virtual platform to experience and participate in panel discussions, breakout sessions, and a range of presentations from external speakers. It was a clear illustration of how innovation is alive and thriving in healthcare, spearheaded by digital and a renewed belief in science, research, and discovery.
What were personally your key learnings and insights from the event?
Joerg: For me, it is the amount of change happening in the industry. You could feel it everywhere, whether we were discussing portfolio evolution, product and service innovation, or the new ways companies go about commercialization. TopLine 2021 Life Sciences captured the tremendous changes happening right now. And a lot of excitement about what's to come.
Allison: I was also surprised by the openness to change among all stakeholder groups. In particular, we heard loud and clear that payers are both embracing and quickly adapting to change across the industry. This has wide-ranging implications for personalized healthcare, digital therapeutics, disease management, preventative medicine, and predictive healthcare (among many other exciting topics).
During their opening speech, Simon-Kucher CEOs, Mark Billige and Andreas von der Gathen, raised the topic of commercial creativity. How do you think the LS industry is performing in this area?
Allison: The healthcare industry has been in the lead with commercial creativity for as long as I've been alive… and they are even more in the lead today. In a market dominated by many restrictive elements inclusive of regulations, processes, and complex payer dynamics, the structures and restrictions of the system have had to adapt and change… and they continue to evolve. This has, and will continue to require, a fair amount of agility and flexibility among all stakeholders in the industry.
Joerg: Of course, healthcare markets are and will remain to be largely regulated. Payers and budget holders focus on outcomes, benchmarks, cost-benefit, and budget impact and they have a huge responsibility to ensure money is wisely spent – that has not changed. But within this context there is now a high degree of openness to explore new ways of working and partnering with the industry to generate incremental value for patients and healthcare systems. As Allison mentioned, life sciences companies are, by definition, very innovative and creative. So now is the time to use the momentum and drive positive change together with payers, budget holders, and caregivers.
Can you give some examples of what the future holds for the life sciences industry?
Allison: Telemedicine is here to stay! Over the last year, everybody has been looking at how technology can be used to make healthcare more effective, more efficient, and free up resources for patient care. Having now lived through a pandemic, we know we have to think on a much bigger scale and much further ahead. COVID-19 was a critical catalyst to accelerate digital transformation in the industry.
Joerg: Another central theme is digital solutions – which come in various shapes and sizes. Some drive process efficiency, such as diagnosing and treating patients remotely, which saves time for both the caregiver and patient. Some use data and advanced analytics to effectively manage patient and treatment pathways. And then you have digital therapeutics – digital tools or apps that replace or complement conventional treatments to enhance clinical outcomes. All these developments also drive the emergence of new business models where suppliers go beyond selling a pill or device and provide holistic solutions or caregiver services. Digital technologies are an integrating part in this context to effectively deploy solutions and measure their clinical and economic impact.
Allison: Also in the area of disease management, the industry is exploring how to use big data and predictive analytics for larger scale and longer-term planning. We're learning that technologies like artificial intelligence not only have a place in healthcare, they are a necessity. So these paradigm-shifting technologies have to somehow fit in our current structures. And at the same time, payers are starting to rethink their structures – at a much faster pace than what we ever thought was possible.
Joerg: As in many other industries, digital technologies are also transforming the way healthcare products and services are being marketed and sold and how companies interact and engage with patients, caregivers, and budget holders. We have all experienced how effective and efficient digital ways of interaction can be during the past months. Digital or multi-channel marketing and sales will be a key facilitator moving forward to make interaction with customers not only more efficient but also more effective. Companies can reach target groups where in the past interaction was constrained by time and resource availability. On top, they leverage customer and market intelligence and data to make interaction and messaging to their stakeholders more targeted and meaningful. The key is to have a structured approach that systematically complements and not necessarily replaces traditional commercial approaches. To make it stick, the focus needs to be on quality and orchestration of channels rather just simply increasing untargeted quantity of interactions.
After discussions with several experts from different areas within healthcare, is there a sector that you would say is best prepared for the digital future?
Joerg: Each sector is working on different focus areas at the moment, so there isn't exactly one "leader". In consumer health, the patient is your key customer, so the big topic is how to interact with consumers through different channels. In medtech, it is more about developing and providing compelling solutions for caregivers in order to gain a competitive advantage and shape long-term partnerships. On the pharma side, there's huge investment going into enhancing clinical outcomes by complementing new and existing therapies with intelligent digital solutions.
Allison: Our Digital Health Trend Study 2019 showed how the life sciences industry in general was lagging behind other industries when it came to digitalization. It will be interesting to see in this year's study whether they have caught up. That's quite likely, looking at the significant and widespread investment in digital.
What's next? Will there be another event like TopLine 2021 Life Sciences?
Joerg: TopLine 2021 Life Sciences was a true representation of Simon-Kucher's global capabilities in healthcare and life sciences. And what a success! The event has sparked thought-leading exchange with market experts and triggered a number of inspiring conversations both with our clients and within our team. We will definitely have future events like TopLine 2021 Life Sciences. There is incredible potential for growth in the industry, shaping the future of healthcare– and we're excited to be a part of it.
Allison: We work with and within all areas of the life sciences industry in ensuring innovations successfully enter the market, and we have been doing this for over 35 years. We are highly engaged in digital developments, and we have access to the right stakeholders and networks to help companies shape the best route to market, for the benefit of the entire market. So whether it is one of our teams that comes to us with a revolutionary commercialization approach, or a healthcare company that wants to explore their individual opportunities, we can't wait to continue the conversation!
Reach out to Allison or Joerg to start the discussion today!
Want to read more? Check out the latest issue of our Healthcare Insights newsletter. If you want to learn more about our healthcare and life sciences industry, please visit our website.
Check out our other TopLine 2021 events coming up this fall.