Cashing In on Promotions: Examining Draftkings' Recent "Billion Dollar Lineup" Challenge
September 15, 2017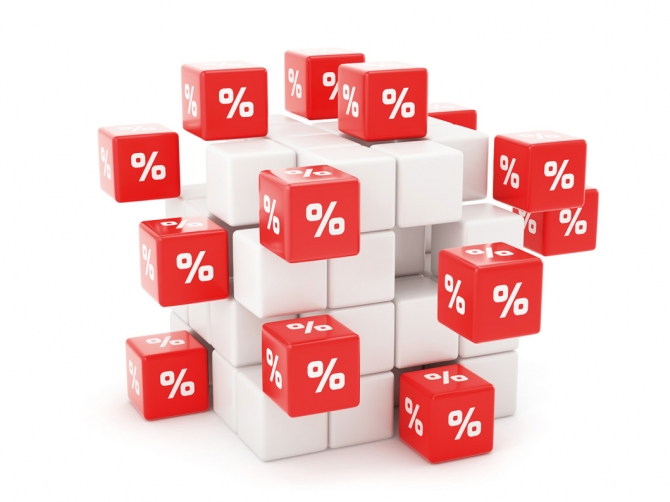 In the last few weeks, you may have seen your social media homepages littered with promotions calling you to sign up for fantasy football leagues, whether they be posts from your friends or from Daily Fantasy sites trying to entice you to enter a competition. 
Promotions are key to a consumer company's traffic whether they are meant to drive trial, incentivize trade up or any other number of motives.  In this article, we'll take a deeper look into the key questions surrounding promos… is your business promotion pro? Or are there ways you can still improve your promotional strategy?
Unlike most people, as summer winds down that's when I start to get excited. I grab my pen and paper and find a good work space. Back to school? Hardly. It's the start of the NFL season, which means it's the start of fantasy football. Now, with daily fantasy, my Sundays (and Mondays, Thursdays, and sometimes Saturdays) are spoken for.
For those who may be less familiar: Fantasy football involves participants selecting professional players for a 'team' that they manage against others' similarly constructed teams in a league. Teams earn points based on their players' real-life results (e.g. scoring a touchdown) over an entire season. Daily fantasy is a version where players pick a new team just for that day and it is heavily marketed to its potential consumer base by market leaders DraftKings and FanDuel.
This year, DraftKings has come up with a new promotion that's grabbing headlines: A perfect lineup on opening weekend nets you a cool $1 Billion[1]. "Wait, really - $1 billion?" Yes, really. A perfect lineup is one which scores the maximum possible amount of points. However, unless you are perfect, having the highest scoring entry among all players is only enough to win 1st place ($500).
DraftKings is not the first consumer-facing business to offer a huge payday on high visibility odds like this one. For years, Jordan's Furniture in New England has had various annual promotions offering huge discounts – including 100% rebates resulting in free furniture – for purchases made at the start of the Major League Baseball season to be paid out only if the Boston Red Sox were to win the World Series.  Even though the odds seemed good for Jordan's, in 2007 the Red Sox won the World Series and Jordan had to pay out on free furniture for 30,000 customers[2].  These promotions certainly create a lot of hype, but what makes them successful? And how can companies like DraftKings and Jordan's profit if someone does win? It all points to the mantra of understanding your consumer.
Know your Core and Target Demo: Like the person who forgets which positions they need to fill their lineup, companies typically don't fully understand who their current and target consumer segments are or their value drivers, barriers, and preferences.
Build around the Tipping Point: People are attracted to DraftKings not just for the cash prizes, but for the bragging rights of choosing the right lineup. Companies need to tailor their promotions and longer-term pricing strategies around these value drivers and barriers for each segment.
Quantify, Quantify, Quantify: That's how DraftKings can make this work, by understanding their promotions' expected value – the odds in this particular one were estimated to be one in two trillion[3] and additionally is ensured in the case that someone were to win.  Too often, companies rely on their expert judgement alone to make decisions. And too often (and too late), they realize they are out of touch with today's consumer.
Don't just Rinse and Repeat: DraftKings could easily repeat their previous years' promotions, but the novelty of their new promotion is what helped them to continue grabbing attention and avoiding fatiguing consumers. Companies need to take a hard look and not fall into the "It's what we did last year" trap to grab "guaranteed" sales.
Guarantee your desired outcome: While DraftKings received nearly 800,000 entries for this Week 1 contest (for reference, their flagship Millionaire Contest received around 275,000 entries), it only matters if they are able to convert those first time "free" visitors into paid, recurring consumers.
When taking a deeper look at the promotions mentioned above, it's clear that while neither is perfect, both DraftKings and Jordan's are able to check off many of these promotion KPIs.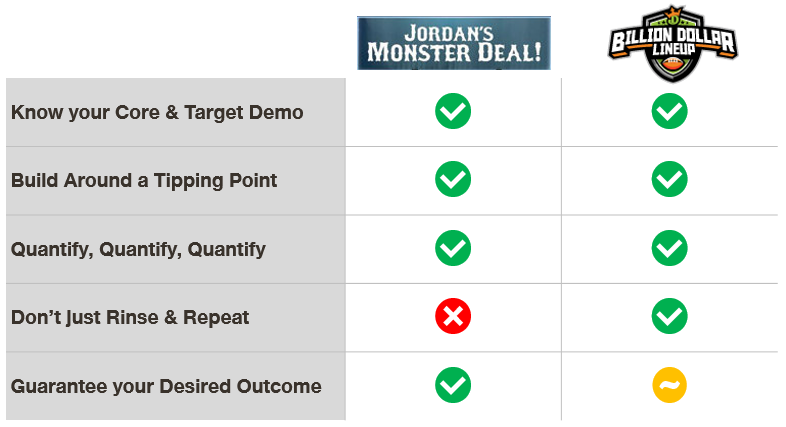 Too often companies run promotions without doing their homework to ensure the marketing spend will have a worthwhile return.  The steps outlined here are a good start for any company, but when it comes down to it a successful promotion is specific to your consumers.
DraftKings put limited marketing into this contest, but it had the entire industry talking leading up to week 1 in the NFL.  Similarly, companies who follow these steps and who are able to innovate and grow with the evolving consumer are the more likely to be successful in their promotion strategy.