Commercial Agility: the Ultimate Key to Surviving this Crisis
Don't focus too heavily on an "after corona" world, rather put resources towards surviving the "with corona" period that will endure for the next 18 to 24 months until a vaccine becomes widely available: This advice from Mark Billige and Andreas von der Gathen, CEOs of the global strategy and marketing consultancy Simon-Kucher and Partners, intends to lead companies through the ongoing global pandemic. What actions companies should take:
 
There has been a lot of discussion and speculation about when businesses will be able to go "back to normal", especially since governments are beginning to relax their stay-at-home restrictions. But while many companies are understandably eager for a quick return to normalcy, this is a resurgent crisis. "No one knows how often the resurgent COVID-19 virus will force economies – and thus companies – to hit the reset button between now and the beginning of 2022," says Mark Billige. "We anticipate multiple episodes of government interventions with sudden stops and uneven re-starts." The answer to the question of whether the recovery from the COVID-19 crisis will have a U, V, or L shape is "all of the above."
Established strategies won't work with corona
In a resurgent crisis, demand fluctuations (in some industries) are greater than what any company has ever experienced, with lasting and fundamental changes to demand patterns. The corresponding stress on the go-to-market models is likewise unprecedented. "In an era defined by social distancing and other constraints, it is much harder for many businesses to sell their products and services, deliver them, and maintain control over customer safety and the customer experience," notes Andreas von der Gathen. Meanwhile, customers are receiving a crash course in what they can (or can't) live without, and companies are confronted with what they can (or can't) do well in response.
Every industry – and every player – lies within one of four scenarios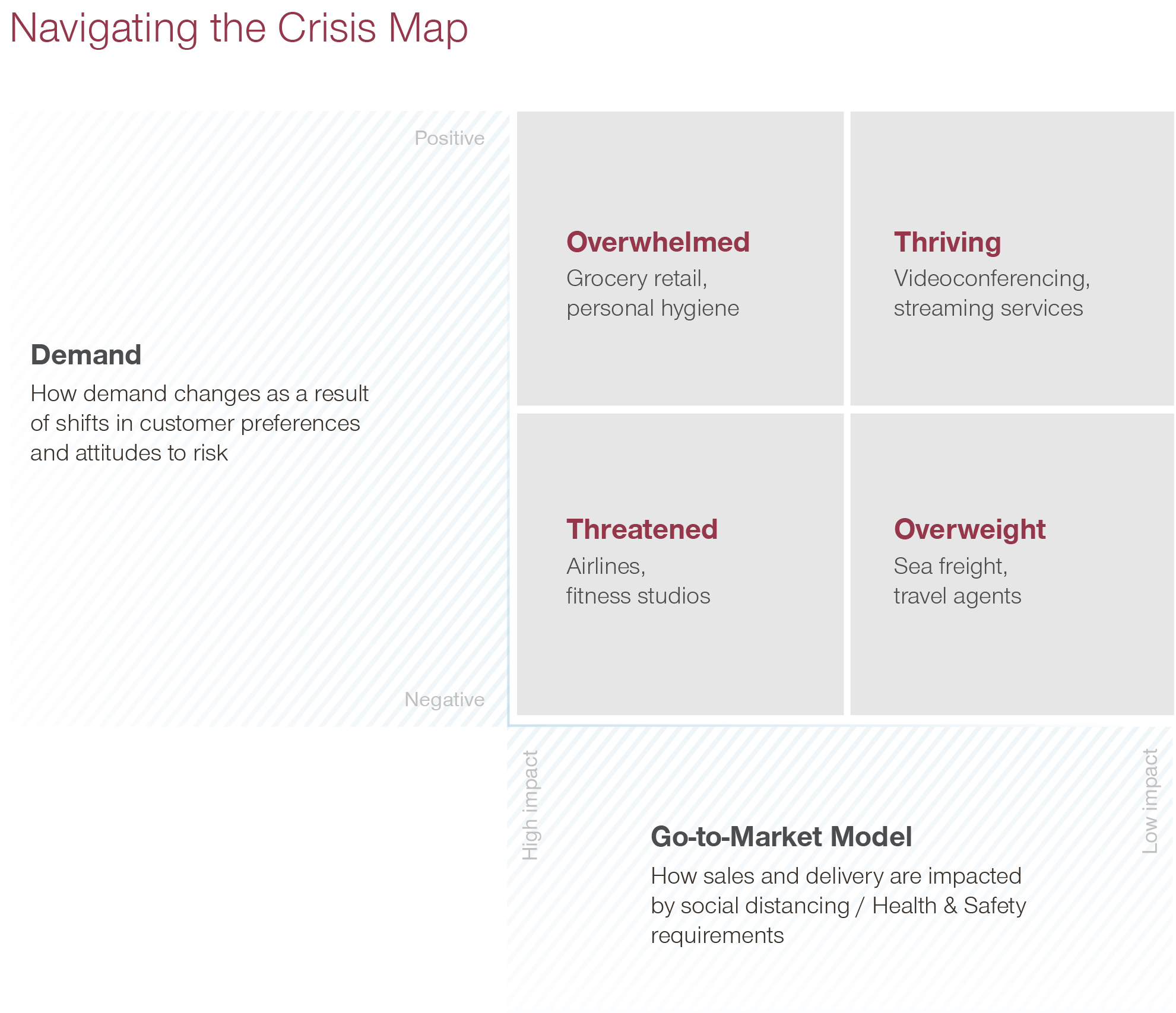 Some companies experience that demand shifts are working in their favor:
Thriving: challenge is to remain in this scenario by monetizing and holding onto the demand, e.g. by adapting pricing and expanding their range of channels.
Overwhelmed: might not be able to maintain quality and service standards. Improving revenue and operating models as well as investing in digital capabilities can be a remedy.
Due to declines or changes in the nature of the demand, demand shifts have worked against many other companies:
Overweight: Significant demand issues but experience limited stress on the go-to-market model, warranting few if any changes. They can fall back on proven crisis responses.
Threatened: low demand services that require human-to-human contact and have no obvious digital mirror. Therefore face complete collapse unless they literally invent additional ways to deliver their products or services.
 "Whether a company can move to a better position, or defend a desirable one, will come down to their commercial agility," states Billige. "This is the ability to make resilient offer design, sales, cost management and pricing decisions with unprecedented speed and flexibility – over and over again – until some form of equilibrium returns to their market."
Commercial agility: the key to surviving this crisis is based on five pillars:
Agile offer design: Companies can react to changes in customer needs, occasions, product alternatives, and channel choices by rethinking their minimum viable product (MVP). Real MVPs can be achieved by converting services and in some cases products to digital forms, while decreasing capacity and fixed costs. If there is a digital basis already, it's time to accelerate it and exhaust its full potential.
Agile sales: Digital selling and e-commerce channels need to be the sales department's highest priority, especially remote sales, in order to replicate face-to-face or field sales interactions as closely as possible. "In times of social distancing, firms need to become experts at remote selling, and they need to move quickly," says von der Gathen. This requires specialist training, both in terms of the technical skills and relationship building.
Agile cost management: Commercial agility does not come cheap, which makes it essential to pass at least some of these investment costs on through the value chain. Add to this a supply chain shift from 'low cost' towards 'low risk' and we will soon move into an era of significant cost inflation. To increase prices at such a hypersensitive time will require great agility
Agile pricing: Adding agility to pricing processes and price models, e.g. through differentiated pricing, enables companies to seize opportunities and respond to volatile demand. Doing this requires changes to governance and tools: Companies need to decentralize their price decision-making, which in turn requires a real-time infrastructure for delivering pricing guidance and monitoring selling prices.
Economic resilience: Companies need an economic model that can cope with the further shocks this crisis will inevitably cause. That means emphasizing profit and cash flow over market share and grasping the opportunity to implement – and even force – shifts to recurring revenue models, e.g. subscriptions. Right now, advantages of such models are a matter of survival, even if the transition is not yet optimal in terms of execution.
Commercial agility greatly increases companies' chances of surviving
The COVID-19 crisis is exposing the inertia of many business models. Shifts in demand are leaving some companies overwhelmed and struggling to keep up, while others face record-high levels of idle capacity. Only a small handful of companies have found a way to thrive. The hard truth is that many businesses continue – even through a conventional recession or crisis – primarily because their customers cling to their established ways and see neither the desire nor the need to change. A resurgent crisis gives them enough impulse to overcome their inertia, and many old habits will never return to the old "normal." "Agility in pricing, offer design, sales, and cost management – combined with the economic resilience to endure several resets – will greatly increase a company's chances of surviving the multiple stop-starts and emerging stronger when a resurgent crisis ends," Billige sums up.
The full paper 'Surviving the Resurgent COVID-19 Crisis' is available on request.
Simon-Kucher & Partners, Strategy & Marketing Consultants:
Simon-Kucher & Partners is a global consulting firm with more than 1,400 professionals in 39 offices worldwide focusing on TopLine Power®. Founded in 1985, the company has more than 30 years of experience providing strategy and marketing consulting and is regarded as the world's leading pricing advisor.