From Intern to Partner: You Never Stop Learning
April 12, 2021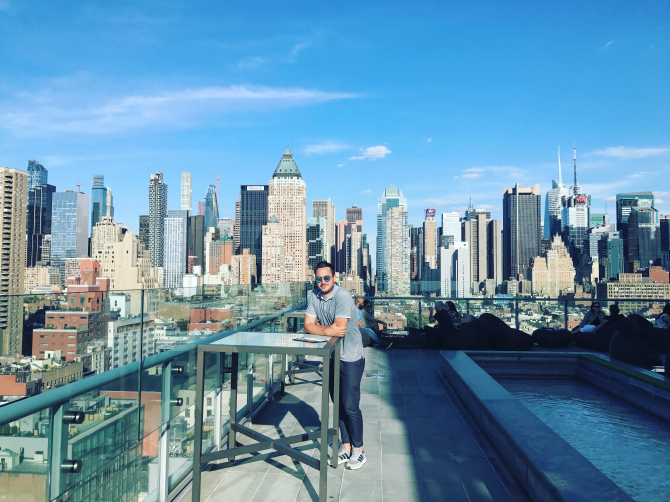 Dominic Seitz knows that the journey is the destination. During his career at Simon-Kucher, he went from intern to partner in just nine years, but his journey isn't over. We interviewed Dominic to learn about how he made it to where he is today and what he still has in store at Simon-Kucher.
How did you find out about Simon-Kucher and begin your career in consulting?
I still remember the moment I first found out about Simon-Kucher during a guest lecture at my university in Tübingen. I was just about to graduate and thought to myself, "Why not check it out?" And something clicked. It wasn't just the topics that got me excited; I was mostly drawn to Simon-Kucher's team spirit and corporate culture.
So how would you describe the culture at Simon-Kucher?
We don't have anyone who's only looking out for themselves, and we aren't overly competitive with each other. I was allowed to make mistakes, especially during my first few years, and always felt encouraged. Thanks to this supportive atmosphere, I could focus on projects and my own development without wasting valuable energy on office drama.
The culture is what has always kept me here. No matter which office I visit or team I meet, I immediately feel at home. That's particularly important for consultants, since we spend most of our time with colleagues. You need to feel comfortable with your team, enjoy working with them, and trust they'll always be there to help you.
What are the development options as a consulting intern?
If you complete an internship at Simon-Kucher and surpass expectations, you have the opportunity to be fast-tracked to permanent employment. With the shortened application process, you only have to complete one interview with a partner, who will then make a recommendation. I started my internship in 2011 and knew I wanted to stay. A year later, I was offered a permanent position as a consultant.
We're always proud when our interns believe in what we do. In the best-case scenario, we offer them a permanent position, and they stay with us for a long time. Many of the interns who started at the same time as I did are now on the verge of becoming partners. That's true organic growth!
When did you know that you wanted to become a partner?
Back when I was still an intern, Georg Tacke, who was CEO at the time, asked me how far I wanted to go in the company. Without hesitating, I replied that I wanted to make partner. He stopped me there and advised I take things one step at a time. To achieve my goal, I needed to reach a few milestones first – this mindset has gotten me to where I am today.
I made partner at the beginning of this year. The road to get here has been very eventful and of course, you don't make partner overnight; it's more of a process. I managed to do it in less than 10 years, which is quite fast compared to the industry average.
There is no step-by-step plan. While I did have the right attitude, skills, and ambition, I was often in the right place at the right time, made the right decisions, and there was an element of luck. Support from within the company was and still is important.
What do you need to bring to the table to make partner?
The right mindset. A partner's main role is to support and promote the company's vision. You also have to think outside the box, dare to take bigger steps, and anticipate what's coming next. That's the only way to grow a company and make it attractive for both its clients and employees.
Partners should stand out not only by being an expert in one area but by being skilled at many things. This requires balanced complexity, pragmatism, client management, team leadership, and authority – but not too much of it. You have to have the right mix and define your own style. On my journey from intern to partner, many experiences have shaped me. There are different types of partners at Simon-Kucher, which is a sign of diversity, and this ultimately produces the best results for the company.
How has becoming partner changed your day-to-day work?
I'm still heavily involved in projects, but I'm no longer as hands on and involved in every detail. Instead, I'm steering the ship with the foresight to know where to take the client, which is just as important as my subject-matter expertise. Partners have to think from the client's point of view and stay one step ahead.
Most importantly, I have an entire team to lead. I've already led project teams as a manager and director, but now I have more disciplinary responsibility. I'm the one who makes sure that everyone on my team is able to develop in a way they feel comfortable. Like a coach, I have to consider whether a team is set up optimally for certain projects and empower and encourage each member to best prepare for the next step. If my team is okay, then I'm okay. Everyone has strengths and weaknesses. We're all just people. But I want everyone to have their own sense of achievement. I want us to stick together and stay together.
Have you ever thought about switching industry or changing career?
Although quite common in the consulting world, this has never been an option for me. The appeal at Simon-Kucher is that I sometimes don't know what I'll be doing the following week. My clients and, above all, my team are constantly challenging me, regardless of my position. Of course, I've been on the fence before and wondered whether consulting was still the right career for me. But in this profession, you never really stop learning. Even now, I've never reached a point where I thought there was nothing left for me to learn. As a partner, the end of the line for me is still a long way off. I'm 34, so there's still a lot of room to grow. There will always be lessons I need to internalize in terms of processes, team building, business goals, and client relations. I'm constantly on the lookout for something new.
Do you have any advice for those interested in joining Simon-Kucher?
We don't expect interns to become great managers overnight. Prove that you have the skills. Show that you're passionate about consulting and can think analytically. Most importantly, stay hungry to learn. Keep an open mind, and soak up everything you can. You don't really need much more than that; there won't be anything standing in the way of your career.
Interested in joining Simon-Kucher? Learn more about our application process here!