New Partners at Simon-Kucher: Tackling New Challenges in Life Sciences
January 07, 2021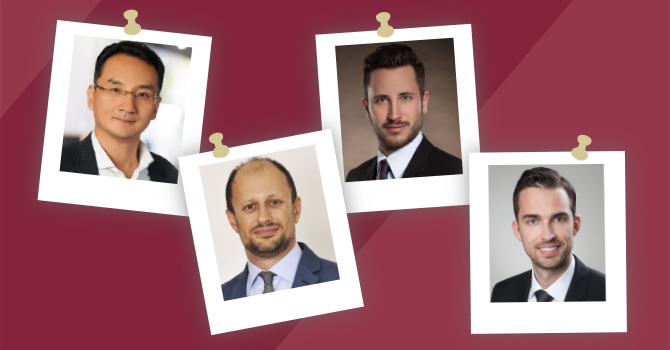 Even though 2020 was a challenging year, our company continues to grow – and so does our leadership team. As of January 1, 2021, we welcome 16 new partners! What do they like most about working at Simon-Kucher? And what are they looking to achieve as freshly appointed partners? In the first part of our New Partner Blog Series, we talked to some of the "newcomers" in our Life Sciences division to hear their thoughts.
Bruce, Dominic, Joerg, Stefano, congratulations on becoming new partners in our Life Sciences division! How do you feel about starting in this new position?
Bruce: Thank you! This is exciting, for sure. I started working at Simon-Kucher a year ago, and we've been able to build up great momentum for China LS, working closely with colleagues from all over the globe. I'm really looking forward to continuing this fruitful collaboration and further growing our business, thought leadership, and capabilities in the life sciences sector together.
Dominic: I've been with the company a little longer than Bruce has – it's been more than eight years! But I have to say the process of becoming a partner and the support I received during this time were definitely highlights of my career. I'm really proud that so many people believed in me. I'm eager to get cracking and achieve further growth for Simon-Kucher.
Joerg: My professional journey at Simon-Kucher has been pretty varied. I started out at our headquarters in Bonn, Germany, in 2011 and then went on to work in multiple offices, including Munich, San Francisco, and my current home location, Zurich. Having the opportunity to become a partner and strengthen our life sciences foothold here is a task I'm very much looking forward to.
Stefano: Looks like I'm the most long-term Simon-Kucher employee in this round! Since my start in 2004, I have been working out of our Bonn and Milan offices, and I am currently the managing director for Milan. During my time with the company, I have met so many great people and experienced an incredible amount of support for my professional and personal growth, which is something I would like to give back as a partner.
What do you like best about working at Simon-Kucher?
Stefano: What attracted me to the company in the first place was its strong and clear positioning in the life sciences space in combination with attractive career and personal growth opportunities. And I was not disappointed! The shared values lived in the company and my team perfectly align with my own and enable me to rise above my expectations time and again. As a partner, I will be able to share experiences and collaborate with the other partners even more.
Dominic: I feel the same way as Stefano. I also started working here because the people and the company's professional focus impressed me, and I stayed because it's so gratifying to experience the unique Simon-Kucher entrepreneurial spirit and work with our smart colleagues and clients.
Which developments in your area of expertise are the most interesting to you?
Joerg: I became a partner because, in my opinion, Simon-Kucher offers it all: the opportunity to work on topics I thoroughly enjoy and a team of fantastic individuals to work with on a daily basis. Regarding the former, over the next few months, I'll be focusing on working with my clients to create value for them and supporting them in developing innovative and agile solutions to ensure sustainable success.
Bruce: As a partner, I will continue to lead our fast-growing Life Sciences division in Greater China. China's life sciences market is truly an exciting one, currently standing at number two in size and number one among all major markets in terms of growth. At the same time, it's very dynamic, competitive, and fast moving and requires strategic foresight and a result-driven mindset to stay ahead of curve – that's exactly what we bring to our clients.
Tell us a bit about your personal life. What do you like to do in your free time?
Bruce: After perusing the Scrip daily alerts from Kati and the LinkedIn blog posts by our C&M team, I love going outside to bike, go for hikes, and collect rocks. I sometimes even come across fossils, which really makes my day!
Dominic: Working in the healthcare industry and really making a difference is something I also appreciate every day. To clear my mind from those somewhat heavy topics, I like to meet friends and enjoy good food and drink with them. (Have you all tried espresso martinis? If you like coffee, you definitely should!) I also recharge my batteries by traveling and watching and playing soccer.
Joerg: I'm afraid I'd have to pass on the espresso martinis, Dominic, being more of a wine person myself! But apart from that, I absolutely agree; meeting friends, cooking together, and enjoying the results is the best way to unwind. I also enjoy the amazing nature here in Switzerland and like to spend time outdoors and on road trips as often as I can.
Stefano: Looks as if everybody likes the outdoors! I'm no different, although I enjoy it the most on a rugby field playing a match with my old teammates. It's really satisfying to work together as a team toward a common goal – something I also try to achieve every day at work. Apart from that, the easiest way to relax after a long day at the office is to spend time with my family.
Thank you all very much for this interview! 
Stay tuned to hear from more new partners as part of this blog series.