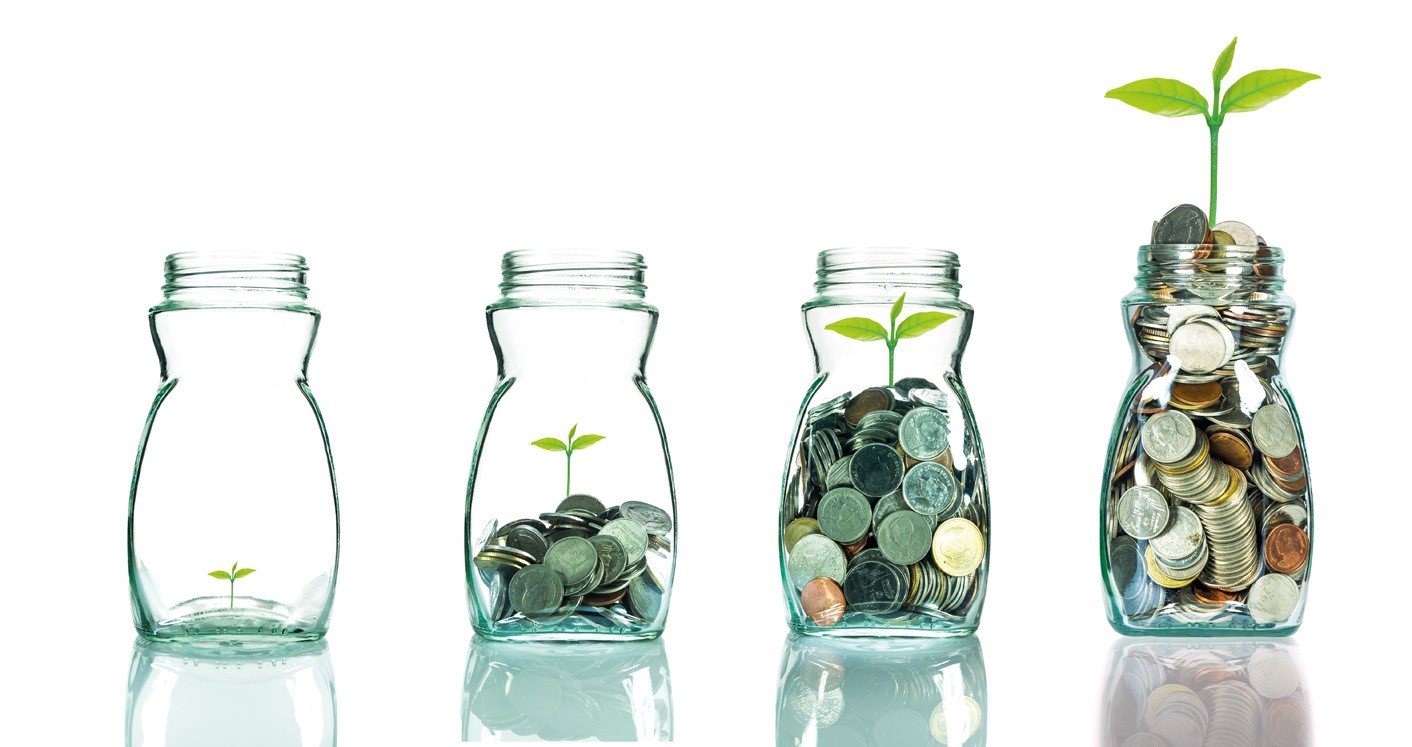 Pricing is de meest impactvolle winstdrijver – veel krachtiger dan kostenbesparingen of volumeverhogingen. Toch slagen veel industriële bedrijven er maar beperkt in om stijgende kosten door te berekenen aan hun klanten: slechts 29% van geplande prijsverhogingen wordt daadwerkelijk gerealiseerd. Met andere woorden, bedrijven die een prijsverhoging van 5% plannen, realiseren gemiddeld slechts 1,5% (fig. 1).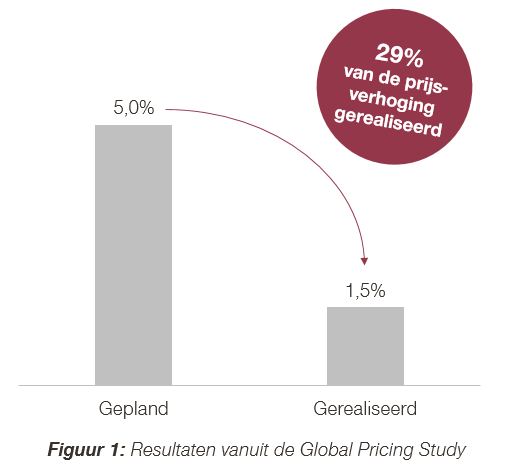 We zien verschillende redenen: prijsverhogingen krijgen onvoldoende aandacht, er wordt te gemakkelijk toegegeven in onderhandelingen of prijsverhogingsdoelstellingen worden opgegeven op het moment dat een klant afscheid neemt.
Het succes van prijsverhogingen valt of staat in onze ervaring met het verhogen van het vertrouwen van sales om de onderhandelingen goed voorbereid in te gaan. We doen dat door een krachtige combinatie van een gestructureerd proces, gedifferentieerde prijsverhogingstargets per klant, het voorbereiden van sales op onderhandelingen en het bewaken van de uitrol.
In een reeks workshops werken we samen met diegenen die uiteindelijk de prijsverhogingen bij klanten moeten doorvoeren en ligt de focus op vier onderwerpen:
1. Duidelijk proces en heldere principes
Bepaal gedeelde principes rond targetbepaling, onderhandelingsstrategieën en verantwoordelijkheden als startpunt voor een gestructureerd prijsverhogingsproces. Stel een ambitieus – maar realistisch – target vast dat door de hele organisatie gedragen wordt.
2. Gedifferentieerde doelstellingen
Definieer klantspecifieke prijsverhogingsdoelstellingen (fig. 2). Elke klant is anders: de professionaliteit van inkoop verschilt, de huidige contractwinstgevendheid is anders, de klanttevredenheid wijkt af, etc. Gebruik deze verschillen om kritisch te kijken naar de maximaal mogelijke prijsverhoging per klant. Zorg verder voor slimme tooling om dit proces te structureren.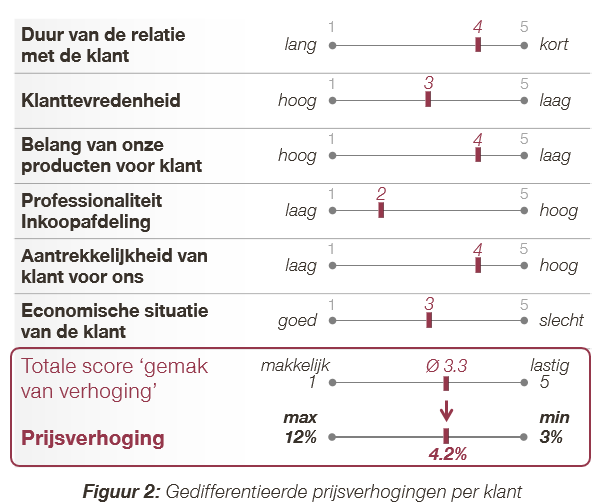 3. Handboek prijsverhogingen
Geef sales een 'handboek prijsverhogingen' ter voorbereiding op het prijsverhogingsproces, met feitelijke onderbouwing voor de verhoging, slimme onderhandelingsargumentatie en praktische tips & tricks. Oefen lastige gesprekssituaties in rollenspellen om sales zo goed mogelijk voor te bereiden op de aankomende onderhandelingsgesprekken.
4. Monitoring van de uitrol
Organiseer tweewekelijkse sessies/calls tijdens de onderhandelingen, om de voortgang en resultaten van de onderhandelingen te bespreken en ervaringen uit te wisselen. Beloon sales voor successen en vier ze met elkaar.
Prijsverhogingen zijn niet gemakkelijk. Ze vereisen aandacht en voorbereiding, gedurende het hele jaar. De verkoopafdeling is in de lead, maar niet als enige verantwoordelijk of betrokken; goede ondersteuning is belangrijk. Mits goed uitgevoerd, is de impact van prijsverhogingen op het resultaat echter aanzienlijk.