5 Tips for Executing a Successful CPG Price Increase Amid Rising Costs and a Challenging Retail Environment
July 27, 2018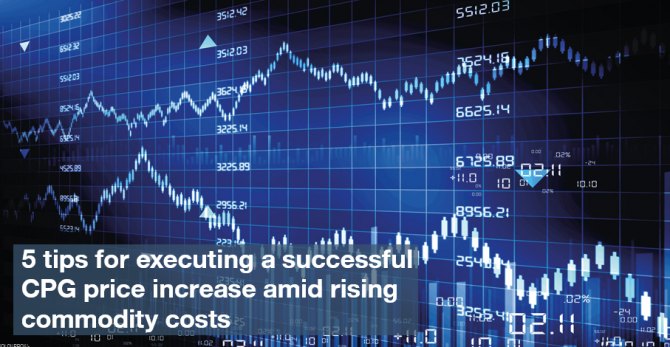 The past two years have been challenging from a pricing perspective for Consumer Goods manufacturers, especially in the FMCG space. Many have found it difficult to execute price increases, and some have even witnessed downward price pressure and erosion. This is due to a number of factors, chief among which are:
1. Intensifying competition in the retail space: Faced with the threat of disrupters like Aldi, Lidl and Amazon, established retail players have exerted pressure on suppliers to keep prices low, adopting a zero-tolerance policy for price increases and exacting punitive measures on those in violation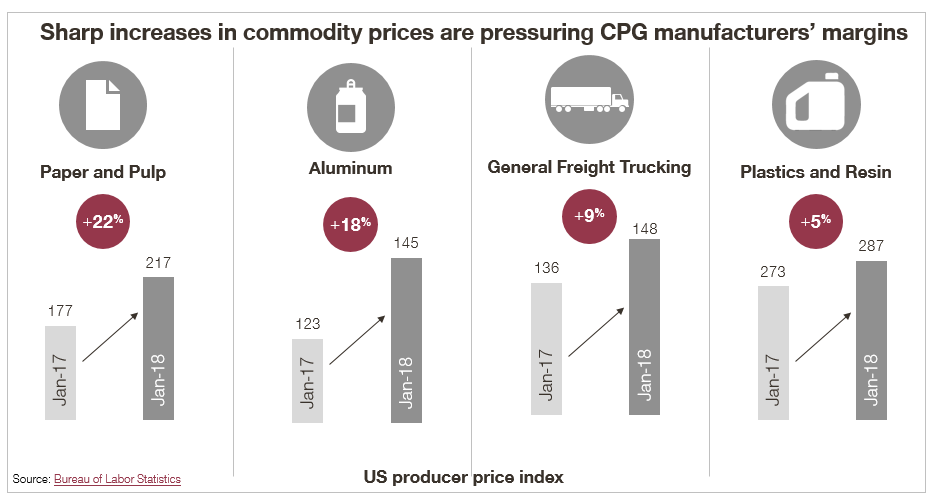 2. Growth of private label and new niche competitors: Traditional manufacturers are facing share challenges on two fronts. Private Label has grown in quality and is making a play for the value shopper, while on-trend startup consumer products are tapping into the millennial preference for product discovery  
However, the recent acceleration of commodity and logistics cost increases has made price increases unavoidable. Many manufacturers are being forced to weigh the prospect of either undertaking the daunting exercise of trying to execute a price increase or suffer significant margin erosion.
The good news is there appears to be growing industry momentum for pricing action. Companies such as Clorox, Smucker's, General Mills, Tyson, PepsiCo and Black & Decker have announced either successfully executed price increases or plans to execute one later this year. The rationale certainly is strong, with the industry witnessing double-digit cost increases. Still, the reality remains that any price increase will be risky in a challenging retail environment.
Based on our experience advising our clients through their pricing journeys, here are some factors that will give you the greatest chance of success: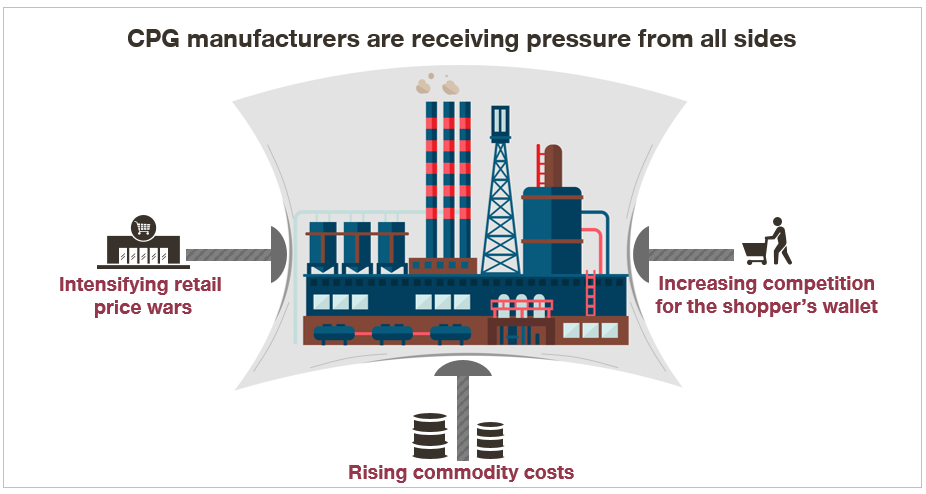 1. Be surgical: Across-the-board portfolio price increases are difficult for the customer to accept and are rarely justified from the consumer's point of view. For a price increase to be successful in both customer acceptance and shelf performance, it must be executed based on a robust understanding of where you have pricing power.
Beyond price elasticity, it is key to assess your portfolio on dimensions such as share leadership, brand equity, competitive intensity, perceived product differentiation and deserved price positioning. A "me-too" product likely lacks the pricing power and shopper loyalty to sell through a price increase, whereas a niche product with few competitive alternatives is a better candidate.
2. Get creative with your product: While the greatest topline potential typically lies in more significant product restages and pack-price architecture resets that take time to develop and implement, there might be some creative measures you can implement to facilitate a near-term price increase. Investigate whether there are low-cost, low-effort product or packaging changes you can make to bolster or mask the price increase.
3. Seize the right timing: Timing is essential to mitigating any negative customer or consumer reaction. Evaluate existing initiatives already underway on which you can add a price increase to maximize chances of success  – product refreshes, big-bet innovations, media/consumer support ramp up, customer supply chain enhancements are examples of good leverage and tie-ins to a price increase.
4. Equip your sales team with a strong customer story: Related to the previous point, the conversation you want to have with the customer is not a price increase conversation but rather a joint business planning conversation. It is key to have a clear story to justify the increase and a consumer-based rationale for the increase, how you plan to continue investing in the category and, most importantly, the category impact of the proposed increases. Use data points to reassure the buyer that the category will not be hurt.
5. Act with conviction: Any price increase exercise is daunting and likely to receive noisy push back from many fronts. The sales teams need to understand and accept the increase so they can convince the customer to do so as well. Leadership must act decisively, sending a clear message to the organization, and to your customers, that this is the right thing to do for the business.
Any price increase exercise carries significant risk, especially in today's price-sensitive environment. However, the reality is that the ability to execute a price increase regularly is critical to ensuring the long-term health and sustainability of the business. Without profit dollars to invest, brand equity and pricing power will simultaneously erode over time. It's an avoidable cycle -- and trap -- into which many companies fall.
The above guidelines can help mitigate some of the primary risks associated with implementing a price increase. Remember that building your organization's pricing muscle takes time, but doing so will help you establish an essential multi-year cadence for capturing the value you deliver to your consumers and customers.
Contact us to learn more.