Commercial Response Strategy for the Travel Industry During the First Stage of the COVID-19 Crisis
April 22, 2020
*The insights and recommendations shared in this article are based on the circumstances as of April 22nd, 2020
The COVID-19 pandemic has caused an unprecedented crisis in the travel industry. In this multi-part series, we discuss how travel companies should respond and share our nine-point action plan. In this first article, we look at the three core phases of the crisis and the different priorities that companies must tackle.
The travel industry is not unfamiliar with crises. However, the COVID-19 pandemic is truly unprecedented for several key reasons:
It has hit all shapes and forms of travel — from airlines to car rentals, hotels, vacation rental businesses, holiday parks, theme parks, ride-sharing apps etc., as countries across the world have gone into lockdown or put restrictions on travel.
Demand has plummeted. In many sectors and for many players, the drop has not been 10 to 20 percent, but more like 70 to even 100 percent.
The crisis has raised questions on the business model of travel as a whole. Travel was the key factor for the disease to transfer across countries and social distancing measures have made the notion of standing next to each other, taking a cruise holiday, or visiting highly populated theme parks socially unattractive and perceived as a risk for our health.
How should the travel industry respond to ensure it not only merely withstands the crisis, but is also able to get back to business and re-invent itself? To answer that question, we need to break down the crisis into its three core phases, each requiring a different strategy.
The three core phases of the COVID19 pandemic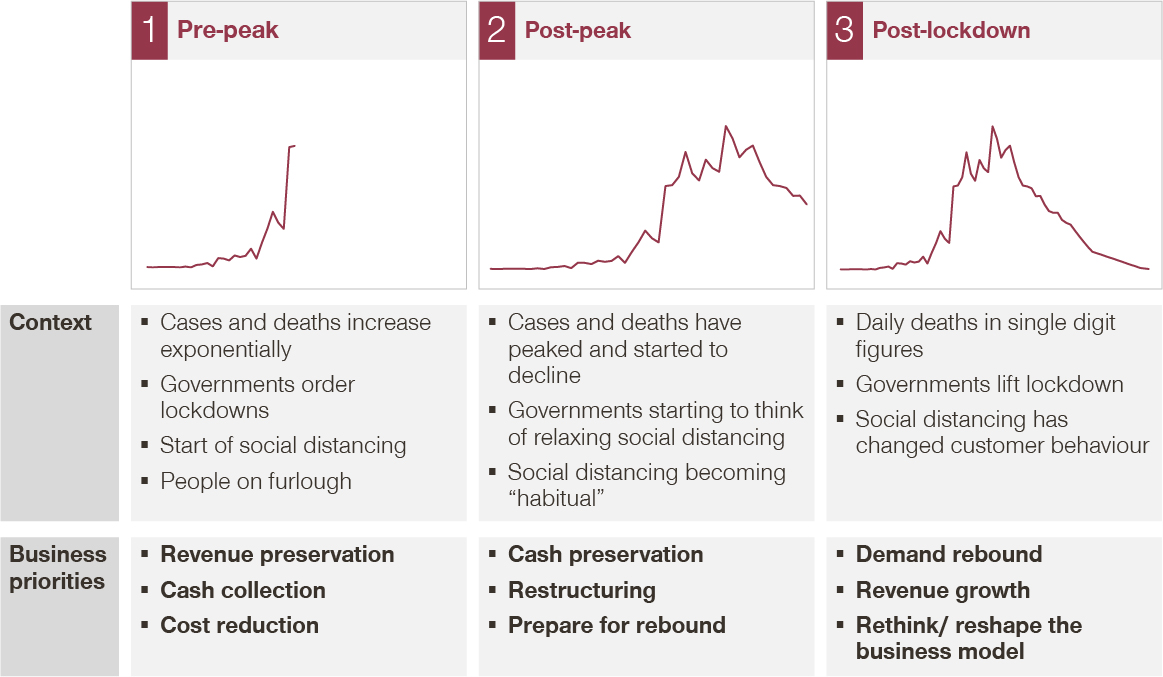 Action plan for travel companies to survive the pre-peak commercial COVID-19 crisis
Most countries are now well into the pre-peak period, where coronavirus cases are increasing exponentially on a daily basis and governments have enforced lockdown and social distancing measures. In this phase, the main focus for travel companies is on closing their operations and ensuring they can cater to customer enquiries associated with such measures (e.g. refunds, re-bookings, cancellations etc.).
From a commercial perspective, travel companies are still interacting with customers, and there are some key commercial actions travel companies can take to succeed. We have summarized them in our nine-point action plan.
Read part two of this series, where we will discuss each action point in detail. For an immediate discussion on how to get started on each of these action points today, reach out to our Travel, Tourism, and Leisure experts!