Construction Materials and Technology: 5 Commercial Opportunities, Now and Post-COVID-19
October 09, 2020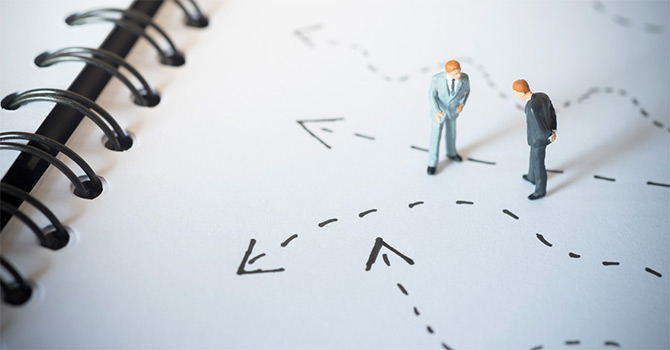 The shocks of COVID-19 and its related countermeasures have significantly changed the way people interact, communicate, and shop. Companies in industries such as travel and hospitality have suffered enormous losses since March 2020 and are using all means at their disposal to keep their heads above water.
But so far in 2020, the COVID-19 crisis has affected the construction industry less severely than many anticipated. Lockdowns and travel restrictions initially put the supply chain, construction sites, and labor mobility under pressure. But projects and construction have continued in most countries, except for countries hit heavily by the first wave. Many people took advantage of stay-at-home orders and remote work to spend time and money on home improvement, providing a boost to renovation and DIY-related product categories.
2 reasons for changing market dynamics in 2021
Construction, however, is a late-cyclical industry, and we anticipate headwinds in 2021. Early indicators such as building permits and order inflow have shown a mixed picture over past months across major developed countries. Also sales interactions and go-to-market models will need to be made future poof. We expect market dynamics to change for two reasons:
1. Budget limitations and investment uncertainty will increase
Increasing spread of remote working models combined with an uncertain overall economic outlook will adversely impact demand and budgets across sectors. The longer the crisis lasts, the greater the risk of unemployment and business insolvencies and the need for government aid. Demand for office space and commercial construction will get under pressure as well as private funds for residential housing and budgets for public investments in infrastructure.
2. Digitalization is accelerating along the entire value chain
Physical distancing measures are a direct reason behind the accelerated adoption of digital working and sales. Go-to-market models will be impacted by broader acceptance of digital channels and interactions as well as a general increase of digital touchpoints along the customer journey. This will translate into the need for higher digital integration externally with the customer and also internally in sales (e.g. in lead-to-order management or use of BIM).
Figure 1 shows expected consequences for the construction industry (#6) compared to other industries.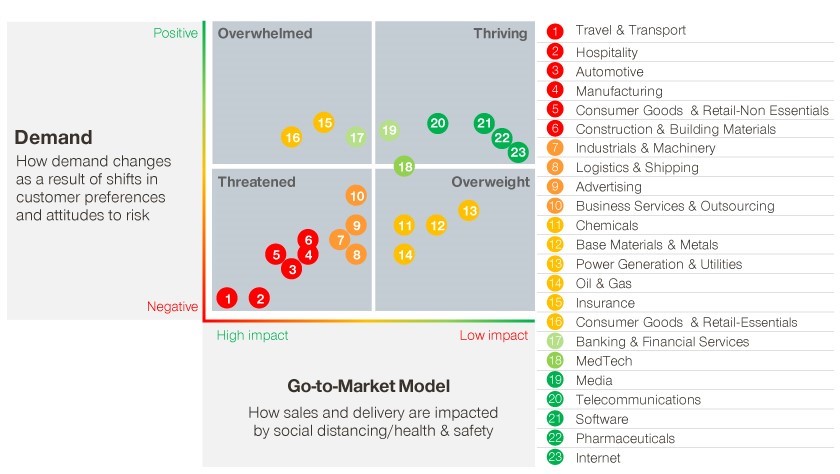 Commercial opportunities now and post-COVID-19
The most important initial measures for any company in this crisis included addressing employee health, managing cash, and coping with short-term demand dynamics and logistical challenges. But once these measures have been taken under the first COVID-19 wave, its focus should return to managing the top and bottom lines to get back to profitable growth. We see five opportunities in the construction materials industry:
1. Review the growth strategy with scenario planning
Market segments – such as residential or commercial and new build or renovation along with their sub-segments – will experience different impacts, now and after the crisis. Demand shifts and a greater focus on local-for-local flows, digitalization, and prefabricated construction will require an evaluation of potential market scenarios and a reassessment of the commercial strategy and target markets.
2. Prioritize an omni-channel strategy
The digital customer experience is more important than before, and can become a major competitive advantage that will endure after the crisis. Priorities include developing a superior digital experience along the customer journey, improving e-commerce capabilities, and further integrating with distribution partners and stakeholders. Now is the time to capitalize on a greater tendency among customers to embrace digital interactions. Companies that succeed in managing the transition quickly and effectively during this period will have a strong advantage after COVID-19.
3. Sharpen the portfolio
Changes in market segments and growth strategies create opportunities to align the portfolio and sharpen product positioning accordingly. This could include establishing good/better/best strategies, differentiating professional use and DIY products, or introducing a less expensive alternative to better manage demand dynamics and tight budgets.
4. Manage pricing dynamics and governance
A clearly articulated pricing strategy is essential to manage profitability in uncertain times. This includes a governance model to protect margins and limit price exceptions, and dynamic pricing models to manage fluctuations in supply and demand. Smart quotation and reporting tools, embedded in internal systems, will help guide sales and achieve the best possible prices.
5. Invest in services and integrated solutions
The role of services and solutions will increase, ranging from project planning and specification to customized production, pre-fabrication and logistics, and even to after-sales maintenance or IoT services. Digitalization will support these developments and offer additional opportunities to integrate with stakeholders, decision makers, users and investors, to offer additional services, and to establish new revenue streams or influence decisions.
As in every period of significant change or crisis, opportunities and advantages arise for those that act quickly and decisively. Such companies will be the most likely to achieve profitable growth in 2021 and beyond.