"Customers Who Bought This Item Also Bought...": How Banks Can Use Active Product Recommendations to Generate Profit
September 30, 2019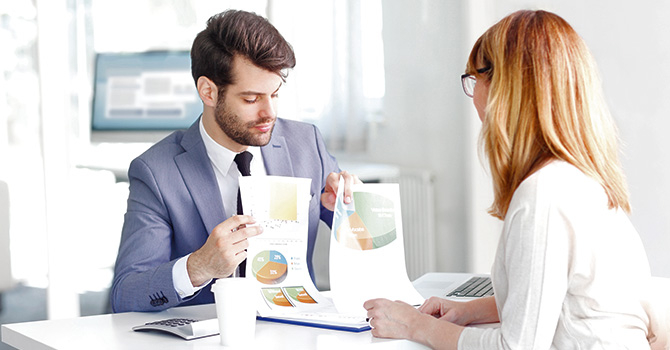 Have you ever thought about how easy it would be to sell products if your customer advisors knew which products to address before starting the consultation? Have you ever considered how many more products you could sell if your customers were approached at exactly the right moment with automated product recommendations? International market leaders show how effective active product recommendations can be, but this practice has yet to make its way to the banking world – even though banks are in a near ideal position to achieve similar results. 
Despite the wide range of products banks offer, private customers only use, on average, two to four products. With the ongoing low-interest phase and growing competitive pressure under PSD 2, it is more important than ever to increase bank customer loyalty and monetize customers via cross-selling. So, how can banks persuade their customers to use more products?
In addition to traditional price and product optimization, pull and push approaches can have a major impact on product sales. Pull approaches, such as the home-bank model, encourage customers to take an interest in the bank's products. (Click here to find out how pull approaches can increase both monetization and customer loyalty and satisfaction.) Push approaches, like active product recommendations, motivate customers to buy by addressing them with suitable products specific to their latent needs. When used together, pull and push approaches can improve banks' cross-selling rates considerably. Individually, both approaches can also achieve significant results in terms of product usage. This article describes how banks can implement push approaches effectively and details how active product recommendations, in particular, can be used to generate profit. 
Amazon leads the way – with success!
While active product recommendations are still a marginal topic in the banking world, they have long since ceased to be a novelty in other industries. Internet giant Amazon is regarded as a pioneer of active product recommendations, and this approach has significantly contributed to its corporate success. Anyone who has purchased something online has likely come across Amazon's note "Customers who bought this item also bought..."; however, the average shopper is probably unaware that Amazon generates 35 percent of its sales from the products in this section. These suggestions are by no means arbitrary and are actually part of a sophisticated sales strategy. The enormous effect on Amazon's revenue not only shows that active product recommendations are justified; it also means that companies not actively recommending products are leaving massive earnings potential on the table. This is especially true for banks, whose enormous data resources put them in an almost incomparably good starting position to make tailored product recommendations.
How banks can also benefit from active product recommendations
Customer and transaction data can be analyzed to reveal almost anything about the customer, from their current whereabouts and life situation to shopping preferences and priorities. However, rather than being processed in a way that generates profit, this data is often relegated to the archives. Statistical methods can make sense of the data chaos to derive accurate product recommendations. The customer and transaction data is translated into needs, which are then used to identify the products that best address these needs. This requires customers to give clear consent as to who will be using their data and what they'll be using it for.
Approaches to implementing active product recommendations can range from very basic to extremely sophisticated. In basic implementation, customer-specific product recommendations are derived for each product according to product usage, the strategic importance of the product, and the probability of completion. With the sophisticated version, transaction data, including booking categorizations, is included in the analysis in addition to product usage. The resulting recommendations are significantly more accurate, even in real time at the highest level, and can be continuously improved through machine-learning algorithms. 
Both approaches set up opportunities to actively contact customers. Even basic implementation creates transparency within the bank over which products certain customers are likely to purchase next and how likely they are to do so. This, in turn, provides the basis for addressing products directly on the online banking platform or during the next consultation. With the sophisticated approach, the possibilities go much further. For example, frequent stays abroad could be seen as an occasion for the bank to recommend a credit card suitable for the customer's international travels. If a customer is just entering the workforce, the bank could offer a fund savings plan. Instead of simply archiving the transfer of a real estate broker's commission, banks could offer the customer a household insurance policy or consumer loan to furnish their new home. 
Why customer advisors are still important
Active product recommendations can be made directly to the customer or go through the advisor first. In the latter scenario, the customer-specific recommendations are imported into the consulting software, enabling the advisor to know exactly which products they should bring up before starting the consultation. Data analysis tools can create special added value by revealing previously unknown needs that wouldn't otherwise come up during consultations, which may particularly benefit more inexperienced advisors. Identifying needs more efficiently and effectively allows advisors to properly fulfill their role: addressing the customer's needs with the appropriate banking products. 
Products can also be recommended directly to customers over the online banking platform or via smartphone push notifications, but this won't take the place of advisors completely. Banking will always be a business where trust is of fundamental importance. For complex products, such as financing, relationship managers will continue to be indispensable. In order to meet the growing needs of customers in the digital world, banks need to offer online products. Active product recommendations in online banking provide advantages for banks, advisors, and customers alike.
What banks need to consider when recommending products
Active product recommendations can come in many forms, but customers shouldn't feel like they're being pressured to pick a certain product. This is particularly important for product recommendations from banks. Unlike Amazon, banks make a clear performance promise to their customers. They stand for trustworthiness, competence, and fairness for all customers. Product recommendations must be designed accordingly, namely tailored to the customer's individual situation in such a way that they perceive the products as having been recommended with them in mind. Recommendations achieve this when they create clear added value and optimize the customer's financial supply. Banks should make sure they only recommend products that contribute to this optimization. If this is the case, both the bank and customers will benefit.
Conclusion
Amazon is a prime example of how active product recommendations can have an enormous effect on sales. While the internet giant generates 35 percent of its sales with this practice, many banks  have yet to leverage their immense data resources to achieve similar success. Even basic recommendation logic can have a noticeable effect on product penetration and improve the customer's financial supply, regardless of whether recommendations are made directly to the customer or communicated by the advisor. No matter how sophisticated the approach, one thing is certain: advisors will continue to play a key role. Banking is and will remain a people's business. Nevertheless, a well thought-out strategy for product recommendations pays off for everyone involved.
---
Enjoyed reading our article? You may also find this interesting:
The Power of a Positive Experience
Monetizing Change: What Wealth Managers Can Learn from Other Industries