Digital Transformation: A Force for Change
April 17, 2018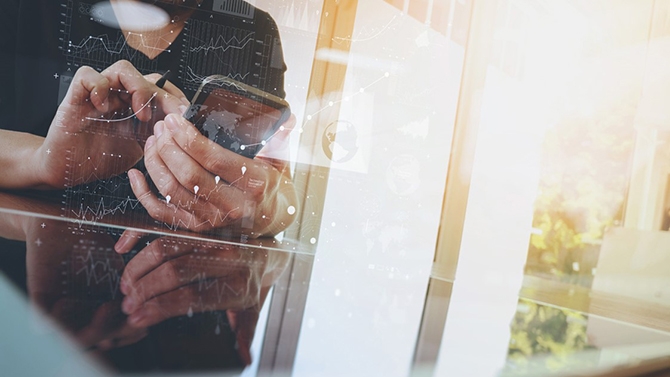 Alan Kelly, Director, interviews Board Member and UK Managing Partner Mark Billige about how digital transformation is disrupting business models and where the opportunities exist.
AK: Digital transformation is a hot topic at the moment. Do you think this is a disruptive force for traditional business models?
MB: Fundamentally, digital transformation is all about business model impact, and answering core questions about how we create more value for our customers. So really, this is about how do we open up new revenue opportunities. Let's be clear though– these kind of transformations are not IT projects – technology is simply the enabler for these opportunities!
AK: So where do clients find these opportunities?
MB: They lie across two dimensions: 'Channel' and 'Product'. Digital has the ability to disrupt both in different ways:
Channel: We've seen lots of channel disruption. Companies either adding additional digital channels (e.g. web shops/mobile apps) to their existing routes to market or disintermediating parts of the value chain (e.g. travel agents, brokers, distributors etc.). The impact of these profound channel changes has been drastically lower costs to serve and barriers to entry.
Product: We see a raft of changes in this dimension too. First we saw the digitalisation of physical products such as newspapers, music etc. This has now evolved to the digital enhancement of physical products such as smart cars/homes etc. as well as wearables. Going forward, we're seeing a trend where a digital service layer is added on top of physical products.
AK: You make it sound simple, but how successful are companies at monetising their digital initiatives?
MB: It's definitely not straight forward for firms. We know from our most recent Global Pricing & Sales Study that 81% of companies have made investments in various digital transformation initiatives yet only 23% have achieved revenue growth. 
In general, companies spend too little time focusing on the monetisation discussion or leave it far too late. Best in class companies think through the revenue model in conjunction with, rather than at the end of, the transformation process. Time and time again we see companies that have failed to recognise the full extent of benefits that they brought to their customers and so priced their offering too cheaply. 
AK: What should companies be doing to avoid falling in to this trap?
MB: It's really all about understanding value. We help our clients break "value" down, quantify the component parts, and how different customers perceive it and then figure out the best pricing, marketing and sales strategies to extract it. 
It's a complex undertaking that requires careful consideration of all the elements described or they will 'leave money on the table'. But by placing monetisation at the centre of their digital strategy, companies can ensure the best outcome from their digital initiatives.
Want to know more? Explore our digitalisation content and resources here.