Digitalization in the energy sector
August 08, 2017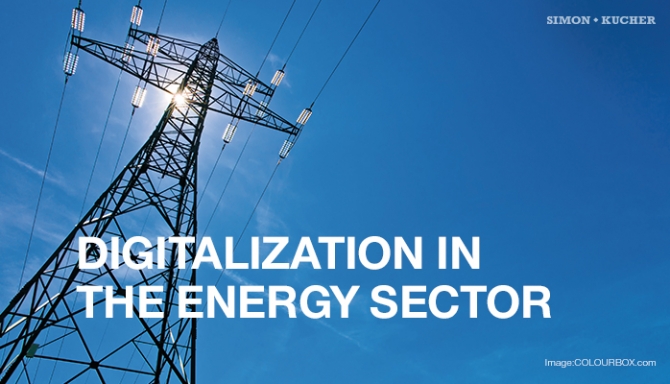 Energy: Digitalization disrupts all elements of the value chain
Digitalization affects the energy sector at all steps of the value chain, from virtual power generation, digital grid management, and smart metering, to fresh ways of marketing and selling new products and services. The sheer number of game changers is keeping energy providers on their toes and infusing this slow changing industry with new energy.
Insights
Energy providers worldwide have fully understood the need to act on many levels in order to stay on top of the digital disruption. Just to name one example, Australia's AGL Melbourne will spend an impressive AUS 300 million dollars on digitally transforming its business in the years to come. While C-level executives are setting the course and prioritizing actions for a long list of business units, middle management is more concerned about the job cuts that the use of digital technologies may entail. Still, there is no way out, as new players are already entering the field. German startup Nextkraftwerke.de for example connects farmers' and SMEs' solar panels to virtual power plants and sells clean electricity in innovative contracts, addressing the need of many customers to step away from fossil energy sources and benefit from low prices. So no wonder big energy providers try to establish business and revenue models for virtual power plants, preemptive maintenance, optimized load management and, on a household level, smart metering.
However, all this doesn't change the fact that power contracts are boring for end customers. They don't like to shop for a new electricity provider, and even in a much more digital future they won't want to engage with their provider on a regular basis. So one of the leading principles retailers use for their digital businesses – establishing a customer relationship and loyalty programs to encourage up- and cross-selling – cannot be transferred to the energy sector one-to-one. Still, there is major room for improvement in terms of the offering, marketing, and sales. Instead of selling boring products (electricity), they could sell services that appeal to the customers' preference for effortlessness. Why not offer a service contract for the entire house, including heating, hot water, security, fire safety, and remote controls of these systems via smartphone? Especially in sales, most energy companies are currently acting like digital beginners. Many don't even have practical customer segmentation or a CRM system, and only few use the data they have on their customers to efficiently steer promotions and campaigns. Measuring customer lifetime value? For most unchartered territory. Due to these blanks in the marketing and sales field, companies lose out on a lot of profit, for example when they subsidize contract renewals with way too much money. In the digital age, where data is readily available, there are some low hanging fruits that energy companies just need to grab.
At the forefront of digitalization
A good example of what digitalization can do for an established power provider is Innogy. The RWE spin-off is publicly listed and addresses end customers and businesses with a very modern and fresh online presence that is certainly state-of-the-art in online sales. This helps to shed the "boring" image and appeals to customer needs such as clean energy, simplicity, effortlessness, 24/7 service, and price fairness. A live chat personalizes the experience, and images and videos make the offer more emotional and easy to understand than the run-of-the-mill electricity product. Besides traditional energy supply, Innogy offers power generation solutions via solar energy for end customers and enterprises (and lets you calculate online how to monetize your solar panels), smart home services, energy optimization solutions, and e-mobility offers for both households and businesses (including smart fleet management). In addition, Innogy's Innovation Hub is a platform that invests in promising startup companies to get access to the latest technologies that are going to disrupt the energy industry.
Advice from our experts
Stop waiting for the perfect moment – start now! Take risks. Work in an agile manner. Fail often, but recover quickly. It's time to accept that digital transformation is the future of the energy industry. Moreover, taking a proactive approach to your digital transformation journey clearly means making mistakes along the way. On the marketing, sales, and transformation side, three points are of utmost importance:
Step in your customers' shoes! Expectations regarding the customer experience, shopper journey, and omni-channel integration are increasing every day as everyone lives their digital life through smartphones, tablets, and other devices. Even if you cannot apply all of the online retailers' principles to your offer, a power provider can distinguish itself with an attractive sales approach and nicely packaged offers that go beyond the simple "product" sale.
Grab the low hanging fruits first! It may be fancier to develop new products and digital services, but effectively managing relations with existing customers is most promising in terms of revenue and profit. Therefore, rather unglamorous things like customer segmentation, customer lifetime value measurement, CRM, and campaign management are necessary – but thanks to digital technologies, better data is available more quickly, making it easier to complete these tasks.
Take your staff's concerns seriously! Transforming a company into a digital firm is a major endeavor. All hands are needed on deck, but staff who are afraid of losing their jobs are less likely to be creative and willing to change than teams who have some level of security regarding their future development within the company. And last but not least, make sure your talent has the right knowledge to support your digital transformation strategy. This will have the greatest impact, not only on business operations, but also on the customer experience.