Digitalization in the Insurance Industry
July 19, 2017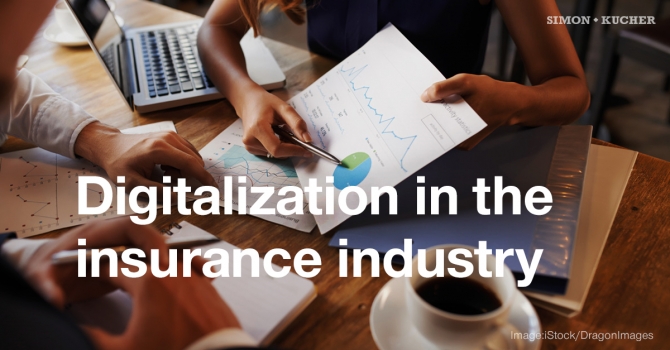 Wanted: Holistic omni-channel strategy
Insurance companies are busily working on digitalization initiatives, building their own units, digital labs, and task forces. Still, most lack a clear plan or holistic digital strategy, and consequently their efforts often result in an incoherent hotchpotch: Processes are not end-to-end and channels are not integrated, meaning insurance companies' digital endeavors are often not fully reflected in their top line, let alone their bottom line.

Insights
Digitalization is no new topic for insurance companies – decades ago they were among the earliest adopters of information technology and they have been using the online channel for a long time now, mostly for communication, but also to generate sales. Lately, aggregators have turned the UK insurance market upside down, bringing a lot of new dynamics to insurers in the USA and Germany. Nevertheless, insurance markets tend to move forward a bit more slowly than many other industries, and this is also the case for digitalization. Customers are used to buying complex insurances, not because they understand the product but because they believe the sales rep, who often is a trustworthy acquaintance. But as it's becoming increasingly natural for customers to buy things online, be it books, shoes, plane tickets, or groceries, insurance sales reps fear for their jobs, and C-levels are getting restless. They understand that consumers expect a sales experience similar to those in other retail sectors, and get increasingly irritated by price differences in online and traditional direct sales – differences that sales reps are unable to justify in face-to-face meetings.
What insurance companies need to overcome this hurdle is a well thought-out omni-channel strategy. They need to define a clear vision on how they want to position themselves in an evolving digital world, and how their channels are integrated. On a more operational level, insurance companies should pursue two main workstreams to tap into the revenue and profit potential that digitalization brings. First, they need to optimize their online sales dialog by taking a leaf out of the books of the big online retail platforms. After all, insurances that are sold online need to be packaged and priced attractively and be self-explanatory. Curated shopping approaches – a hot topic for online retailers – would suit this industry well. Second, they need to improve the digital support they provide to their sales reps by creating state-of-the art sales journeys that run on tablets, not only on PCs. Given the complexity of an insurance's product portfolio, they need to give all kinds of support that allows the reps to sell on value, not on price, to explain to the customers why they need a certain product, and to smoothen the path to up- or cross-selling.
At the forefront of digitalization
Encouragingly, there's one product that shines as a beacon for the industry. Axa Digimap is an app used by Axa in Germany that runs on the sales reps' tablets and guides both the rep and customer through the entire consulting, sales, and (for the rep) admin process. Pictures, videos, short explanations, and interactive elements make selecting an insurance a lot less painful than the traditional process, and up- and cross-selling products are presented in an unobtrusive way that is easy to understand and actually generates additional sales.
Advice from our experts
Focus on getting your omni-channel strategy right! Don't treat the digital channel as an isolated part of your business.
Define a holistic digital strategy that covers all channels
Adopt a retail perspective when optimizing your online sales experience. Your website needs to be self-explanatory with attractive products and up- and cross-selling paths, applying success factors from the best online retailers
Support your sales reps by providing them with all the materials they need, attractively packaged and tailored to the digital world. Transferring 20-year-old premium calculators to a tablet will not do the trick