How to Get Back to Growth and Restart Your Commercial Strategy
July 15, 2020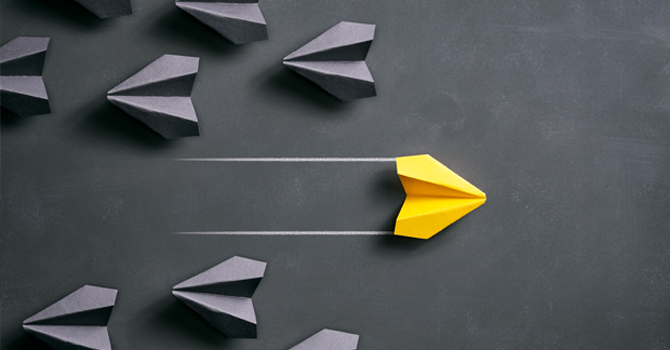 In this resurgent crisis, there is no time for long-term perfection. Fast actions are more important than perfect ones. In part 1 of our resurgent crisis series, we emphasized how nine in ten companies need to act now! In this article, we explain how to quickly adjust your go-to-market model, refocusing on commercial agility, reaction, and learning.
A few weeks ago, securing a food delivery slot seemed like winning the lottery. Many of us were willing to wait hours in a virtual queue just to get our essentials – under lockdown conditions this was much more palatable than going to a physical store. Of course, nobody could have predicted the surge in demand for products like toilet paper and disinfectant, or the sudden rise in popularity of online grocery services. But when faced with new circumstances, shoppers rapidly changed their behavior and started living in the new normal. Old, irrelevant habits went out of the window overnight.
If only businesses could be as agile as consumers… well actually, they can be. In this article, we walk through how companies too can master agility, sharing seven short-term commercial initiatives for adapting to this changing environment:
1. Understand how to forecast volatile demand
When there was normal, "linear demand", you could hypothesize, research, optimize, and launch to get a better go-to market model. But in this resurgent crisis, demand is turbulent. That's why we first recommend forecasting future demand scenarios based on multiple inputs, such as customer sentiment, recent historical benchmarks from markets ahead of the curve, signals in the market, and internal expertise and experience from customer-facing employees, e.g. sales. Start with your base forecast based on the above and put a process in place to adjust the forecast on a regular basis as you experience demand coming through. At first your forecast may be unreliable, but as you start observing the real demand coming in, it will become increasingly accurate and direct you to the right set of actions.
Check out our crisis map to see how different sectors have been impacted by the crisis and evaluate your own position.
2. Ensure your product or service is fit for purpose 
Changes in consumer habits and shopping environment call for agile product design. This means offering more flexibility to customers, providing digital sales and delivery models, and developing new formats of your product that are more relevant in times of social distancing. Budgets are constrained, so you may consider launching less expensive alternatives to target price-sensitive customers. Still, be wary of lowering prices without lowering performance, as this is a surefire way of damaging profitability. To protect your standard and premium offerings, we recommend de-bundling products, removing services, and killing "nice to haves," providing an additional "good-enough" solution at a lower price.
3. Make pricing dynamic to steer volume and explore willingness to pay
Dynamic pricing does not necessarily mean complicated. There are some pragmatic measures to make supply and demand part of your pricing logic, you just need to collect the right indicators. Once you know your target positioning, you can define a lower and upper price limit that balances your volume and margin goals. This gives your sales people an area to play around in, either on a regional or a country level. Then, by monitoring average prices from the last three months, as well as forecasting for the next three months, you can ensure you remain within your price brands – and take action when you don't. Of course there are some businesses that are already sophisticated in dynamic pricing. But we also know that a lot of revenue management and dynamic pricing systems assume that history is going to repeat itself. This year, it won't. The question now is how to move to the next level and make dynamic pricing even more agile, relying on external and internal factors to react.
4. Identify your most effective channels and marketing activities
In a world where cash is precious, you need to know the most efficient above-the-line measures where you can save money without losing impact. Although the common reaction to a crisis is to run heavy promotions, don't forget to monitor the performance of these promotions. Know your fighter products where you can afford to run frequent promotions, as well as your non-promo products that defend your profit pool. And promotions don't always have to mean price. Offering a bigger pack size or including a gift, such as a free glass with a bottle of wine, can be equally as effective without harming profits. Finally, people are not only changing their shopping behavior, but also their information behavior. That means they're going more digital, also in how they inform themselves about your products. Be sure to communicate your promotions on digital channels.
On the B2B sales side, we recommend refocusing resources according to complexity and customer structure. Big accounts should be handled by key account managers, medium-size or small customers with complex products by sales reps, and smaller customers with less complexity by inside sales. CPQ-aided processes for promptly generating quotes, online configurators, and a web shop for less complex orders, are key. They not only increase efficiency and allow you to refocus your efforts, customers also see the added benefit of buying in a digital world.
5. Use this crisis to build long-term relationships
The all-time priority in any crisis is to manage cash flow and reduce costs, and the commercial response should be to help customers to buy under these conditions. This doesn't mean just throwing around discounts. To outperform during a crisis you need to protect long-term value monetization, offering concessions that "seed" future growth. Double down on existing customers and provide an incentive to stick around, such as a loyalty credit pre-loaded according to the business they've already done with you. A less stable supply situation will also lead to situations of scarcity – the question arises who to serve first. Use this as an argument to speed up deal closure. Future purchases can also be incentivized through end-of-year rebates or concessions for meeting revenue and volume targets.
6. Enable your sales force thrive in a socially-distanced world
Sales teams are really struggling, especially those with a sales model based on customer proximity. Reps who are used to strictly following regular commercial processes or relying heavily on sales management to close the deal may find it hard to be creative now that realities have changed. However, we find that most sales teams are just poorly equipped. A transition is possible with the right resources and a refocus in terms of country, channel, and customer segment.
Let's flip back to the crisis map. Besides being helpful to understand your own business, the same logic can be applied to understand how corona has impacted your customer segments, and used as a basis for aligning your sales strategy and focus. Unfortunately, most customers are likely overweight or threatened, facing negatively impacted demand. Take a critical look and decide where to invest in long-term relationships, and consider shifting sales resources to the thriving and overwhelmed segments. These customers face increased demand, which indicates commercial opportunities for sales. Your offering and pricing might need to be optimized to cater to different circumstances, but all in all, these should be attractive segments.
7. Support your sales teams with data
When equipping sales to cope with changed market conditions, another aspect is digital tooling for data-driven selling. Here we're not just talking about applications to enable remote selling, like Zoom, but rather a wide range of software available in the market to empower sales, deliver insights, and help make evidence-based decisions. Most organizations probably have a few of those running, whether it's a CRM or digital ecommerce application. A short-term measure is to combine the data from a couple of these sources and create practical tools for salespeople to get beyond the transactional conversations. For example, a tool that flags up a customer's specific business profile along with a summary of the calculated benefit will immediately enable sales to showcase the value of the product or solution and gain a competitive advantage. Check out the Simon-Kucher Value Calculator here!
Your paradigm shift to commercial agility
There are different levels of commercial agility. Some businesses are crawling, others walking. Some are running, or even flying. If containment measures haven't inhibited your business from absorbing greater demand, you've likely sailed through this period. Still, you will need to refocus your efforts now to make the most out of it.  For other companies, there is definitely no time to lose. If you've had to completely shut down your business and furlough the majority of your staff, your days are numbered –unless you can find a way back to growth. There is no time to lose. Restart your commercial strategy today.
Our 5 deliverables to restart your go-to-market model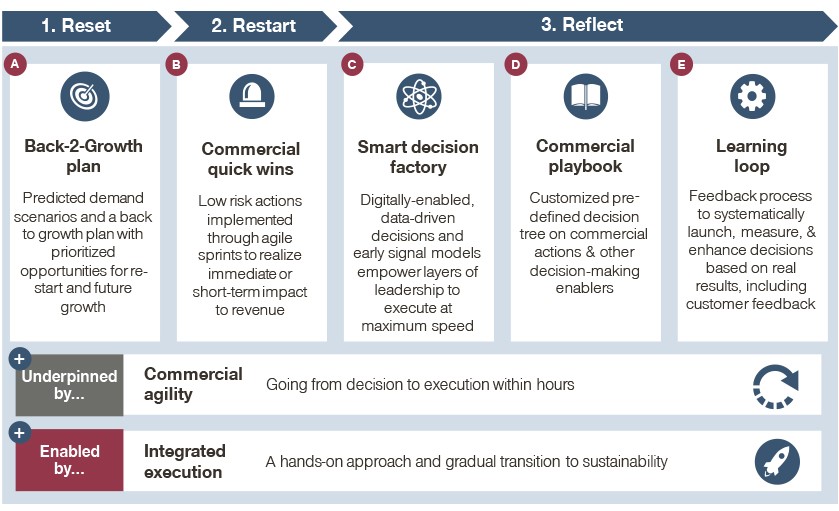 Enjoyed this article? Watch the on-demand webinar here?
To learn more about Simon-Kucher's Back to Growth Restart Model, reach out to Dimitris Hiotis, Juriaan Deumer, and Tim Brzoska 
---
Read more from our series:
Part 1: Coronavirus: Nine in Ten Companies Need to Act Now!
Part 2: How to Get Back to Growth and Restart Your Commercial Strategy
Part 3: How to Build a Resilient Business through Customer Loyalty and Profits
Part 4: Agile Design: How to Respond to Changes in Customer Needs
Part 5: Agile Pricing: How to Deliver Effective Pricing Outcomes
Part 6: Agile Cost Management: How to Remain Profitable as Costs Increase
Part 7: Agile Sales: Remain Close to Remote Customers during the Second Wave of this Resurgent Crisis and Beyond