Leisure and Tourism: "How Effectively Businesses Are Rebounding Depends on How They Adjust to Changes"
July 22, 2020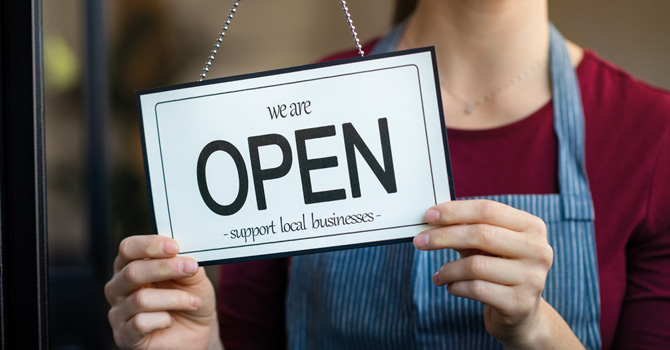 *The insights and recommendations shared in this article are based on the circumstances as of July 21, 2020
The outbreak of COVID-19 is still dominating public and private live in the UK. Faced with rapidly changing circumstances and accompanying rules and restrictions, policy makers are implementing a variety of measures to ease the impact of the coronavirus on citizens as well as companies. We talked to Dimitris Hiotis, Global Head of our Leisure, Travel and Transportation practice about some of the recent developments.
Dimitris, how is the leisure, travel and transportation industry doing in the UK?
Dimitris: Unsurprisingly, not too well. For example, recent forecasts suggest that under current circumstances, spending in domestic tourism will only be 39.2 billion pounds in England this year, which is 48 percent less than in 2019. Other leisure, travel and transportation sectors aren't looking any better.
Do you think these forecasts are correct?
Dimitris: Given what we know right now, the numbers seam feasible. They already include some of the most recent measures to resurrect UK's travel and tourism sector. But of course, with a resurgent crisis like COVID-19, we don't know what happens if there is a major second wave of the virus that would necessitate a renewed national lockdown.
Could you describe the latest measurements to support the industry into more detail?
Dimitris: At the beginning of July, the government announced a considerable easing of lockdown restrictions in England that enabled the majority of leisure and hospitality businesses to reopen their doors to the public. This was a considerable relief to the wider leisure and hospitality industry, who basically had to stop their commercial operation from mid-March.
Who has benefited the most from this development?
Dimitris: How quickly and effectively businesses are covering lost ground depends considerably on how demand will go up in the coming months and how agile they are adjusting their offering to demand changes. Our recent Future of Travel survey suggests that people are keen to travel, but will choose staycations and private transport such as car over plane and train — so domestic players will clearly rebound first. And this is what we are seeing already happening. In the beginning of July, when the lockdown was eased, a surge in bookings was observed in staycation-based businesses like Best Western hotels, which saw a 700% increase in bookings through their website.
Seen in this way, businesses well-suited for staycations like hotels, holiday parks, and cottage rentals will most likely rebound quickly. If they win back customer confidence by setting the right infrastructure to minimize health risks (e.g. social distancing, temperature checks etc.), while at the same time offer booking flexibility to enable a change of travel plans at short notice with minimum penalty, they may even find 2020 to be not such a bad year, but a very strange one with a late surge just before the peak holiday period.
Restaurants and pubs on the other hand will have a harder time. Even with the new, looser restrictions, they have to be inventive with their promotional strategy to bring people back in as well embrace digitalization to improve customer experiences. As for cinemas and theatres, their business model is at risk and considerable innovation is required in terms of traditional product set-up as well as ancillary offerings to help them rebound from this crisis. Last but not least, businesses related to international travel may have to wait for 2021 to rebound.
Easing lockdown wasn't the only governmental help for the leisure, travel, and transportation industry, right?
Dimitris: That's correct; from Wednesday 9th July, the government has reduced VAT on the leisure and hospitality sector from 20 percent to five percent for a period of roughly six months, and is also incentivizing consumers to dine out Monday through Wednesday by providing "eat out" vouchers offering discounts of 50 percent. An urgently needed measure, since our recent surveys suggests that 54 percent of UK consumers expect to go to the cinema and theatre less or far less than before the pandemic and 47 percent plan to visit pubs, and bars less or far less than before. A considerable demand drop for the sector – a price reduction is a key lever to incentivize demand and increase footfall.
In your expert opinion, will it work?
Dimitris: The scheme will undoubtedly generate some demand. However, its effectiveness will differ by sector. For holiday businesses like hotels, holiday parks, and vacation rental players, they are already experiencing a surge in demand as British holiday makers prefer staycations this year over international travel. An extra reduction in the price from a lower VAT will provide more room for such companies to play with price and/or be able to increase their revenue through more demand and higher occupancy. So they will most likely benefit considerably either though higher margins or more bookings.
For restaurants, again, the situation is a bit less rosy. The pandemic has shifted consumer patterns more to delivery and takeaway; at the same time, the social distancing rules have reduced the capacity of restaurants, impacting their revenue potential at peak times. Also, previous crises suggest that people cut down on discretionary spending, including dining out. We have already seen the first victims of the crisis, with Café Rouge, Bella Italia, and Las Iguanas going into administration  followed by both Pizza Express and the Azurri group announcing reduction in the number of sites last week, and more could likely follow. As such, it is of no wonder that the government has provided the "eat out" scheme as it is much needed for the industry to pick-up demand and protect the millions of jobs that rely on it.
What strategy enables restaurant businesses to reap the full potential of the new measures imposed?
Dimitris: The restaurant industry needs to persuade the customer that it's safe to eat out and remind them of the pleasure of eating out vs. eating in. So any incentive that can drive demand through the doors should be used, especially if it is bankrolled by the government. This will alleviate any fears more quickly and hopefully get restaurant goers to come back soon. However, some will pass it through and some will probably keep it to boost up their finances. It really depends on how effective they feel it will be to drive footfall through the doors.
In addition, they can revise their pricing through a couple of simple measures, like making use of psychological thresholds even with the new reduced prices (e.g. letting prices end at 95p or 45p), incentivizing upsell by creating meal deals or meal bundles, boosting up promotional messages, and reducing prices for eat-in compared to delivery platforms.
These are great opportunities for restaurants, but what about hotels, can they profit form the discount as well?
Dimitris: How they use the underline discount is less clear. Most of hospitality businesses employ dynamic pricing, which means prices change frequently, even within the day. As such, it is less clear how the VAT reduction will feed into the customer. They are also capacity-constrained, and if they are experiencing a surge in demand from a post-COVID staycation boom, then they can potentially take the VAT as a full margin benefit. Time will ultimately tell and/or the balance sheets of these businesses by the end of the year.
The coming weeks will prove how effective (or ineffective) these schemes are. After a difficult year, one thing that many consumers will be looking forward to as the light at the end of the tunnel: Christmas dinner. The good news is the scheme is slated to end by January 2021, meaning that it will still be in place when the Christmas menus come out.
Thanks for your insights, Dimitris!