P&MA Planning in Light of NICE Reforms
June 29, 2020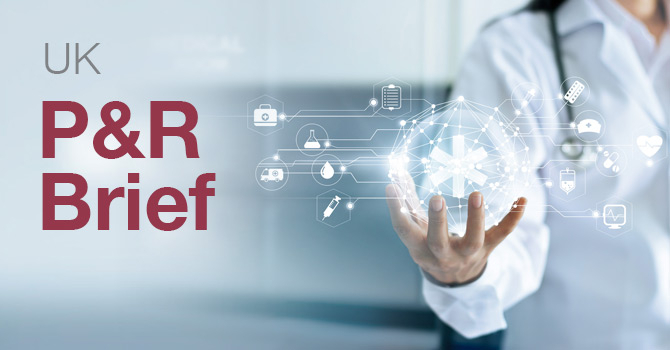 Companies looking to commercialize in the UK will need to consider the future evolution of NICE in their commercialization planning. Short-term changes due to COVID-19, coupled with longer-term effects of NICE's leadership change and the long-awaited NICE process review, will ultimately impact the UK P&MA landscape.
COVID-19 becomes NICE's focus in the short term
As of March 2020, NICE has been prioritizing products related to the diagnosis or treatment of COVID-19, alongside topics considered "therapeutically critical", which includes all cancer medicines (excluding products awaiting review out of the Cancer Drugs Fund). Products which do not address critical needs will be subject to delayed NICE appraisals and extended review timelines, due to an inevitable backlog once the "new normal" returns.
In addition to the effects on NICE appraisals, UK participation in many clinical trials has been cancelled as laboratories refocus their resources towards COVID-19. Clinical trial delays are further characterized by a reduction in enrollment due to reduced hospital access for patients' diagnosis and/or follow-up appointments. This will have inevitable implications including low enrollment, postponements in trial read-outs, and compromised datasets due to protocol breaches. In the meantime, prior to NICE reviews, companies may place a greater reliance on the Early Access Medicines Scheme, in order to reach the market and develop real-world evidence.
Professor Gillian Leng assumes role as NICE Chief Executive in April 2020
Following on from Sir Andrew Dillon, Professor Leng enters the role having spent her career with NICE. She has already been responsible for several key developments at NICE, such as guideline development in social care and for setting up NHS evidence. It is likely that she will want to leverage the upcoming NICE review to reinvigorate the appraisal process early under her watch (more detail below).
NICE health technology evaluation methods review underway
Since July 2019, NICE has been working with key stakeholders (industry, patient groups, and NHS England) to review the methods by which technology appraisals (TA), high specialized technology guidance (HST), as well as medtech and diagnostic assessments are conducted. This review is linked to the commitments in the 2019 Voluntary Scheme for Branded Medicines Pricing and Access and is due to be completed in June 2021.
Key review priorities include, but are not limited to:
The range of modifiers that can be used in decision-making (i.e., real-world evidence considerations) and costs incorporated into technology assessments
How quality of life is incorporated into economic analysis, such as through preference-based measures (e.g., EQ-5D) as they can be used to estimate QALYs
HST topic selection criteria, to make them clearer and more specific
Technology-specific issues (e.g. methodology for assessing tumor-agnostic therapies)
It is noteworthy, however, that ICER thresholds are out of review scope, despite facing recent criticism on inflexibility and calls for change.
Conclusion
Whilst P&MA in the UK is drastically impacted by COVID-19 in the short term, legacy changes from its impact (e.g., an increase in virtual meetings and the number of rapid assessments) as well as reforms set out by NICE's health technology evaluation methods review will likely be felt through the long term. However, as NICE has already clearly stated that there will be an "evolution, not a revolution" of the processes in place, we do not expect planned changes to radically adjust the appraisal process, despite this being the most thorough reassessment since it was conceived.
---
HEALTHCARE NEWSLETTER
Boosting revenue and profits in Life Sciences. Our experts share comprehensive solutions for the complex marketing, sales, and pricing challenges faced by healthcare players. Read our latest newsletter issue here.