Promotions: risks and side effects
December 05, 2017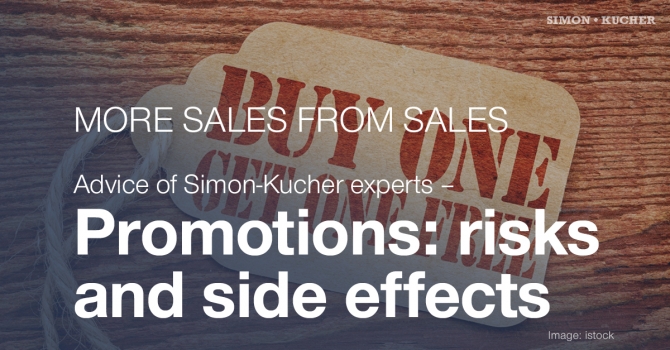 Customers love promotions, but should companies love them too? Few can resist a price promotion, however, as our analyses show, 60 to 70 percent of all promotions in retail lead to losses. In other words, the surplus sales volume doesn't make up for the profit losses caused by a lower price. Unfortunately, there is no magical recipe for a successful promotion. You need to do your homework: meaning analyzing sales and transaction data in detail before, during and after the promotion. This is the only way to determine which articles (or groups) to discount, when, for how long and by how much – and to really earn more money. Smart companies don't rely on gut feeling when it comes to promotions. Instead, they ascertain the relevant effects with comprehensive tools and processes. Acting without such analysis can backfire, especially if customers come to expect constant promotions.
The European DIY store chain Praktiker fell into this cycle with their infamous "20 percent off everything – except pet food" slogan, ultimately leading to their declaring bankruptcy.
Advice of Simon-Kucher experts:
Don't base your promotions exclusively on what the competitors are doing – think first. Analyze each completed promotion in detail and stay away from regular special offers.
August 14

August 02