Sales Series Part 4: Taking the Driver's Seat in OEM Sales Negotiations
May 24, 2018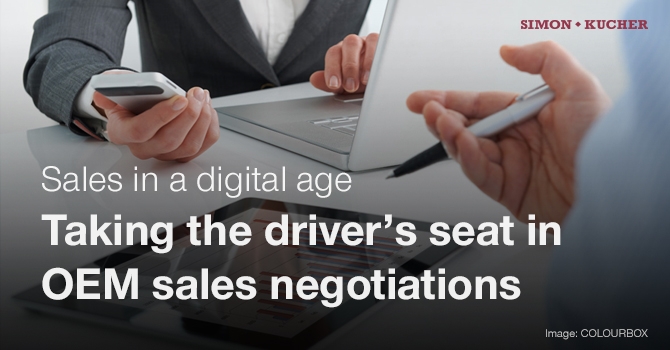 Automotive suppliers are currently feeling the crunch during sales negotiations with their customers – OEMs seeking to defend their profitability in a vast new playing field. However, a professional sales approach can help suppliers walk away from the negotiation table with a better deal, and maybe even a long-lasting partnership. Read part 4 of our expert blog series #SalesinaDigitalAge.
Competing on price
With our most recent global sales and pricing study finding that automotive suppliers are experiencing the second highest price pressure across all industries, it's easy to understand that those competing merely on price will quickly drive themselves out of business.
In fact, OEMs are crafting increasingly sophisticated supply chains to their advantage, aiming to make suppliers and their products or services appear more and more interchangeable – even though they rarely really are.
It's understandable, then, that suppliers may take the back seat in sales negotiations. And as price pressure builds, the supplier may be vulnerable to some common negotiation mistakes, these we observe again and again in our own projects.
Professionalizing your sales approach
However, through a measured sales approach backed by sound knowledge and understanding, automotive suppliers can meet the OEM purchasing department at eye level. Despite the increased pressure currently felt on both sides of the negotiation table, professionalization can help automotive suppliers close better deals with higher margins, while setting the foundations for a long-term partnership.
"Through a measured sales approach backed by sound knowledge and understanding, automotive suppliers can meet the OEM purchasing department at eye level."
1. Start acquisition work well ahead of RFQs
Automotive suppliers must take a proactive and strategic approach when dealing with customers. This involves clear prioritization of projects internally while managing customer relationships and remaining aligned with the individual OEM's innovation and development agendas. The sales process should not begin and end at the OEM's purchasing department.

2. Understand the balance of power

Suppliers tend to underestimate their bargaining power. In reality, the balance of power is often much more even. As such, a systematic assessment of the competitive landscape is crucial, incorporating strategic advantages and disadvantages. This evaluation is often done ad hoc and only implicitly, but misjudgments can have expensive consequences. Only through a proper assessment can the real balance of power be determined and a supplier's points of leverage established.

3. Offer different versions

Versioning is a standard approach in B2C businesses, but it can also be effectively applied to B2B negotiations. Wherever possible, offer alternative versions of your products/services – with regard to customer value, e.g., different quality standards, composition, scope – at different price points! This prevents price from being the only variable and helps suppliers to better tailor their offering to the customer's needs.

4. Set prices systematically

With suppliers increasingly at the epicenter of value creation in the automotive industry, being able to understand and firmly articulate their distinct value propositions – vs. competitors and in accordance with each OEM's unique situation – has never been more important. As such, taking a systematic approach to pricing ensures prices are commensurate with the real value being offered. Even if these approaches seem simple, they can help to identify points of differentiation that can be leveraged. Additionally, knowing their product/service's value to the OEM (and also the end-customer) helps in the preparation of counterarguments, which can also be handy during negotiations.

5. Fine-tune negotiation tactics and employ them

When pressure is building during negotiations, price is usually the obvious release valve. Maintaining composure requires confidence. And confidence is bolstered by thorough preparation, which involves the right knowledge, understanding of the situation, and tools. Having the right tools also helps take emotion out of the equation, allowing a supplier to respond to a customer's objections and counter their deliberate tactics in a controlled way.

6. Fully conclude and document all negotiations

After any negotiation, no matter whether it was won or lost, comprehensive documentation is advisable. In any case, this should be the basis for future negotiations with this customer as well as a source of lessons learned or best practices for future negotiations with other customers.

7. Build the entire process focusing on the customer

Creating a customer-centric sales organization is based on effective communications and reporting. This is necessary at all stages of the sales process, including negotiations. Setting guideposts in the bidding process helps to demarcate roles and responsibilities within the organization and keep track of deadlines. Establishing clear processes, defining roles and responsibilities and, where applicable, integrating tools to support the sales teams form the foundations of successful negotiations.

---

Read more from our expert blog series #SalesinaDigitalAge:

Part 1: Reengineering your sales DNA: It's about more than building blocks

Part 2: Hybrid sales structures: State-of-the-art tools for a people business

Part 3: Translating customer-centric strategies into success

Part 5: Selling business services

Part 6: From digital flop to success - Insurance sales of the future