Six Measures for Wholesalers to Stimulate COVID-19 Sales Recovery
September 11, 2020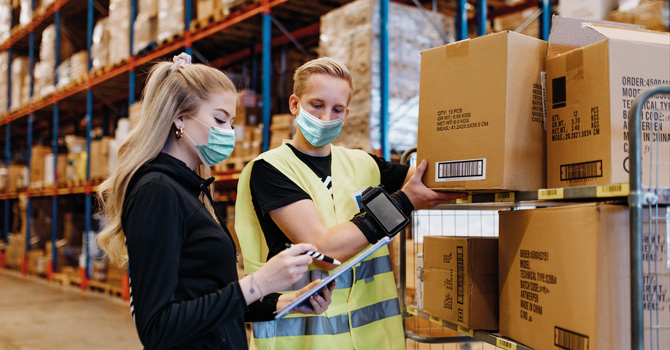 Wholesaler companies were facing a few paradigm shifting trends prior to COVID-19, in the form of digitization, smaller and online-only competitors, and an increasing number of price comparison tools resulting in greater transparency. The full impact and consequences of COVID-19 are yet to be realized, but they will be felt for a long time to come, and wholesalers should take both short-term and long-term measures. We share six concrete commercial actions that can be taken specifically by wholesalers in response to COVID-19.
The impact for wholesalers depends highly on the industries they operate in. Some industries like healthcare and pharma thrive, others like automotive and chemicals are under pressure. The main reasons? A shock on the demand side and financial uncertainty.
To protect their business, wholesalers are taking a multitude of measures from right-sizing the costs to securing financial support. However, sales and pricing measures are equally if not more important to overcome this crisis, as they help to retain current customers, temper a decline in sales, increase the competitive position, and ensure future sales growth.
Six commercial excellence measures for wholesalers
1. Strategy: Pressure test the outlined commercial strategy
In the short term, it is crucial for wholesalers to have an in-depth understanding of the changed market dynamics and adjust the commercial strategy accordingly. In uncertain times like these, a common response is to let go of the guidelines that are usually in place. However, right now it is especially crucial to maintain an overview and guide commercial teams toward the most attractive segments, possibly with an adjusted proposition. In our experience, offering a one-stop-shop has actually increased in terms of importance for clients, which raises the question of broadening the assortment of specialist wholesalers. For the mid- to long-term, we expect increased activities in monetizing M&A opportunities. Due to a decline in profitability and intensified competition, opportunities to spur further growth and increase economies of scale can arise.
2. Channel management: Accelerate the online channel
Stimulating ecommerce is a crucial measure to relieve pressure on physical stores and improve sales efficiency, especially when governments are restricting the number of people within stores and urging them to keep a six-feet distance. By investing in the online channel, wholesalers can address new customers and better serve existing customers by creating customer-specific pricing and cross-selling opportunities. Building a digital platform takes time, but in the short term, wholesalers can start exploring options with the goal of implementing them in the medium term. Naturally, the quicker the transition to more digital sales, the bigger the advantage over competitors, also when the COVID-19 period is over. Be sure to have a strategy before starting to push customers from offline to online, e.g. differentiating prices to make the online channel more attractive.
3. Products: Evaluate the portfolio and offer a one-stop shop
Now is the time to evaluate your product portfolio and to determine if your offering is still relevant in the new market normal. New product categories increase relevance for customers and create a path toward becoming a one-stop shop. In times where customers are looking to minimize physical contact (and as a result, to limit deliveries) becoming a one-stop shop is an extra advantage over the competition. With economic activity declining, your customers' spending power will also decrease. As a response, consider introducing a private label. This will help to retain customers who have less to spend, while at the same time keep profit margins stable in the rest of the portfolio.
4. Sales: Focus on increasing customer value in the existing base
In the short-term, it is essential to strengthen the relationship with key accounts. Typical sales best practices should be followed, like increasing contact with customers, understanding and articulating their needs, and identifying all the means to support them in the best possible way. Another key initiative would be to increase cross-selling to all existing customers. Put KPIs and tooling in place to determine which customers to target and keep monitoring. With physical contact limited, sales teams need to adapt to remote selling, where building a relationship is much harder. It requires extra training as well as additional digital solutions for the sales teams to cope with these increasingly challenging circumstances. Despite the costs, all these novel solutions created during the COVID-19 period provide great monetization potential, not only now but also after the coronavirus has come to an end.
Sales teams should focus on identifying new customers as well. The first targets should be former customers whose business is lost. Typically these will tend to be small and medium sized customers. Winning back a large customer would be good, but it might come with large price cuts. Therefore, this should be evaluated in the context of impact on margin.
5. Pricing: Preserve value and prepare for a future-proof pricing organization
Significant drops in (list) prices seldom lead to permanent additional volume, while it always slashes profitability. It can also trigger an unintentional price war with competitors, leading to permanently lower prices and margins, even after the crisis has ended. If prices have to be lowered, temporary discounts are a good lever. For example, a three-month promotion against a volume commitment. Promotions should be limited to those that deliver positive ROI and ideally be customer-specific, targeted at customers who actually appreciate them, and leading to improved sales and a better customer relationship. To maintain volume and increase customer loyalty, wholesalers can also increase service levels, such as setting a longer return period or free delivery.
In the mid-term, consider implementation of pricing software, integration of machine learning solutions, and installation of a central pricing team to coordinate actions and price positioning. The current idle time of the sales force can be employed to already revise and further optimize the price and discount structure to make it future-proof. This includes actions such as identifying margin leaks, differentiating prices between fast movers and long tail products, reducing the share of manual price adjustments, and removing obsolete customer-specific discounts.
6. Services: Increase focus on value-added services
Service pricing is often an overlooked source of revenue and margin, and it is not unusual for services to be given away with products for free. However, where lower prices decrease margins, value-added services, which are sold in conjunction with products, may provide stability in margins. Reevaluate the customer value perception of the services offered and shift some, if not all, toward value pricing. Focus on promoting existing and adding new services, but be sure to monetize by charging the services separately and communicating the value to the customer. Due to the increased transparency, customers will have more trust and loyalty. Moreover, if products are easily comparable to those of competitors, services are the key to differentiate from them.
Summary
These difficult times call for revised commercial strategy, improved sales efficiency, and smart pricing solutions. Increased contact with customers and digitalization of sales are key. In terms of pricing and discounting, it is important to not significantly lower list prices but instead increase service level and charge separately for services. Discounts should only be given where they actually lead to improved sales and an enhanced customer relationship. On top of this, review and update your current strategy, as it will provide guidance throughout the crisis and beyond.