Smart-Home Market: Digital Opportunities for Companies in the Construction Industry
October 08, 2020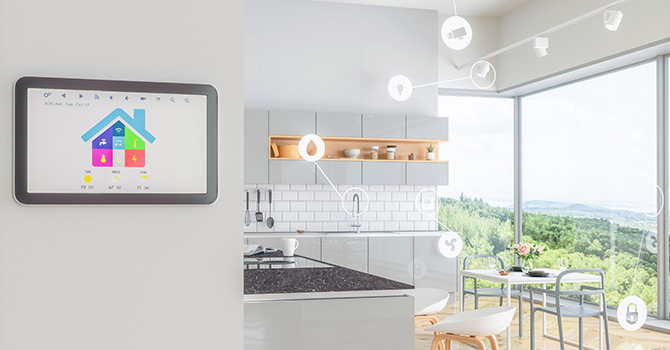 Alexa, what's the weather tomorrow? Virtual assistants such as Alexa and Siri are triumphing, and smart-home applications of various kinds are growing in popularity. In fact, Amazon has unveiled more than a dozen new voice-enabled devices. For companies in the construction industry, the smart-home market offers enormous potential – but how can companies ensure their smart-home endeavors succeed?
Imagine this: You come home after a stressful day to an apartment that's already nice and warm. You tell Alexa via voice command to turn on your favorite music and draw you a bath. What a way to start your evening! It doesn't get more relaxing than this, right? Smart-home scenarios like this one are no longer science fiction; they're the reality in a number of households. Many traditional companies are expected to adapt their products to this trend. A look at the market data reveals the immense potential the smart-home revolution holds for companies in the construction industry.
The smart-home market forecast is impressive. Global sales of smart-home applications are estimated to reach 125 billion euros by 2023, representing an annual growth rate of 17.6 percent. The top five smart-home markets are the US, China, the UK, Germany, and Japan, where smart domestic appliances, building security and monitoring, and networking are becoming increasingly important areas of application. In the Netherlands, experts predict strong growth in the smart-home market and estimate nearly half of Dutch households will use smart-home applications by 2023.
Companies in the construction industry: Strategy for digital breakthrough in the smart-home market
One thing is certain: Smart homes will make our everyday lives more digital, networked, and convenient. Building-product manufacturers now have the opportunity to position themselves as digital pioneers and help shape the smart-home revolution. However, in a recent study, we found that many firms are far from ready. While 80 percent of companies surveyed said their business model is impacted by digitalization, only five percent have adapted their revenue and pricing models. Due to long traditions within the industry, many are finding it difficult to switch to a digital value chain. Companies are already making significant investments in smart-home solutions, but intelligent monetization strategies remain a challenge.
How should companies in the construction industry make the leap into the promising smart-home market? Based on our previous project success, we have identified an effective nine-step approach: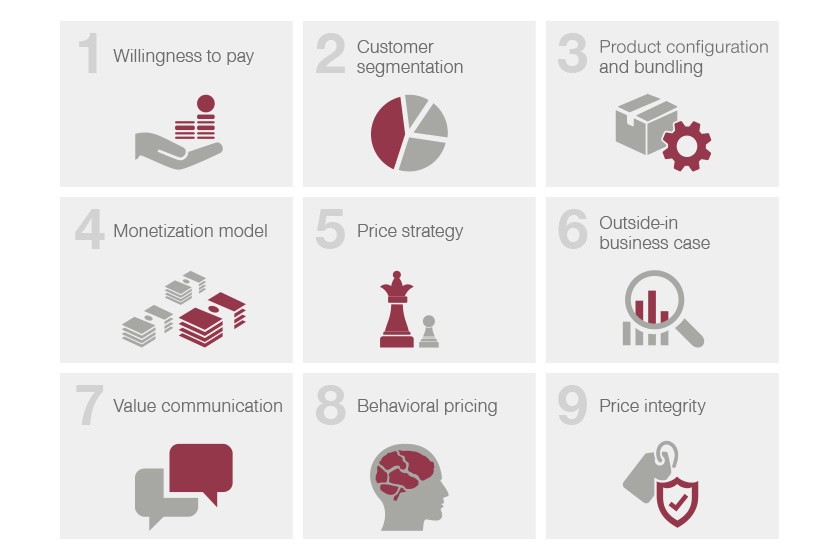 1. Determine customers' willingness to pay
It's important to be aware of customers' willingness to pay early on. For example, the willingness to pay of quality-conscious customers could differ by several hundred euros from the amount cost-conscious customers would be willing to pay for the same product, service, or experience.
2. Segment customers effectively
Well-thought-out customer segmentation based on needs, preferences, and willingness to pay is critical for success. Breaking down customers into smaller, more detailed groups increases the chances that they'll convert because they can be approached in the most targeted way possible. Not every customer is the same, so a one-size-fits-all approach won't be effective. The more companies in the construction industry know about their diverse customer base, the better prepared they'll be for the next steps.
3. Define product configuration and bundling
The third step is to bundle existing offers and create new, differentiated ones. Companies need to ask themselves important questions in order to configure and bundle their products or services effectively. For example, does the software or platform connection include the hardware, or does that come with its own price tag? Where on the spectrum between simple, inflexible "all-you-can-eat" models and complex, highly flexible "build-your-own" approaches does the offer fall?
Companies should combine leader services (features that get the customer to make the purchase) with filler services (moderately appealing, supplementary products) and ensure the bundle doesn't include killer services (features that could ruin the deal). At the same time, they should incorporate behavioral economics effects to derive optimal offer packages.
4. Find the right monetization model
The fourth step involves defining a monetization model that is tailored to the product's characteristics. The smart-home market is growing, but many consumers are still skeptical. Although they're worried about their data and privacy, they appreciate the benefits that smart-home applications generate in their daily lives. This is where value-based pricing comes in. Smart products usually provide more value than their traditional counterparts and need a price tag in line with that value.
In addition, the digital aspect of smart products makes them excellent candidates for new pricing models, such as the subscription-based models used in the software industry, where recurring revenues replace one-time payments. Value is a more important price driver than costs, and bundling is the main differentiation tool. Transitioning toward a subscription-based model offers companies in the construction industry the chance to set up a continuous value creation stream.
5. Pick a winning price strategy
Companies should adjust their prices according to the value provided to the customer, and these should be in line with their strategic goals. Conventional products, such as speakers and lamps, have price levels that are generally accepted, but what is the added value of a smart product? Our project experience shows that this value-driven model is superior to cost-plus and competitive-based approaches.
For new products, such as smart appliances, the pricing objectives need to be defined. Is the goal to maximize profits starting at product introduction? Is volume generation the primary objective, and will price increases follow? Or should customer segments be catered to according to their willingness to pay by introducing lower-priced versions of the product later?
6. Create an outside-in business case
Many companies in the construction industry still take the traditional approach to new product development. They create a product first and only ask themselves who might be interested in it later. Instead, companies should follow the example of online and software firms, which consider the customer and their willingness to pay first before developing the product based on their findings. Having a strong customer focus will become increasingly important in day-to-day business, with B2B and B2C approaches giving way to C2B.
7. Communicate products' value
It's no secret that products don't sell themselves. That's where value communication comes in: It focuses on converting value into revenue by thinking about the value the product or service provides the customer and developing suitable communication and an appropriate sales strategy. Customers have to acknowledge the added value products or services have to offer, so companies' communication efforts should contain messages that resonate with their target customer groups.
8. Use behavioral pricing and tap into psychology
Behavioral pricing uses the insights of behavioral economics to influence customer buying behavior. Customers don't behave rationally, so buying decisions don't only depend on price levels. Psychological pricing is the science of making prices look and feel more attractive by adjusting price structure, context, and optics, e.g. 1.99 instead of 2.00 euros. Using behavioral economics effects enables companies to set higher prices and boost sales in many situations.
9. Maintain price integrity
Introducing a new product is bold, and tapping into a new market with a newer, more digital product takes guts. Pricing is difficult, and when sales are slower than expected, it may seem necessary to reduce prices. However, this is rarely the right response. Giving up price integrity with a knee-jerk price decrease can erode profit, customer lifetime value, and brand. Instead, companies should look to improve their value communication, quality, or sales force.
Smart homes have arrived and will become increasingly important in consumers' everyday lives over the next few years. Companies in the construction industry now have the opportunity to make a name for themselves in the smart-home market, but they're currently leaving huge market potential on the table. In order to change this, the industry must develop strategically and expand its position in the market through targeted collaborations.