Spotlight COVID-19: How Digitally Ready are Sales Organizations in CHC?
June 23, 2020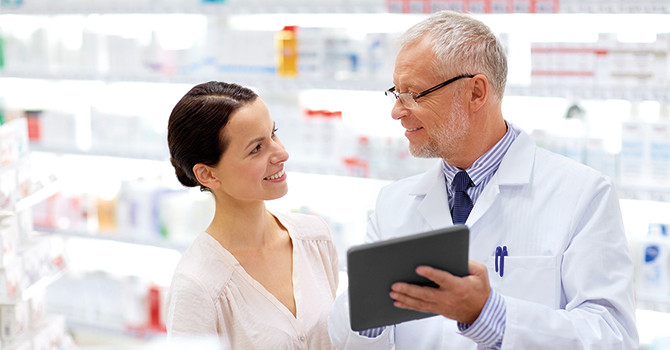 *The insights and recommendations shared in this article are based on the circumstances as of June 23, 2020
The COVID-19 crisis brings into focus how strongly consumer healthcare companies rely on physical sales contacts. Social distancing measures and shifts in consumer behavior open up new chances to transform your traditional sales organization to a digital or hybrid model. The reward for this? Efficiencies and competitive advantages that will last well beyond the current situation.
The COVID-19 crisis puts a spotlight on commercial inefficiencies and accelerates shifts in customer interactions. This has proven to be true in almost all industries, including the consumer healthcare (CHC) industry. Why is that? Traditionally, CHC companies are dependent on sales representatives to make in-store visits, educate customers on new products, negotiate trade-marketing activities, and maintain client relationships. With the current situation putting a restriction on any in-person visits, CHC companies need to consider whether this go-to-market model is still worthwhile in 2020 – and the future years to come.
Social distancing makes more efficient interactions necessary
Social distancing measures due to the COVID-19 pandemic are limiting access to key stakeholders. Furthermore, pharmacists of the future are more demanding and selective with their time. While the COVID-19 situation does not change this, the current situation is accelerating pre-existing trends. In general, they want to spend less time overall and only if they can expect a meaningful value-add from it. This means that CHC sales reps are under increasing pressure to become both more effective and efficient. 
Digital advance stronger on the customers' than the companies' side
Not only social distancing measures are making things difficult for sales teams; shifts in the market environment are increasingly accelerated. The long-awaited digitalization is finally starting to take off: Many consumers are more eagerly using telemedicine and other digital offers like apps, health trackers, etc. This is bound to change the path-to-purchase for OTC medication, since patients are less likely to follow the classic recommendations by healthcare professionals and are relying more on online apps and online pharmacies.
In addition, CHC companies themselves are becoming more digital. For some time now, they have started to adopt digital tools to manage their customer base and data more efficiently. Nevertheless, many companies with very traditional sales set-ups are still at the early stages of using these tools to their full potential. There seems to be a general awareness of the benefits as well as there is a need for change. But in an industry that was faring relatively well in the past years, the actual drive for change in this direction seemed to be comparatively weak. 
Now, the COVID-19 crisis acts as a cross-roads: CHC companies need to make a decision. Do they want to sit the aforementioned development out and return to the classic model of sales as soon as possible? Or instead do they see these times as an opportunity to revisit their sales strategy to be and stay competitive?
Sales and go-to-market models need a fundamental evaluation
In order to compete in an as drastically changed market place as described, companies need to evaluate and fundamentally challenge their current sales and go-to-market models. This should happen in three main steps: strategy, set-up, and execution.
1. Strategy
Changes in the market environment as well as in customer behavior make it necessary to rethink your CHC company's strategic approach on a variety of levels.
The market environment is changing towards digital interactions with customers and a more direct communication with consumers. As a result, companies' corporate strategic direction has to be altered as markets and market access increasingly deviates driven not by physical, but by remote and digital access of customers.
Companies need to review and segment their existing customer base. A traditional method for CHC companies to segment, is to assess customers by size, growth potential, and location. Now, accessibility has to be defined differently, since the current crisis accelerates shifts and consolidations in the customer base. This means that for example online pharmacies and platforms continue to grow at a much faster pace and small pharmacies face a quicker decline. As a result, the role of stakeholders is bound to change as the path-to-purchase for OTCs undergoes a transformation. Customers' purchase decision processes may be influenced by different sources (i.e. the trend of self-diagnosis, telemedicine, health tracker apps, etc.) and time spend in pharmacies and interaction with pharmacists is thereupon reduced. This impacts strategic considerations for go-to-market and investment strategies; the healthcare industry has to shift from a recommendation model and pharmacy instore marketing towards direct-to-consumer models.
While most CHC companies expect traditional field sales forces to continue playing a role in customer interaction, the overall number of engagement channels will change. CHC companies need to identify which channels to use and for which respective purpose.
2. Set-up
After defining a strategy, CHC companies are faced with the challenge to find its operational modus. This not only relates to the selection of tools to use, but also has a very fundamental element when looking at the whole structure of your sales organization.
CHC companies need to assess structural alternatives for their sales organizations in the light of the revised strategy, market, and customer profiles. If you approach customers via different channels, it has an impact on the functions needed.
As a result, managers need to change processes and adjust tools to reflect the changing interaction modes and provide guidance to the sales team such as real-time customer analytics.
3. Execution
There will be short-term and long-term perspectives on execution.
Right now, companies need to be pragmatic in training existing staff to react fast to the current situation. In the long-run, changing the sales strategy translates into different hiring profiles and capabilities that you need to develop.
As markets and customer definition changes and CHC companies newly define their tasks, managers also need to adapt performance measures, impacting also evaluation and development. The classic KPIs of number of customer calls needs to be replaced or adjusted by new measures to track customer interaction while other metrics are likely to stay (i.e. conversion rates and sales targets).
New competitive advantages last well beyond the COVID-19 crisis
A strategic and well-aligned approach to digitalize your sales organization not only helps you to deal with the ongoing – and possibly resurging – crisis. It also ensures new competitive advantages that last well beyond COVID-19 situation and future-proof your sales capabilities by making it more efficient. 
Competitive advantages:
More digital touchpoints bridge gaps for example regarding previously under-served customers.
More targeted customer management and strategic customer development due to better use of data, real-time segmenting, and prioritization.
On-demand digital touchpoints provide customers' access outside of standard working-hours and real-time information, which results in better ad-hoc customer service.
On-demand and educational services increase the effectiveness of customer interactions while maintaining social distance.
Increased efficiency:
Digital tools and better data availability make managing customer contacts more efficient.
Managing services more centrally frees up sales teams' resources to focus on value-added interactions.
Scalability of digital assets provides a broader offer spectrum to all customers.
New approaches and faster implementation make sales teams more agile to react better to unforeseen developments. 
Don't wait and see - transform today!
As you can see, the market for consumer healthcare is moving away from the purely physical world. Digital transformation is going to shape sales and customer interactions. How companies are reorganizing in this context has a huge impact on their competitiveness. Due to the lack of best practice examples in an industry that strongly relies on physical sales contacts, companies might be tempted to use a "wait and see" approach. However, the current COVID-19 crisis puts a spotlight on the necessity of transforming existing structures to digital or hybrid models. Structures, tools, and capabilities needed will take time to develop as well as implement. Now is the time to build not only a solid vision and strategy, but also test and learn in an environment that is currently open to remote and novel ways of interaction.