Wising Up on Intelligence Gathering to Win Medtech Tenders
May 24, 2017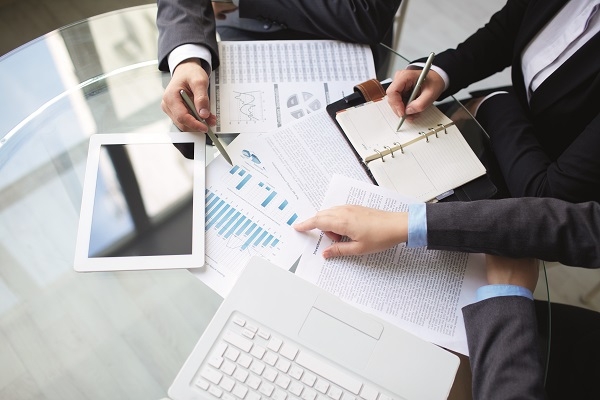 Tenders and large contracts are becoming the standard practice for procuring health care products in most European countries. For example, in the UK, the Department of Health, is currently preparing the roll-out of the Procurement Transformation Programme, a new procurement operating model that entails further consolidation of the procurement landscape and aggregating demand from the current 40% market share to above 80%. The focus of this program is on running competitive procurement processes and with transparent evaluation criteria.
Elsewhere, in Spain, smaller direct contracts are becoming a minority and tender consolidation is increasing. Following the steps of other regions, Madrid has recently awarded a single tender for the whole region. Other regions such as Castilla - Leon are expected to follow suit and rumors of national tenders are becoming louder. While in Germany, which has traditionally been a non-tender market, centralized contracts with the country's Top-10 group purchasing organizations can now secure majority of revenue for some product categories.
The situation is only getting more and more complex and challenging.
Although distinction between tender and contracting can be debated, the key consequences of both methods are identical: large procurement pooling, leading to increased business risks and a need to improve net price management. For the sake of this article, the term "tender" will represent both tenders in the classical sense of the word as well as contracting involving negotiations.
In order to make informed decisions and navigate safely along the rocky shores of the tender seas, developing robust tender intelligence capabilities is the key success factor. A structured database is the tool of choice to manage tender and contracting intelligence.
TENDER INTELLIGENCE: KEY PILLAR OF TENDER MANAGEMENT
Robust tender intelligence can ensure that tenders are dealt with efficiently using centralized (be it at local, regional or global level) and easily accessible information. Best-in-class organizations systematically collect data such as bidding prices, volumes, evaluation criteria and scores, bidding competitors, and reasons for winning/losing. This information is then analyzed for general business monitoring as well to fine-tune future offers. However, a robust tender intelligence organization needs to address several challenges which can be grouped into four categories: information integrity, transparency of intelligence, process efficiency and success rate development. (See Figure 1).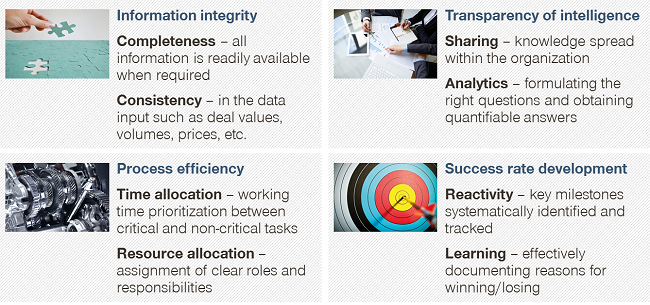 In order to make sure all aspects of successful tender management are covered, a conceptual framework can be extremely helpful. For this framework, we can consider five key areas: organization, apabilities, governance, process and tools.
1) Adapting the tender management organization
There is no one-size-fits-all approach to tender intelligence; it needs to be tailored to the company's needs and organization.
The two key questions when it comes to setting up the organization is the geographical scope for tender intelligence and the level of centralization for intelligence management and responsibility. The latter is especially important as it will strongly impact internal buy-in and compliance.
Other areas to consider for the scope are the products/services to be included in a tender database as well as the nature of the deals to track (national/regional tenders only, large negotiated deals, smaller contracts, etc.). The database complexity goes hand in hand with the complexity of the tender market, along with the depth of the analysis required to be successful in that market.
2) Defining clear governance rules for information and decision management
A governance framework will essentially help answering the following three questions:
Who owns the information?
Who enters the information?
Who has access to the information?
In our experience, a centralized tender database owner with direct responsibility for the database ensures its integrity and makes sure it is used and maintained effectively.
In a highly decentralized organization, local markets may be in charge of managing local data and should have full rights for the database. Managing a large number of tenders will also work in favor of decentralized data entry. On the other hand, a limited number of tenders can be handled by a single owner who is then responsible for all data entry and who ensures its integrity. All aspects related to data ownership, data entry and data access should be clearly specified in a documented process.
3) Ensuring the right capabilities are available
Besides administrative resources (for managing data entry, milestone reminders, calendar entries, etc.), the effective use of a database requires analytical skills to extract meaningful insights from the collected information (regular reporting, ad hoc analysis, etc.). Analysis and administrative capabilities are part of the core business and, most of the time, should not be outsourced.
4) Defining an efficient and functioning process
An auditable process ensures that the tools and all of the resources are used optimally and should answer three basic questions:
When is an action required? (eg when is a tender identified? When is a result available?)
What is required? (eg data entry, extraction, analysis),
Who is responsible? (eg tender analyst, tender manager)
Documenting and sharing this process will ensure that every relevant stakeholder understands his/her role and that the process is efficiently adapted as the organization grows in maturity.
5) Getting the right database tool to the right business
A robust tender and contracting database is the functional core of a tender intelligence initiative. Development of this tool should only start once the abovementioned areas have been at least outlined, if not fully determined. The tools should be designed around the (future) organization and not vice versa. We have identified three key design principles for developing the database tool: the software platform, the data entries and the functionalities.
Selecting the optimal software option
Depending on the maturity of the organization, the stability of the tender environment, the nature of the business (portfolio range, total number or tenders, etc.), and the tender goals, there are different options for implementing and running a tender database.
In its more advanced form, the database could be fully integrated into the CRM tool or the pricing system and communicate directly with the ERP system and all financial tools. However, in its early stages, a comprehensive Excel or Access database can also be extremely useful to beta test the approach. This will ensure that all the requirements are settled before engaging the organization in complex and expensive software development. Intermediate solutions can be obtained through ad hoc development or adaptation of SQL and/or web-based databases with some level of connectivity to the company's IT system.



Defining the right information to store
The next step is to clearly define the information that should be stored in the database. It is often difficult to find the right balance between comprehensiveness of the information and usability of the database. Without the relevant information, key analyses cannot be made and the database is close to being useless. However, trying to capture as much information as possible without thinking through what is really needed often leads to impractical databases and low usage compliance. Just imagine you had to spend one or two hours to enter 60 data points for a single tender on a market that registers over 100 tenders per year.
Precisely nailing down the business questions that the database should help to answer will lead to a long list of data elements to be further prioritized into need-to-have and nice-to-have data points, or respectively mandatory and
optional entries. When the database has to cover different lines of business or geographic markets, it is also important to define which information is core and required for all and which information should be left to local responsibility.
Ensure success and efficiency via functionalities
While capturing and storing information is the basis of tender intelligence, how this information is used is what really drives the success of this initiative. It is therefore important to digest and consolidate information into meaningful business reports for informed strategic decisions. Although an ad hoc analysis will always be necessary to answer specific business questions, the use of predefined reports such as an overview of current contracts from the company and competitors and plotting market price development or win/loss statistics will be key to understanding the competitive positioning and improving decision-making.
A significant number of functionalities can be added to the database to improve the efficiency of tender and contracting management, including:
Alerts on contracting milestones and calendars to plan the activities on a per tender basis
Intuitive and automatically updated dashboards to monitor the tender status quo
Import and export functionalities to be able to share key information or analyses and to update content without compromising database integrity
Delivered volume to be able to monitor customer compliance with contract terms
GETTING STARTED
When implementing tender and contracting intelligence capabilities, all of the key angles (organization, governance, capabilities, process and tools) should be aligned. This requires an iterative process where development options in one area are taken into account over the overall framework. Outlined in the flow char below is a proven approach in five main steps that require constant improvement monitoring.
In order to tackle such a complex issue, building a cross functional taskforce involving all key stakeholders is often the optimal approach. However, implementing such a solution will have implications across the organization (sales, marketing, market access, pricing, legal, logistics, etc.) and will not be successful without clear leadership and top management drive and support.
For more and more markets and medtech sub-segments, success and failure will largely depend on how companies learn to navigate in a tender environment.
It is now clearer than ever that access to information and the ability to use it efficiently will also be a critical competitive advantage that no healthcare company can neglect. A consistent and comprehensive approach to tender and contracting intelligence is not only a key success factor, but also a necessary condition for maintaining and growing a sustainable medtech business.
This article was first published on 11 May 2017 by Medtech Insight, a product of Informa Business Intelligence.