The restaurant market now has an incredible variety of business models: fast food, fast casual, casual dining and fine dining; from sandwich bars to pubs, pizza places and sushi bars.
Customer behavior has become increasingly dynamic and diverse. For example, many people opt for takeout and home delivery instead of eating in a restaurant. Competition has intensified, with a multitude of new chains taking the guest experience to the next level. The restaurant industry is also no exception to the digital disruption -- with potential customers reading online restaurant reviews, comparing quality and prices before they head out to eat, and using mobile apps to order restaurant meals for home delivery. Meanwhile, extreme food cost fluctuations and rising labor costs are squeezing restaurant chain margins and often creating friction between franchisors and franchisees.
These challenges make traditional strategies and processes for managing the guest experience, menu engineering and pricing, and promotional planning less effective.
Simon-Kucher's approach focuses on positively influencing guests' perception and behavior along the customer journey. Based on a detailed understanding of customer segments and their current attitudes and demands, we work with restaurant clients to optimize their assortment/menu, pricing and promotions, service strategies and communication. We've helped them maximize guest counts, revenue and profit, as well as ensure the long-term satisfaction and loyalty of their guests.
Our projects for restaurant industry clients have included:
Menu engineering, optimizing price levels, bundling
Regional pricing, daypart pricing, yield management
Optimizing assortment structure
Processes and tools to manage pricing in a franchise system
Delivery pricing
Customer segmentation
Digital strategies, customer relationship management (CRM)
Optimizing promotions and local store marketing
Brand platform development
Restaurants Experts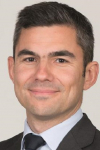 Executive Vice President & Managing Partner France