At the intersection of the healthcare and consumer goods sectors, Consumer Healthcare (CHC) is a dynamic industry attracting both global players and specialized, midsized companies. The industry enjoys growing revenues and healthy margins, but significant changes are currently impacting channel landscape, digitalization, price transparency, customer consolidation, international account management, and other areas.
The depth and breadth of Simon-Kucher's long-standing expertise in global healthcare and the fast-moving consumer goods sector provides our Consumer Healthcare team with proven methodologies, tools, and project approaches to develop innovative, customized solutions for clients across the entire CHC value chain -- manufacturers, wholesalers, pharmacies/retail chains, consumers -- and the medical service industry, including home health providers and private clinics.
Our team has worked on projects around the world, and our international presence allows us to provide both global knowledge and local expertise to address the specific challenges unique to each geographic location, including competitive environment, distribution landscape, and market regulations.
We have the industry knowledge, insight and experience to help consumer healthcare companies and healthcare service providers meet their business challenges, identify commercial opportunities, and drive profitable growth.
Our projects encompass a wide range of topics:
Strategy
Internationalization
Brand development
Digitalization
Loss of exclusivity (LOE), including switching RX products to OTC
Marketing
Value communication

Brand positioning

Marketing and promotion efficiency

Customer targeting and segmentation
Pricing
Net revenue management/trade terms

Structured portfolio pricing

Price increase campaigns

International price management and governance
Sales
Route to market and multi-channel management

Value communication and sales support tools

Sales effectiveness

Large deal negotiations and key account management
Consumer Healthcare Experts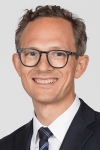 Managing Partner Munich office