As a leading consultancy in the Life Sciences industry, Simon-Kucher supports healthcare providers to improve their top and bottom lines. We have worked with a wide range of healthcare providers, including private hospitals, private specialist clinics (e.g. dental, dermatology), nursing homes, and homecare providers.
Healthcare providers are facing increased competition 
Public healthcare providers are under immense pressure. Demand is rising due to demographic shifts, and resource constraints are limiting fast access to public services. As a result, an increasing number of patients are opting for private healthcare providers. This trend has generated revenue growth and healthy margins. 
However, as the market continues to expand, competition will become increasingly intense, with more providers wanting their share of the market. Private equity investors have also shown growing interest in the industry, contributing to accelerated consolidations and increased competition. Consequently, private healthcare providers are operating in a highly competitive, consumer-oriented environment. In order to survive, they must align their strategy, maximize capacity utilization, and leverage revenue management techniques.
Our experience
Simon-Kucher's extensive expertise in global healthcare, hospitality, and consumer services sectors provides our dedicated Healthcare Provider team with proven methodologies and tools to create long-lasting impact through innovative, customized solutions. Our team works on projects around the world, allowing us to apply both local expertise and global knowledge to address the specific challenges unique to each geographic location.
Our focus
At Simon-Kucher, we support healthcare providers in driving profitable growth and leveraging market opportunities. Our impact spans multiple areas, including: 
Strategy: Understanding what to focus on
Digitalization: Developing commercially viable digital solutions
Commercial governance: Ensuring processes support revenue growth
Yield management: Identifying how to merge capacity utilization and pricing
Consumer lifetime management: Learning how to retain patients
Healthcare Providers Experts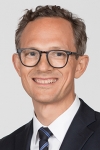 Managing Partner Munich office