The manufacturing industry is the backbone of the world economy. It includes well-known major corporations and so-called "hidden champions" – midsized multinational market leaders that are mostly unknown to the broad public. Regardless of size, many industrial companies must rapidly develop new technologies and new markets while fending off fierce international competition.
To do so, the manufacturing industry must solve the extraordinary challenge of differentiating their offerings and selling premium products at premium prices.
Simon-Kucher has deep roots in the industrial goods and services industry. For decades we have helped both large conglomerates and small- and medium-sized enterprises grow strongly and profitably. We've helped them design growth strategies, redesign their organizations, deal with M&A and internationalize their businesses.
We've also helped them create superior sales organizations and achieve what we call sales excellence through the right strategies, structures, processes and governance. And we are the worldwide leader in optimizing prices for products and services, in new business as well as after sales.
Our projects for industrial goods and services clients include: 
Developing growth visions and strategies
Creating business plans
Revising sales approaches  ("sales check")
Optimizing sales concepts, including sales force, indoor service, product management and strategic marketing
Designing incentive systems for sales force and indoor service
Pricing spare parts, service packages and product innovations
Steering margins through systematic price calculation models
Conducting value-selling training seminars in sales
Industrial Goods & Services Experts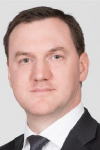 Head of Global Construction & Chemicals Practice