Simon-Kucher has extensive experience in helping media and entertainment companies to improve their profitability and grow in a rapidly changing, increasingly digitalized market.
Our worldwide clients are from all sectors of the media industry, both on the content and the advertising sides. Our strategies have helped these companies deal with increasing digitalization, which has forever transformed how people consume news and entertainment and put more power in their hands. Our solutions include new product offerings and portfolios, pricing changes, better sales strategies, and better communication to customers about various product options and their value.
Many of our clients, especially in the publishing industries, have seen their business migrate online over the past several years. We have the broad expertise to help them deal with these digital challenges and create solutions that ensure their future growth, which includes a place for their traditional print products. We help clients maximize revenues from their entire portfolio, both traditional and online.
Our rigorous approach relies on quantitative and qualitative evidence, including psychological insights and benchmarks from our extensive work within and outside of the media and entertainment sectors. We've developed a comprehensive collection of price models in the industry from our clients all over the world.
Our projects for media and entertainment clients include:
Developing digital and cross-media portfolios, pricing and product bundle options for both content and advertising offers
Optimizing pricing of print and digital content, and developing communication strategies that get customers to accept price increases
Setting up structure and communication for content and advertising offers
Restructuring the sales organization and developing strategies, communication and negotiation tactics, and materials to support advertising sales teams
Defining and establishing the positioning of a pricing team in the organizational structure
Media & Entertainment Experts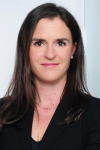 Global Head of Technology, Media & Telco