Simonkucher : New office locations
The Simon-Kucher growth story continues. Discover our new offices in Chicago and Boston.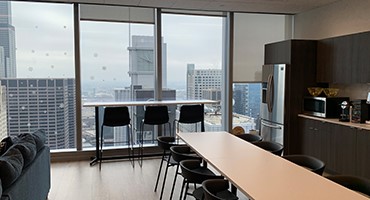 Simon-Kucher & Partners new Chicago office is located in the heart of downtown along the west bank of the Chicago River. The building itself, Riverside Plaza features its own public park, amphitheater, and riverwalk, and has become one of the most-awarded towers in the city, receiving both national and international acclaim. Located on the 41st floor, Simon-Kucher's office suite faces both west and south Chicago, with spectacular views of the river and downtown area. Currently, the office holds 13 fulltime employees and will soon grow to 21 fulltime employees in the coming year.
Simon-Kucher & Partner's Boston office has moved from One Canal Park to a 31,444-square-foot U.S. headquarters at One Boston Place. "The tremendous pool of talent and remarkable eruption of innovative companies calling Boston home definitely contribute to our continued success and growth here," Nick Keppeler, Simon-Kucher's Boston-based Managing Partner said. "This new space provides substantial office capacity to comfortably accommodate the growth of the team, right in the heart of the city." The Boston location has about 100 employees now, but the new office has capacity for an additional 60 workers, the amount Simon-Kucher intends to hire over the next five years.
---
HEALTHCARE NEWSLETTER
Boosting revenue and profits in Life Sciences. Our experts share comprehensive solutions for the complex marketing, sales, and pricing challenges faced by healthcare players. Read our latest newsletter issue and subscribe here.
---