Celebrating a Milestone – Nick Zarb's 10 Year Anniversary at Simon-Kucher
January 19, 2021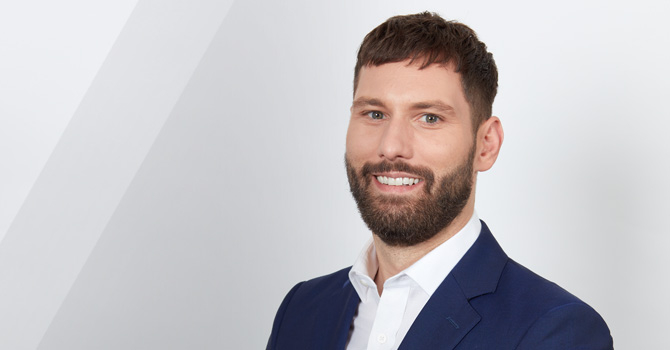 Nick has worked at Simon-Kucher since the beginning of 2011, starting at our London office and then transferring to San Francisco in 2016. Now celebrating his 10 year anniversary, Nick looks back on his journey, talks about first impressions, favorite projects, and shares some of his most memorable experiences with us.
Happy anniversary Nick! How did you find your way to Simon-Kucher? What was your first impression and how does that compare to today?
Nick: I was not familiar with Simon-Kucher when a recruiter recommended the role to me – I'd spent a couple of years in industry at Royal Mail Group after prior consulting roles, and as the economy emerged from recession, I was keen to get back to the fast paced world of consulting! Simon-Kucher seemed to be the perfect balance of small office and small team feel (I didn't fancy being an anonymous cog in a machine), yet with the backbone of a professional corporation, and doing exciting and impactful work.
I was lucky enough to be invited to the World Meeting prior to my start date, where I remember how welcoming my soon-to-be colleagues were, checking in on me when I looked lost, introducing me to Hermann Simon himself, pulling me back onto the dancefloor, and making an eight hour car ride home after the airports closed due to snow surprisingly enjoyable! Culturally, I don't think much has changed – I had the same welcoming experience when I transferred to San Francisco in late 2016, and I have made many lifelong friends in my time here, and expect to make many more.
One of the biggest differences in first impressions is in terms of the quality of our office space (my first desk in London was in an area affectionately known as "The Cave" if that helps to paint a picture!), which to me is a visible indicator of our shift from being somewhat scrappy upstarts to an increasingly renowned and prestigious place to work.
How has your work changed over the years and what has been one of your favorite projects or accomplishments?
Nick: Over the years we've become better at knowledge sharing and more collaborative across clusters and divisions. This means less time spent re-inventing the wheel, and more opportunities to bring in new ideas and perspectives that add value to our work.
A project that best reflected that for me was with an Online Holiday Rental Platform, one of the most complex I had project managed at the time – while it was a very tough project with many late nights and high stress, we collaborated across SIM, CG&R and LTT in the UK and US, and worked with local teams in Japan, China, France, Italy and the UK to execute focus groups and localized online surveys, all the while managing to keep spirits up through bonding over funny memes and gifs we shared.
I'm also very proud of the work we are doing for D&I and CSR that I have been involved with over the past year or so. I'm excited to see where we go in the future to make improvements to our culture and to give something back, and the enthusiasm from the team to support these initiatives has been really inspiring.
What is your favorite work event/memory and why?
Nick: A project I'll never forget was for a client who was launching a virtual reality game. We held focus groups for users, and in one focus group we had a couple that had broken up that day but still turned up but wouldn't look at each other, a "furry" who was excited to be able to see virtual reality paws instead of hands, and someone that clearly had lied on the intake form and had no idea what virtual reality was, which made for an interesting focus group to moderate!
There's a story about breakfast room service at the Hilton Bonn but you'd need to ask me in person about that...
Finally I guess I reached my peak when I made the cover of the Professional Pricing Society's quarterly magazine, with an article about iPhone pricing, unless I make Vogue one day.
What do you like most about working here?
Nick: I'm sure most say this, but it really is the people and our culture. We give and get a lot of freedom and support to develop and pursue our interests here, and can be true to ourselves.
Plus, the variety. I like shiny new things and having an ever changing roster of clients and challenges keeps me from getting bored. As software eats the world, it's comforting to know that I'll increasingly get to work with my colleagues in other clusters and continually learn more. I'm also excited about working more with Digital and expanding the scope of what we can offer to our clients.
What advice would you give to someone just starting their career at Simon-Kucher?
Nick: Try all of the things! I really value the experience I have had working on a range of project types and industries in my career at Simon-Kucher, with many different partners and colleagues. Alongside software and media, I can talk about sandwiches, logistics, gyms, disposable respirators, iPhones, academic journals, IoT chipsets, among others. As you can tell I'm fun at parties.