Global Office Tour: Celebrating the Launch of Simon-Kucher's Berlin Office
October 29, 2021
In April 2020, Simon-Kucher's Berlin office officially opened its doors. Today, you can take a look at our newest office space by watching the video above. We also asked Personal Assistant Piyut Solovey to guide us through its modern, minimalist interior, and tells us why she thinks the Berlin office is an exciting symbol of Simon-Kucher's future.
Hi Piyut, thanks for taking the time to show us round the new Berlin office! Would you mind briefly introducing yourself?
Of course! My name is Piyut, I started at Simon-Kucher in April…so I'm still quite new to the company. I'm the office manager of the Berlin office and personal assistant to Conrad Heider. He's the partner who helped set up the Berlin office and is its managing director. I actually started when the Berlin office launched, which is very cool.
How many people currently work in the Berlin office with you?
When the office first opened in April there was only Conrad, me, and maybe three others. Now, there are about 20 people in the office. But it's a big space – we have room for about 90 employees – and the company is on a big hiring drive at the moment, so we expect the team to grow quickly.
What is something unique about the Berlin office?
Oh, it definitely has to be the interior design concept! We had complete freedom to design a space specifically for Simon-Kucher. The idea was to create a modern, creative space that reflects both the company and the city.
It was important for us to make a space that was conducive to a post-COVID world, with flexible work spaces, and private phone booths, for instance. There are also five creative rooms to help teams brainstorm and collaborate.
The most interesting place in the office is what we call the "Archive". We've made this into a multi-purpose event, and meeting space. It has a pool table, a dining area, and spots for people to relax.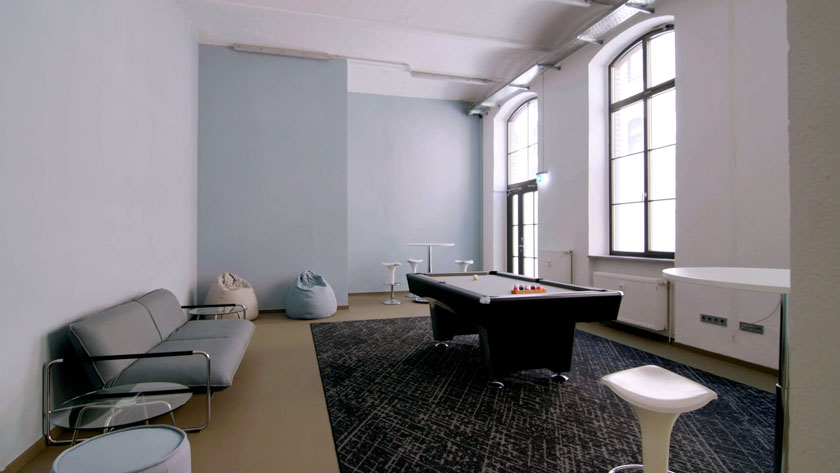 Everything is minimal and quite futuristic. Even our furniture can be rebuilt into anything! For example, a bench can be turned into a standing desk. It's a contemporary, efficient, collaborative environment that is also incredibly beautiful.
Where in Berlin is the office?
It is right in the heart of the city, the Silicon Valley of Berlin, if you like. We will spearhead Simon-Kucher's new digital practices and companies in this office – Simon-Kucher Engine and Simon-Kucher Elevate – which is why it was important for us to be established as a digital hub, both in location and look.
How would you describe your office culture?
As I helped to set up the office, I'm extremely proud that everyone I've spoken to tells me how warm, friendly, and welcoming it is. When I joined I immediately created two different chat groups on Zoom for everyone in the office: "Lunch" and "Berlin Office News & Ideas". This helps us to stay in touch, and knowledge share.
We have lunch together every day, with everyone who is in the office that day. We regularly play pool and host happy hours on Friday nights in the Archive. The idea and purpose is really for everyone to feel at home. We missed so much of that during COVID, so now we want to make sure that there is as much joy at work as possible.
Even though the office has only been open for a few months, would you say that you already have office traditions?
Absolutely! Aside from all going to lunch together, we also have breakfast together every two weeks, on a Friday morning. We serve breakfast in the Archive for anyone who's coming to the office that day.
It's such a fantastic way to connect, and talk about the projects we've been working on.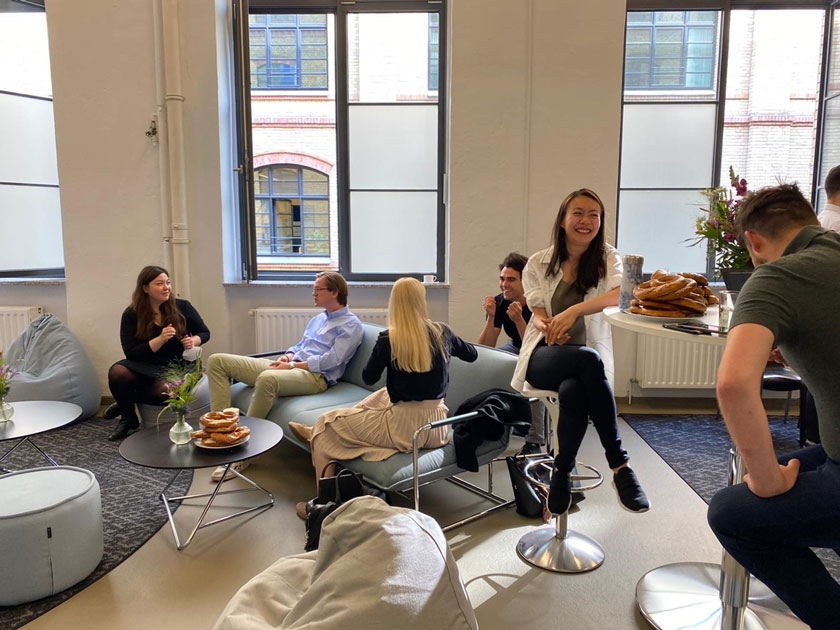 What's your favorite thing about working and living in Berlin?
Our office is in Berlin-Mitte, which translates to Berlin Middle – meaning we are slap bang in the center of Berlin. There are so many restaurants, cafes, as well as great nightlife. Everyday there's something new to discover!
Although we're in a busy, vibrant part of the city, the great thing about Berlin is that there is also quiet and greenery. So, when you turn the corner to our office, you are suddenly in a quiet area. We even have a garden at the back of the office. We can see the beautiful green trees from our big veranda on the second floor. It's wonderful!
Generally, I love this mixture in Berlin. It's cosmopolitan, international, and diverse, while at the same time rich in nature.
Have you had an official office launch party?
Because of COVID we didn't have a launch party. However, Simon-Kucher organized a company-wide Summer Blast event, where each office got together and celebrated the end of the summer.
We went to BeachMitte, a place near the office that has been made into a beach. We played volleyball, relaxed, and chatted a lot, while enjoying delicious beach snacks and drinks. It was the first time the whole of the Berlin office got together, so it was a lot of fun to see and bond with everyone.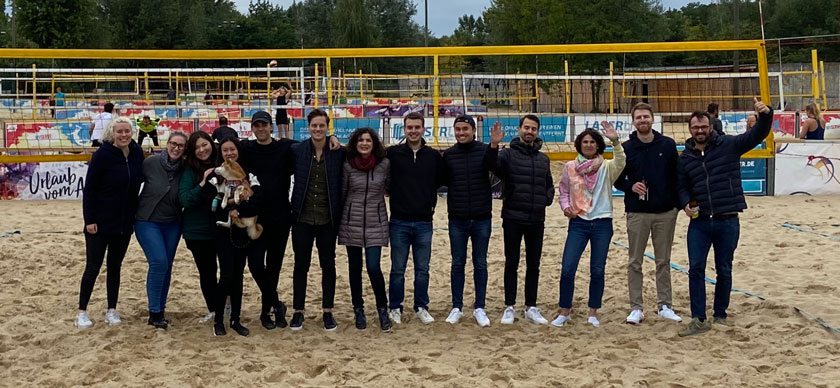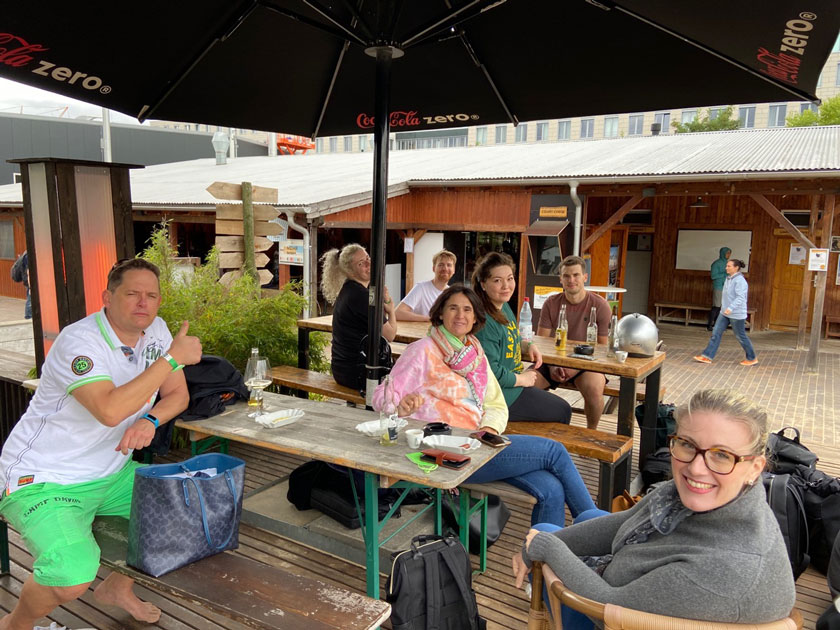 That's sounds like so much fun! What would you say are some of the best-kept secrets to visit in Berlin? 
There are so many! The nightlife is famously good here, but my colleagues and I would say that the best bar is called Buck & Breck Berlin, and the best club – excluding the not-so-secret Berghain – is Kater Blau.
Buck & Breck has actually been listed as one of the Top 50 bars in the world. It's a type of speakeasy, with small tables, and beautiful décor. Kater Blau is located by the Spree River – the main river that runs through Berlin. It's amazing to party all night, and then watch the sun rise over the water!
Finally, if you could recommend one thing to eat when in town, where would it be?
Near the office, there's a great restaurant called Katz Orange, serving delicious local food, specializing in slow cuisine…so, stews, and slow-cooked meat etc.
But there's something for everyone in Berlin, so for vegetarians or vegans I would recommend going to 1990 Vegan Living. It is a Vietnamese-inspired vegan restaurant that serves the most amazing Vietnamese coffee! You really can't miss it!
Piyut, thank you so much for taking us on such an exciting tour of Simon-Kucher's newest office! Moving to Berlin has never been more tempting!