Mona's Story: Virtual Recruitment Success
March 22, 2021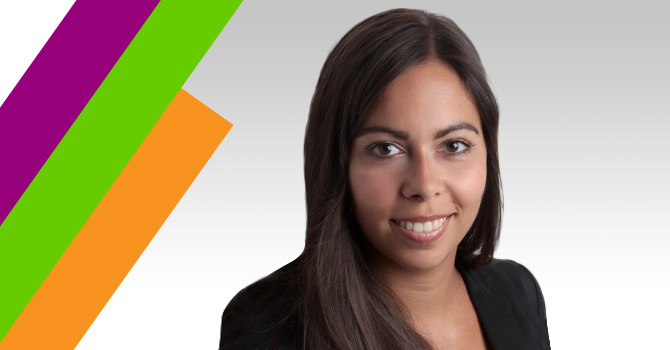 Mona El Masri, Senior Recruiting Coordinator in Bonn, joined our company in the midst of the COVID-19 crisis and lockdown restrictions. As we celebrate Women's History Month throughout March, she shares her impressions so far and tells us about how she immediately got to work on a very relevant and important project: Ensuring a best-in-class virtual interview experience for others embarking on their own Simon-Kucher journey!
Back in October 2020 when I logged onto my very first Zoom call at Simon-Kucher as a new hire, I already had the impression that I was joining a very professional company with welcoming, open, and friendly colleagues. Even during the pandemic, my onboarding process was very thorough and I spent a whole day with our Head of HR where she gave a detailed introduction of all topics and expectations around my new role. I couldn't wait to get started on my tasks, but of course in the early days at any company there is a lot to learn…
First weeks: Getting to know the team
I had already heard from several colleagues that the STEPS training (Strategic Training for Employee Professional Success) was one of the most memorable events in their Simon-Kucher career. They had made long-lasting friendships during their training week, with team dinners and an exciting social program for the evenings. I was immediately enrolled for the training and wondered how this could work in a virtual environment, later to be impressed how the learning and development colleagues recreated that experience. The training included interesting lectures from consultants, sessions by external speakers on intercultural communication, and networking tasks such as quizzes and group challenges. Partners also attended the event to talk about their projects and the company's visions and values: Integrity, respect, entrepreneurship, meritocracy, impact, and team.
I soon learned about the value of being in a team at Simon-Kucher. Within days of joining the company, my colleagues encouraged me to sign up for the Virgin Pulse global challenge, which is all about taking steps as a group to improve health and wellbeing. The team sports activities quickly dissolved any initial nerves and replaced them with a sense of familiarity and belonging. We were all sharing fitness tips, initiating virtual group walks, and sharing lunch breaks, even though we weren't in the same building.
Team, and all of the company's values, were also definitely relevant in my professional tasks over the following months. As Senior Recruiting Coordinator, I am responsible for hiring our consultant and central function positions. This involves screening applications, conducting interviews, attending external events, and planning and hosting recruiting days. Of course, finding ways to carry out these tasks during a global pandemic comes with some challenges. My first major project was to develop a new concept for virtual recruitment, showing me that even as a new employee, Simon-Kucher had confidence in me, valued my contribution, and was willing to give me responsibility early on.
First project: Bringing Simon-Kucher to a laptop near you!
The aim of the project was to develop a virtual recruitment format that is suitable for our organization's needs while ensuring an exceptional candidate experience. Working very closely with my colleagues in the HR team, we created manuals for candidates and interviewees, carried out test runs, and made changes or improvements where necessary to ensure things ran as smoothly as possible. For example, a series of virtual interviews can be a lot more taxing for candidates compared to in-person as they involve a lot of staring at a screen. Therefore we adapted the length and set-up to ensure every candidate had a chance to refresh and truly bring their highest level of concentration to each interview. Moreover, something that also sets Simon-Kucher apart is our culture. During a virtual recruiting day we would usually invite the candidates to lunch so that everyone could get to know each other in a social setting. Virtually, we ensure that at least three of our current employees can attend to present the company, chat with candidates about what to expect, what kind of projects we do, and generally give an impression of how we interact with one another. So far we have received enthusiastic feedback from both within and outside of the organization and are looking forward to welcoming the next round of candidates. Anybody interested in joining can learn more about our upcoming recruitment events here!
Simon-Kucher has been in a strong position during this pandemic, which has allowed us to continue hiring consultants at all levels while rapidly adapting our recruitment approach. We see several advantages of virtual recruitment from both a company and candidate perspective: Video interviews during the first steps of the process are gaining in popularity as they are easier for candidates to schedule and allow them to avoid long commutes until both parties are sure that there is the right fit. This format also speeds up the process and encourages a wider and more diverse pool of international candidates to apply. However, while "virtual" will likely remain a key part of our activities, we definitely still see a lot of value in in-person interviews, especially during the later recruitment stages. I imagine that in future, when social distancing restrictions are lifted, our model will combine the best of both worlds.
Interested in joining Simon-Kucher? Find out more about our open positions here!