Nina on Tour: Dare to explore the world!
March 13, 2020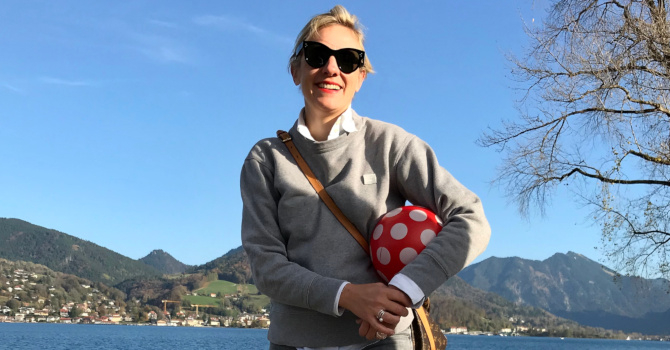 Simon-Kucher offers all associates an exciting global office rotation program. Nina Scharwenka, Partner in our Consumer Goods practice, went to our office in Tokyo for six months and came back with a bunch of great experiences! See for yourself by reading about her unforgettable experiences in Japan:
I moved from Bonn to Tokyo 12 years ago, and one of the major things I learned from this experience that I want to pass along to everybody interested in doing office rotations is:  whenever you get the chance to rotate to another Simon-Kucher office, just do it! Regardless of what country, city, client or project it is, simply living in another country and getting to know and work with colleagues and clients in a different office makes it a great experience.
Lost in translation?
Before I started my rotation, my knowledge about life in Japan was actually rather limited, since I had never been to an Asian country before. Even though I was well aware of some important business culture differences, I was still clueless when it came to the Japanese language and spelling system. 
Therefore the first thing I did when my rotation was confirmed was to organize a self-study language course and spend the following weeks trying to remember some useful vocabulary. After a few days I found out that Japanese is truly one of the most complicated languages in the world, especially in terms of its spelling system, and clearly impossible to learn from a self-study language course.
Navigating a different world
Upon arriving in Tokyo, I was pretty overwhelmed by the huge amounts of people in the streets, shops, metro stations – simply everywhere. You find lots of young people, dressed either crazily fashionably or in business attire, usually carrying at least one shopping bag with them. Metros during rush hour are completely crowded and when finding your way out of the station, don't ever try to walk out against the stream of people. 
The streets of Tokyo are filled with shops, amusement arcades and fast food restaurants. To make things even busier, the whole city is decorated with neon advertisements.
Warm and welcoming atmosphere 
Even though this description might give the impression that I experienced Tokyo as hectic, anonymous, and loud, this wasn't the case at all. I quickly realized that everybody is really calm and relaxed. Queuing for example seemed to be the least annoying thing in the world for everyone, soothing music is played everywhere like at metro stations, traffic lights, or vending machines, and everything, truly everything is perfectly organized. People are reserved, but they never hesitate to offer help or advice. In fact, I had never before experienced this kind of warm and welcoming atmosphere in such a large city.
Joining the Tokyo office team was also a wonderfully easy experience. The atmosphere was so positive, people were incredibly supportive, and I also enjoyed very nice weekend events and various sightseeing trips together with my colleagues.
Personal growth and ample life experience
To emphasize once again my first comment, I would definitely recommend rotations within Simon-Kucher. It's not only about getting to live in and know another country, but also working with colleagues and clients from different cultures. This provides you with a very interesting view on our day-to-day business: you are given the ultimate chance to really dive into another culture, enjoy the food, understand the country's traditions and values as well as learn to appreciate diverse business etiquette rules.