Wellbeing at Simon-Kucher: Meditate with HeadSpace
August 26, 2021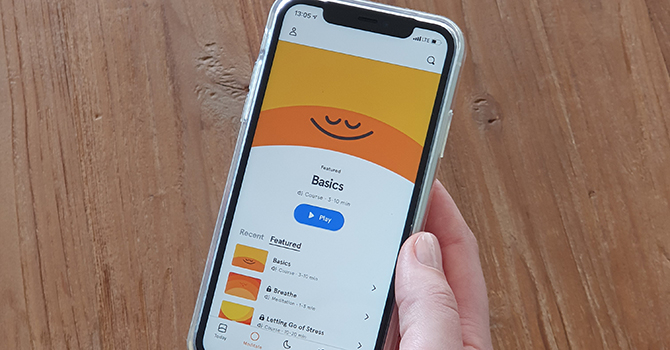 Mental wellbeing is crucial to be able to perform our best at work and maintain a healthy work-life balance. That's why Simon-Kucher has teamed up with the leading meditation app Headspace to offer free premium memberships to all long-term employees. We chatted to Headspace about the importance of mental health and wellbeing in the workplace. Read the interview here!
Can you tell us a bit about Headspace? What are Headspace's goals/vision?
Headspace was created with one mission in mind: to improve the health and happiness of the world. We aim to inspire, guide, and support our members to build healthy routines that last a lifetime. Our founders originally did this by creating the Headspace consumer application. The app sought to take the teachings and techniques of co-founder Andy Puddicombe – who spent over a decade learning meditation before being ordained as a Buhddist monk at a Tibetan monastery – and make them available online so more people could experience the benefits of meditation anytime, anywhere, in an authentic way. The Headspace app now reaches more than 70 million users in 190 countries.
Headspace also offers a comprehensive mental wellbeing program – Headspace for Work – to companies and their employees. Through our mindfulness application that employees use and love, and enterprise-grade platform and engagement services, we help HR professionals and leaders build healthier, more productive cultures and higher-performing organizations. H4W currently partners with more than 2,000 leading companies across the globe.
What kind of content, tools, and resources do you provide?
Through our member-loved meditation, mindfulness, and sleep app and custom enterprise products and services, we help organizations build more compassionate and productive cultures that drive serious outcomes.
Employee Experience: Members get access to hundreds of hours of guidance, on everything from stress to focus to sleep. Plus, custom features designed for the workplace like live meditations, community programming, monthly newsletters, and more.
Professional Services: Get expert support from start to finish. From program design to immersive live experiences, our Partner Success team helps you develop a mental health program that fits the unique needs of your workplace.
Employer Solutions: Easily launch and manage your program through a suite of products, including your workplace dashboard, engagement resources, and measurement tools to see the impact on your team.
How do you think the pandemic has changed the way companies think about mental health and wellbeing?
Even prior to the outbreak of COVID-19, we were facing a global mental health epidemic. Depression and anxiety disorders cost the global economy $1 trillion per year, with depression affecting 264 million people annually.  However, the pandemic suddenly and swiftly wrought unimaginable changes to the world of work. The pandemic and social upheaval have cast a strong light on how employees believe the workplace should support mental health needs for workers and their families.
Companies are starting to learn what it means for an employee to bring their whole person to work — for better and for worse.
As the Headspace for Work 2020 Mental Health Trends Report shows, many more people in the workforce need extra resources to support a wide range of mental health concerns – on the job and at home. Based on this survey of over 2,500 employed adults working in several industries across the United States and the United Kingdom, this report makes it abundantly clear that in the age of COVID-19:
There's a gap between employee expectations for mental health support and what companies actually offer.
People are just starting to recognize the importance of well-rounded mental health support – compared with check-the-box EPA programs and other types of old-school benefits.
The line between work stress and life stress has been dissolved. Stress in any area of someone's life contributes to, or is exacerbated by, stress at work.
In 2021, Headspace for Work doubled the number of employees surveyed to 5,085 adults between the ages of 18 and 64, and expanded the study to include three new countries: Australia, France, and Germany. What we found suggests that while some pressures have eased, the storm is not over — and new challenges are emerging in the evolving state of the workplace. You can find our 2021 findings in the Rising work stress and burnout: Headspace for Work 2021 Mental Health Trends Report.
Can you share some best practices for managing workplace stress?
Our guide for a mindful approach to helping your team through the current global crisis explains how to help your team through the pandemic, in addition to practicing compassionate leadership and digital mental health resources. 
The Mindfully Returning to In-Person Work Guide: This article explains why it is natural to experience back-to-work anxiety, how mindfulness can help make the transition easier, and Headspace app content specially for:
Change and transitions
Managing Work Stress
Support for caregivers (and even pet owners!)
Headspace for Work is a science-backed meditation and mindfulness solution for the workplace.
Even on the best days, stress can prevent us from being fully focused and doing our best work. And too much of it can lead to burnout, disengagement, more sick days, and strained relationships in the workplace.
In the wake of COVID-19, it's never been more critical for business and HR leaders to address the mental wellbeing of their teams head-on. Enterprise-ready, Headspace for Work offers proven mindfulness programs that lead to healthier organizations from the inside out.
Nadine Schloetmann, Coordinator Global HR Operations