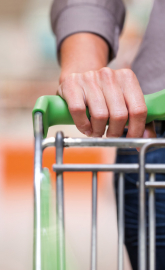 Research Paper
RFT Report on Growth Potential of European Supermarkets
Submit your details to download research paper
Focusing on a different industry vertical every quarter, the Simon-Kucher RFT report is a hallmark for top-line performance. It ranks companies by their pricing opportunities and growth potential using two prescriptive metrics:
EVP (enterprise value of pricing) which indicates the potential of pricing in a company's growth. The higher the EVP number, the greater a role pricing can play in driving growth.
RFT (revenue flow through), a percentage of enterprise value, indicating projected uplift due to a 1% increase in the topline.
The RFT report provides real insights into how effectively a company can use pricing to drive its enterprise growth compared to the relative performance of industry peers, and facilitates companies in justifying to shareholders why they need to invest in pricing. In this edition, we compare European supermarkets and their potential to drive enterprise growth
Related Strategic Insights