Industry
Banking & Financial Institutions
Corporate Banking
Company Profile
Top 5 European Credit Export Agency
Situation and Objectives
The client was aiming to increase volumes in its product portfolio to achieve the challenging growth targets set. It had a strong market position in the large-corporate segment, however had a low penetration rate in the mid-corporate segment.
In addition, the client served its customer base through three different departments covering distinct products line. A lack of cross-departmental interaction was resulting in loss of potential revenue streams.
Finally, given the complex nature of the products', an inefficient commercial offering was in place, resulting in a difficult communication to customers.
Approach
Defined a two-part model: 1. Defined strategic guidelines to expand client's customer base and increase the penetration rate into mid-corporate segments, 2. Developed a new coverage model to facilitate the cross-selling activities amid existent customers.
The acquisition phase was achieved through a need-based targeting model, with potential customers targeted according to their latent financial needs. Simon-Kucher quantified targeted customers' potential revenues in order to prioritize.
A new coverage model was developed for the cross-selling enhancement phase. A Relationship Manager role was introduced as an access point for customers, with responsibilities including commercial planning definition and origination coordination.
In support of the entire strategic plan, Simon-Kucher restyled the commercial offering's communication, grouping homogeneous products in same offering areas which responded to the same latent financial needs.
Need-based coverage model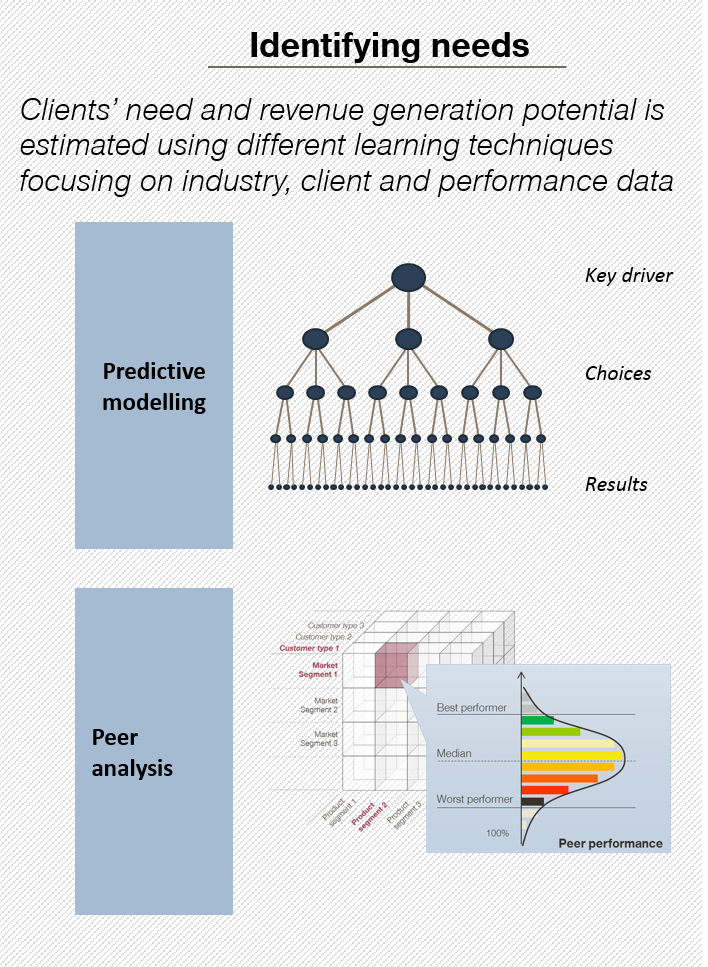 Results
In few months, thanks to Simon-Kucher's guidelines the model was rolled out across the entire client's commercial network.
Approaches Simon-Kucher identified during the course of the projects expanded the client's customer base and enhanced client's ability to target customer actions.
Impact
Increased Sales efficiency and effectiveness
Optimized Salesforce organization and client coverage
Diminished overlapping of client relationship management