Inflation drops to 2.5% in March
The Consumer Price Index (CPI) was recorded at 2.5% in March, which was below what was expected and the lowest it's been since March last year. While this indicates that the financial pressure on households is easing, we are still seeing the inflation rate at 3% or above in key categories such as Food & Drink, Transport and Recreation & Culture.
Consumer gains from the supermarket price wars wiped out by recent inflation
Comparing prices today to the end of 2014, overall prices are on average 5% higher while food prices have returned back to the same level (as measured by the CPI).
James Brown commented:  
"We've seen recent increases in food inflation wipe out most of the price drops driven by the supermarket price war. This price war previously contributed to lower levels of inflation and provided a boost to household spending power at a time of pay stagnation and rising prices elsewhere. Most of these gains for households have now been reversed by the return of food inflation. 
"We expect to see grocery prices continue to rise, albeit at a lower rate than recently, as it is clear that not all the cost increases from the 2016 fall in Sterling have been passed through yet.
"These price increases, which will be a key contributor to grocery price inflation in the coming months, are not just coming in the form of increases in prices but also 'shrinkflation' and fewer promotions.  For shoppers this means that the cost of their weekly shop will keep on rising.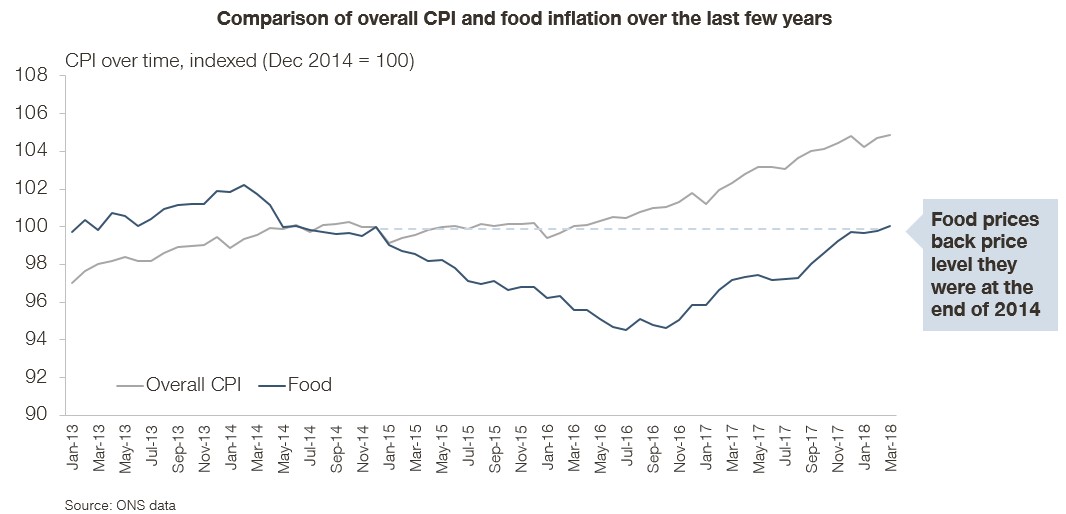 Sugar tax may leave a bitter taste for those with a sweet tooth, but unlikely to be as sour as many feared
Although the sugar tax came into effect at the start of the month (6th April) we don't expect the public to see widespread and significant price changes following its roll-out.
However, this is "sugar-coating" what is really happening as:
Some retailers will have already put through small price increases or plan do so later, rather than in an immediate response to the implementation of the tax
Many manufacturers have already reformulated their drinks to lower their sugar content, including: Britvic, Tesco, and Lucozade
Rather than change the recipe or significantly increase the price, many are making their units smaller, for example Coke is reducing the size of some bottles rather than raise their prices
The ultimate impact on inflation will be negligible with soft drinks only accounting for 0.46% of the average household's shopping (based on the representative shopping basket used by the ONS to measure inflation).
James Brown commented:
"Smart retailers and drinks manufacturers have a detailed understanding of how their customers respond to price changes. They recognise that some customers will simply pay more to buy the original product, and others will reduce consumption when higher prices come in. It's a complex balancing mix across their portfolios – complicated by trying to predict how competitors' prices will change. We expect that there will be a few more movements until the relative difference in price between products settles down again."
 

---

Want to know more? Read our previous Inflation Bulletins